Ustad Gulam Ali, most amazing concert of the year with extreme magnitude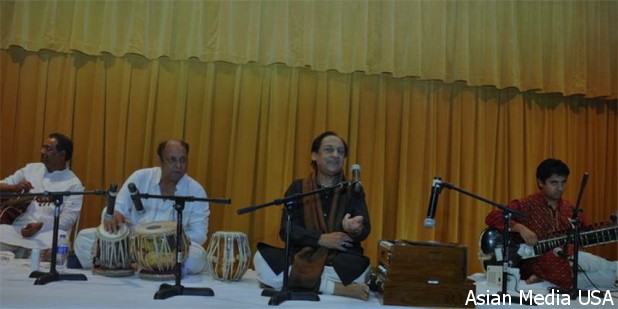 Chicago IL: Ghulam Ali, the singing sensation has enthralled audiences all over the world for almost four decades now.His "Chupke Chupke Raat Din Aasoon Bahana Yaad Hai…." whose words still haunt. And the man behind that voice still stays as elusive as he ever was. However thanks to Live 2 you organization and Promoter Raju Shah's effort, this enduring singer decided to thrill the diehard well wishers and his 'Ashiks' were lucky to listen to him in live performance on Friday July 2011 at At Medow Club in Rolling Medows, Illinois. About 800 very enthusiastic crowd of enjoyed every minute of Ustad's performance.
Ghulam Ali was born in 1940, at village Kaleke, district Sialkot, which is now a part of Pakistan in 1940 . He belongs to a musical family, his father was vocalist and sarangi player Ghulam Ali got his initial musical training from his father. His father would teach him by keeping small green leaves over the harmonium keys and marking them with a ballpoint pen. His background as a Thumri singer makes him an exceptional ghazal singer. Ghulam Ali can easily be termed as the most versatile ghazal singer ever. Under Ustad Mubarak Ali Khan he learnt to recognize ragas and other basics. With time, his inclination towards ghazal, thumri, dadra grew, and he decided to take them up professionally. All these great teachers of classical music taught him finer details of classical music, making him one of the best classical singers of all times. And his solid foundation in pure classical music, raagas, thumaris is very apparent in all his singing, making is style unique and inimitable.
For the singer, 1960 was a turning point in his career. That year, he attended the biggest-ever musical event in Pakistan called Kul Pakistan Music Conference, in which maestros from across the world participated. Personalities such as Gopi Krishna and Girija Devi had come from India. He got to sing for 12 minutes, a rare chance for someone who was relatively unknown. He was the youngest there. As he sang, the demand for more poured in. The next day, he hit the headlines of the most prestigious newspaper of Lahore called Imroz.The rest, as they say, is history. Due to his immense popularity, some of his ghazals have been used in the Indian hindi movies. His popular ghazal "Chupke chupke raat din.." has been used in the movie Nikaah featuring Raj Babbar and Salma Aghaa. Moreover, many of the hindi film songs have been "inspired" from some of his ghazals. "Thodi si jo pi li hain, chori to nahi ki hain" from Namak Halal (Ghazal – Hungama hain kyon barpa) as you would recognize, is one them.
Among many passionate admirers was India Coucel General Mukta Tomar with her two daughters. Answering questions from Dr. Modi of Asian Media USA, Muktaji commented that she and her family are avid admirers of this famous singer and gratifying to hear Ustad in live performance.
The curtain fell after about 3 hours of unyielding mesmerizing performance and after singing his eternal number "Chupke Chupke Ratt".
The other pramoters besides Rajubhai were Karl, Kaleem, Anish Shah and National Promoter Mr. Yas Pal Sol.
Photographs and Press release by: Asian Media USA
Suresh Bodiwala
Chairman
Asian Media USA
Bus: (847) 679-8583
Fax: (847) 679-5336
Cell: (847)420-4789
sbodiwala@sbcglobal.net
Copyrights (c) 2010 – Asian Media USA
No one shall download or otherwise duplicate the graphics, images, press release and written content from the PDF without our express written permission. Likewise, no one shall reuse the aforesaid things, as the same are the intellectual property of the Company, we hereby reserve all rights
Disclaimer: – Asian Media USA
"The information in this e-mail and any attachments is confidential and may be legally privileged. It is intended solely for the addressee or addressees. If you are not an intended recipient, please delete the message and any attachments and notify the sender of misdelivery. Any use or disclosure of the contents of either is unauthorized and may be unlawful. All liability for viruses is excluded to the fullest extent permitted by law. Any views expressed in this message are those of the individual sender, except where the sender states them, with requisite authority, to be those of the Asian Media USA