Shri Jalaram Mandir Celebrates Volunteer Appreciation Day with musical festivity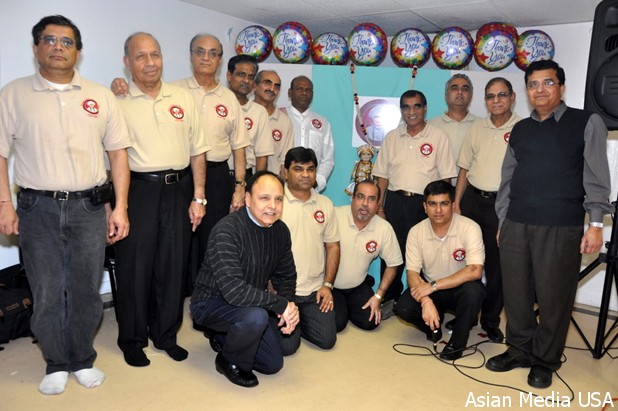 Chicago, IL: Shri Jalaram Mandir located at 425, Illinois Blvd , Hoffman Estates , IL , celebrated Volunteer Appreciation dinner with Bollywood songs on Friday, December 30, 2011 at 7:00 pm. A sentimental evening was performed by "Soham musical group" in filmy style with old and latest songs, which made the whole atmosphere joyful. More than 250 plus volunteers and their families enjoyed the special evening.
Shree Jalaram Mandir was inaugurated on the March 8th, 2008. It was a dream of many devotees and followers of Jalaram Bapa to establish Jalaram Mandir. With a determination to realize that dream, Jalaram Organization was established in December, 2006. With the help of Generous Donations from many Donors and Volunteers $1.25 Million Dollars worth property was purchased.
Friday, December 30, 2011, was a day to appreciate every single person who had devoted their time towards the Mandir's progress. In honor of such commitment Jalaram Mandir Board decided to have a beautiful way to say thanks to all the volunteers with a Musical night and splendid dinner. There are lots of Temple in Chicago however Shri Jalaram Mandir is only Mandir that celebrates Volunteer Appreciation dinner with music and masti. At present, Mandir has team of 250 volunteers, who are involved in various activities and perform duties with all their heart.
Rajendra Thakkar who is the volunteer coordinator, assigns volunteers whenever necessary. He requested the executive board of the Mandir to organize this event to recognize all the volunteers for their tireless service. Several volunteers prepared decorations for this event.
Prior to Musical program delicious Gujarati dinner was served. The program started with Deep-Pragatya. Normally, the Chief Guest participate in the Deep-Pragatya ceremony, however this year the Executive Board Committee decided a different method. This year they had a raffle to select four volunteers as Chief Guests. Shree Chaturbhai Deevan is the Assistant Priest of Jalaram Mandir. Deevanji and four volunteers performed Deep-Pragatya Ceremony. Prior to Deep-Pragatya, Deevanji addressed all the volunteers to their dedicated Seva to the Mandir and he recital Swasti Vachan Mantra. Deevanji birthday was also celebrated with birthday song and cake.
Chirayu Parikh welcomed the guests and volunteers on behalf of the Jalaram Mandir Trust Board and Executive board. He thanked all those who have helped in Mandir improvement work and those who assisted in accommodating the devotees with Mandir activity. He added, "We have closed the year 2011 with lots of accomplishments (Completion of parking lot) and progress in our Bapa's Mandir. We are moving into another year of hopes and challenges and plan to continue to work on all unfinished tasks of "Mandir expansion" with your help and support. With the blessing of Jalaram Bapa we continue to be united and stronger. Improvement tasks will include elevator, central air-condition and Murti Pratishtha. While we are satisfied with what we have accomplished so far, we are aware of the progress that need to be made and are humbly willing to work hard." He welcomed suggestions for completion of Murti Pratishtha and expansion. "Any suggestions for improvement of the Mandir activity are most welcome, but these have to be meaningful, realistic and should be an enhancement on the existing system of Shri Jalaram Mandir", he said.
Vipul Thakkar performed a surprise poem which was followed by vote of thanks proposed by Chairman Madhubhai Thakkar. At the intermission, Rajendrabhai Thakkar, volunteer program coordinator addressed the audience with details of the services provided by volunteers and recognized them for the excellent work by all of them. Musical program continued past midnight with a lot of songs requested by the audience. At the tea break, the Chairman of the Trustee Board, Madhusudanbhai Thakkar thanked all the volunteers, the music party and stressed that Lord Rama won the battle only because of the Vanar volunteers and that Jalaram wins in the work of human services with the help of volunteers.
Following are the volunteer committees for Jalaram Mandir:
Kitchen – any work related to the kitchen i.e. cooking, serving, cleaning
Parking – any activity related parking i.e. when parking lot is full, utilize Schaumburg Park District parking and shuttle bus for passengers
Floor – any activity related to main floor i.e. Seating arrangement in main hall during Aarti and also during major events when there are a lot of people to manage.
Maintenance – any activity related to building repair and routine maintenance
Construction committee – Village permit for future projects and work with contractors
Youth committee coordinator is Jignaben Thakkar
Shree Jalaram Mandir governing board has an Executive Committee and Trust Board. Trust Board is mainly involved in construction, expansion and fund raising efforts, where as Executive committee organizes and maintains activities related to religious, Bhajan, satsang, cultural, kitchen and youth committee. Among many kitchen volunteers, 6 committed members are, Chandrakantbhai, Bhupendrabhai, Rameshbhai, Dakshaben, Bhavnaben, Kokilaben and Rupaben.
Followings members from "Soham musical group" performed at this event.
Ritaben Patel (Female Singer),
Atulbhai Sony (Male Singer)
Puranlal Vyas (Tabla)
Kamlesh Desai (Keyboard)
Raj Savsani (Side Rythym)
Soham is a professional group who has come together because of their love for music and their passion to sing. They specialize in presenting musical programs, singing both old and new Bollywood melodies. They customize their offerings for any kind of celebration or occasion for individuals or groups including professional, cultural or other associations. Last ten years, they have performed lots of shows in the Chicago land area. Atulbhai sang songs of Mukesh, Kishor Kumar and SD Burman while Ritaben sang songs of Asha and Lata. Over all everybody enjoyed the beautiful musical evening.
Upcoming Program:
Annual Prasad Seva – If anyone is interested in an Annual Prasad Seva for Thursdays, they will be able to do that starting January 2012. Arti for the family and Prasad Seva announcement on hursday. Donation $1501
Free Gujarati Classes – Free Gujarati Tutoring Classes starting January 7, 2012 Saturday 10 to 11:00 am Age 8 and up. Please register at Mandir office or Rajendra Thakkar 847-942-1440
Nav Grah Puja – Sunday, January 15, 2012, 5:00PM, Mahaprashad – 7:45PM, Yajman Seva $51
Trust board and Executive board for 2012
Trust board: Jasvant Patel, Ashwin Thakkar, Hasmukh Thakkar, Chandulal Thakkar, Madhusudan Thakkar, Yogesh Thakkar, Chandrakant Thakkar and Raju Thakkar
Executive board: Bhupendra Thakkar, Chirayu Parikh, Vipul Thakkar, Rajendra Thakkar, Rajesh Thakkar, Ravi Thakkar, Utpal Gandhi, and Ramesh Thakkar
Auditors: Jaswantbhai Patel CPA (Shree Jalaram Mandir accounting)
Chief Priest: Acharya Shri Chandra Parshad. Lilanand Shastri, Asst. Priest: Chaturbhai Deevanji.
About Shree Jalaram Mandir
Regular activities at the temple include Bhajans on every Thursday, first and third Sunday, Sunderkand path every Saturday, Abhishek on Mondays and on Ekadashi, group Satyanarayan Katha, Jalaram Jayanti, lectures of saints from India and celebrations of all religious events like Ram Navami, Janmashtmi, Navratri, Holi, Diwali and others. Ekadashi. On the humanitarian side the temple arranges annual health camp, provides free flu shots, arranges blood donation. Soon, there are plans to provide monthly clinic Seva, which will include doctor's consultation, laboratory tests and providing free generic medicines on an ongoing basis. Educationally, the activities include yoga classes, music teaching, Gujarati classes and religious classes. For more information about the Mandir and its activities, please visit Shree Jalaram Mandir, 425 Illinois Blvd, Hoffman Estates, IL 60169 Ph: 847.490.5252 or www.shreejalarammandir.org
Photographs and Press release by: Asian Media USA
Suresh Bodiwala
Chairman
Asian Media USA
Bus: (847) 679-8583
Fax: (847) 679-5336
Cell: (847)420-4789
sbodiwala@sbcglobal.net
Copyrights (c) 2010 – Asian Media USA
No one shall download or otherwise duplicate the graphics, images, press release and written content from the PDF without our express written permission. Likewise, no one shall reuse the aforesaid things, as the same are the intellectual property of the Company, we hereby reserve all rights
Disclaimer: – Asian Media USA
"The information in this e-mail and any attachments is confidential and may be legally privileged. It is intended solely for the addressee or addressees. If you are not an intended recipient, please delete the message and any attachments and notify the sender of misdelivery. Any use or disclosure of the contents of either is unauthorized and may be unlawful. All liability for viruses is excluded to the fullest extent permitted by law. Any views expressed in this message are those of the individual sender, except where the sender states them, with requisite authority, to be those of the Asian Media USA