Hari Om Mandir celebrates the New Year 2015 with Akhand Ramayan Path
Chicago IL: Hari Om Mandir celebrated the New Year 2015 with 24 hours Akhand Ramayan Path. At 11.55pm on 31st Dec. the Ram Dhun was chanted by all the devotees present in the hall in full enthusiasm to say goodbye to 2014 and to welcome the New Year 2015. At midnight all the devotees greeted each other and sweets were distributed to all as Prasad by temple priest. We experienced an unprecedented number of devotees who visited the temple and celebrated the New Year with the bhog of Akhand Ramayan Path. As usual Mr. Subhash Sharma took the responsibility of the 24 hours Akhand Ramayan Path. The sponsors were Subhash and Kiran Sharma and Salwan family.
Hari Om Parivar extends its best wishes for the prosperous, peaceful, healthy, happy and successful New Year – 2015 to everyone in the community.
In the congregation, BOT Chairman Mr. Ayodhia Salwan announced the name of the new president Mr. Indrajit Sarkar who is re-elected this year also. He welcomed him saying, "Mr. Sarkar is a very devoted and hardworking President. He continuously brings new ideas and conducts great programs for the benefit of all devotees."
Mr. Sarkar said "I feel blessed and consider myself very lucky to be re-elected as the president of Hari Om Mandir." Mr. Sarkar also took the opportunity to congratulate the BOT Chairman Mr. Ayodhia Salwan. This was a surprise award for Mr. Ayodhia Salwan and his family. Once Mr. Salwan came to the stage all devotees gave him a big hand. He said "I am privileged to honor Mr. Ayodhia Salwan in my president ship with a 20 years' service of excellence award. I proudly recognize and appreciate the faithful efforts of Mr. Ayodhia Salwan on the twentieth anniversary (1994-2014) of his incomparable devotion to the Mandir. We believe the Mandir could not have accomplished these numerous achievements without his innovative ideas, organizational skills, and strong leadership qualities. Mr. Salwan has always placed the Mandir on top priorities in his life. His unwavering and generous financial support to the Mandir has always proven to be a boon for various projects. He has always motivated us in his various leadership positions. We also want to thank Mrs. Prem Salwan, Manav Salwan, Ashima Salwan, Meenu Salwan, Manish Salwan (whole Salwan and Sharma family) for their unconditional support.
Sat Pal Salwan, Chairman Constitution committee, "I am not praising him as he is my younger brother but he really deserves one because he is a hard worker and once he commits something, he won't stop until he finishes the job. He was the president of young former Association in 1970 & president of Youth Congress in 1975. He did a lot of work for the community in India and had helped poor in getting their pensions. Under his leadership the Mandir has progressed…… today we have two priests, one Manager and one person to make Prasad."
Krishan Lal Tejpal, Chairman Sr. Citizen Committee, "Ayodhia Salwan is a role model of many in our community. He is a good leader. Under his strong leadership Mandir grew very fast and made a triple size of the temple. He worked for temple from his TAN MAN AUR DHAN. He donates generously to the temple.
Nirmal Bagga, Vice Chairman BOT, " I 100% agree with Mr. Tejpal even 1000%. I am very happy to work with him. He always works and gives us the credit. It is due to his hard work that the temple has reached this level. We always wish him a good health."
Mr. Ayodhia Salwan alongwith his wife Mrs. Prem Salwan; in his concluding speech said, "In this plaque my parents Sanskar, My wife and children's moral support, My elder brother & Bhabi Ji who show the path to work for Temple, My Salwan & Sharma family's unconditionally support and all of you help me with Tan Man aur Dhan which is remarkable. I will never forget your deep love and save the plaque for my memory."
Mr. Salwan & Mr. Sarkar thanked both the boards for excellent work in 2014. Both of them also introduced all the 2015 members of BOT and executive board.
Mr. Sarkar also expressed his gratitude to both the Boards and volunteers who has repeatedly worked hard towards the temple's work. Mr. Sarkar said – Our Goal for 2015, would be to keep Peace and Harmony, proceed with projects and numerous other infrastructural changes. Education committee will focus on many exciting programs along with ACT/SAT classes for our youth.
We always welcome devotees' generous donations and contributions in the growth of the temple. All are invited to celebrate the Lohri on 13th Jan, 2015 in Hari Om Mandir.
Executive Board: Indrajit Sarkar;President, Anita Rawal; Secretary, Gopal Tiwari; Treasurer, Aarty Singla; Special Events, ShamTaxali; Inside Property Management, Anil Saxena; Outside Property Management, Ashok Sharma; Publication, Usha Verma; Food & Prasad.
Board of Trustees: Ayodhia Salwan; Chairman, Nirmal Bagga; Vice Chairman, Mohan Karamchandani; Secretary, Naveen Paul; Ram Verma; Mahendra Thakkar; Subhash Sharma; Amar Singla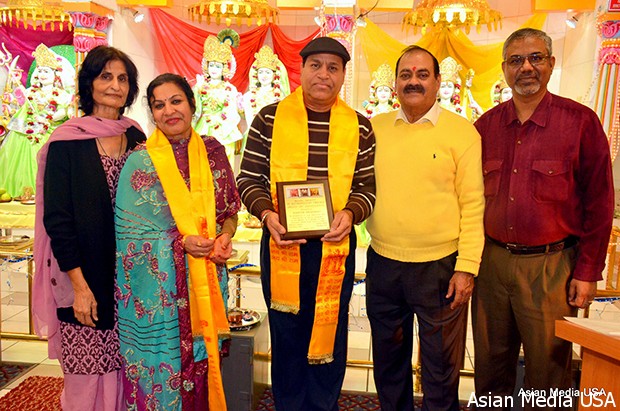 Priest: Pt. Dinesh Kumar
About Hari OM Mandir
Hari Om Mandir is located at DuPage County in the heart of Chicago land. The Mandir has statues of all major North Indian Gods & Goddesses. Every Sunday there is a Havan and general congregation followed by Aarti and Bhojan Prasad. On every first Saturday of the month we have Devi Jagran from 7 – 10pm. Every Monday there is Shiv Puja and every Tuesday we have Hanuman Challis Path. There are two learned priests available in temple, for Poojas, Havan, Kathas etc in the temple and at home. Please visit Hari Om Mandir, 6N020 Medinah Road, Medinah, IL / http://www.hariommandir.org/ Phone: (630)980-0900