Indian Christian Federation of Midwest celebrates Spectacular Christmas Party
Chicago IL: Indian Christian Federation of Midwest (ACF) celebrates Spectacular Christmas Party on Saturday, December 6, 2014 at Levy Center, 300 Dodge Ave, Evanston, IL. This was the first time such an event was held in Chicago by ACF. The attendees ranged from toddlers to seniors and were dressed in vibrant and colorful Indian attire. Despite adverse weather; Over 300 members joined the celebration of Christmas Party. Babu Varma and Clerin Parmar was the Coordinator of event. The program was highly successful with the active support of the Board of the Directors, Advisory Board, volunteers and various churches.
The Banquet was attended by dignitaries including Rev. Timothy Rathod, Rev. Dr. John Rathod from Emmanuel United Methodist Church. Rev. Walter Christian, Shailesh Alendry, Irene Christian, Vivek Solanki, Shailesh Christian, Vidhyaben Christian and Ruthben Vyas from Gujarati Christian Fellowship of Naperville and members from Bolingbrook, Gujarati fellowship. Other community representatives Sher Rajput, Vergesh Chako, Mujeeb Ahmed, Vijender Doma, Sunil Shah attended the event.
The program start right on time at 6:30 pm. Rev Timothy Rathod performed a prayer followed by dinner served. Delicious dinner, yummy chicken Biriyani, Chicken Chapli Kabob, Testy Begun Bartua, 4 kinds of different Naan, Salad and 3 different kinds of chutney served by Masti Grill. They are located at Devon Ave. and famous for lots of Hyderabadi food.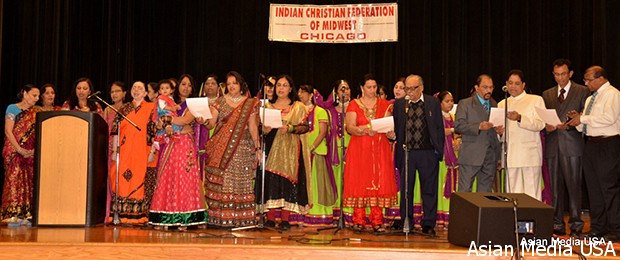 Masters of Ceremonies Clerin Parmar, Manish Varma, Irene Christian, Ruth Varma and Veena Bhagat carried the banquet with great eloquence.
Clerin Parmar welcomed everyone for this auspicious occasion. She invited chairman, Vinubhai Chitnis on stage. "I am honored and glad to welcome you all at this great event "Christmas Dhamaka" and celebrate Christmas. I would like to thank all the board members of Indian Christian Federation to make this event for all the community to come and celebrate Christmas season. I take this opportunity to wish you all Merry Christmas and a Prosperous New Year 2015. We have been involving in various social and charitable activities in USA as well India too. The federation has been participating in charity work towards various organizations in need" said by Vinubhai Chitnis chairperson of executive board of Indian Christian Federation of Midwest.
Followed by Vinubhai Chitnis, Clerin Parmar invited Babu Varma the President of Indian Christian Federation of Midwest on stage."Tonight is indeed a celebration of inspiring hope and my words cannot express our heartfelt gratitude for your presence here as we see a record attendance to celebrate the Christmas and welcome year 2015. All Christians living in Midwest area are requested to join the federation and make it a strong organization" said by Babu Varma, president, Indian Christian Federation of Midwest.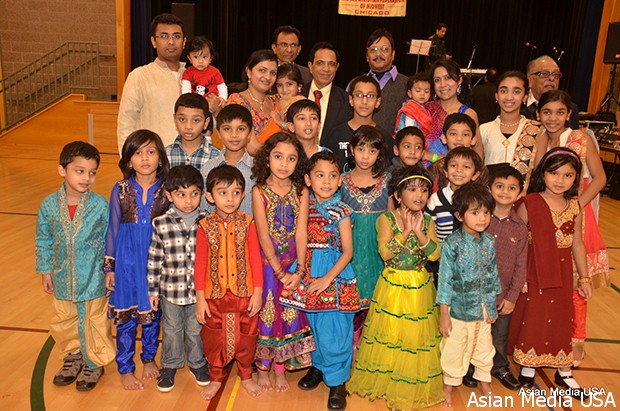 "An highly successful event with this energy and organization can only happen with the team work. This event would not have been possible without the Support of all members from various churches" said by Rev. Timothy Rathod.
Babu Varma invited Sunil Shah and Mujeeb Ahmed on stage. Both of them praise to Babu Varma that he is a very good community leader and serving the society for last 20 years. This type of culture event would bring our culture and heritage to new generation and bring unity and among all the churches.
Babu Varma introduced entire board Indian Christian Federation of Midwest and sponsors of the event on stage. He recognized everyone to the dedications of their hard work.
Naperville Christian youth performed devotional Christmas Song "Yeshu Masih Tere Jaisa hai koi Nahi (Hum Gaye Hossana) Beautiful melodious was performed by Ronak, Arpan and Vivek.
The first half of the event was garba and the second was Dandiya. Garba was performed by Women Group of Evanston Church and also Gujarati Christian Fellowship of Naperville. Both garba was beautifully choreographed by church members. The whirling dancers, clapping hands, distinct sound of wooden sticks struck together, toe tapping music and people wearing colorful clothes marked the celebration at the Garba & Dandiya Raas dances were outstanding.
Followed by Garba, the floor was open to the public and dandiya Raas. People really enjoyed. Another unique feature of the event was the prizes for the Best attire male and female (Adult and youth). The prize was distributed to the following 4 winners: Kamlesh Gohil, Denise Parmar, Amrita Varma, Priya Shields by owner of Mehndi Neo Salon (Amita Chitnis.
The Christmas gifts were distributed to children under 10. The vote of thanks by secretary, Girish Christie. Bollywood songs by local well known Singers, Imran Durrani, Rajesh Chalam, Shaila Kadekar, and Mahijit S. Virdee.
The sponsors of the event were Travel King, Medstar Laboratory, National Bankcard, Travel King, Masti Grill, Lake Street Dental, Subway (Nita Dabhi) Modern Accounting, New York Life (Sunil Shah), Sher Rajput, and Mehndi Neo Salon (Amita Chitnis).
Executive Committee: Vinubhai Chitnis (Chairman), Babu Varma (President), Clerin Parmar (Vice President), Girish Christie (secretary) and Oliver Parmar (Treasurer).
Board of Directors & Advisory Committee: Samson Macwan, Raman Sutaria, Smita Christian, Ruth Varma, Jyoti Sutaria, Dilip Rathod, Irene Christian, Veena Bhagat, Shailesh Christian, Binny Christian, Shailesh Christian, Jayman Chitnis, Deborah Cowper and Rev. John Rathod (Mission work advisor).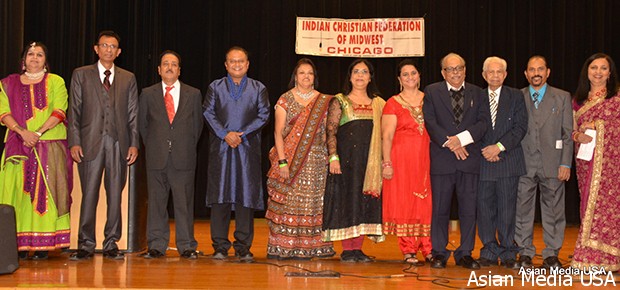 About your organization:
The Indian Christian Federation of Midwest is located at 5254 Wright Terrace, Skokie, IL 60077 is a Not-for-Profit organization, established in 2000. Indian Christian Federation of Midwest is formed for the following purposes:
• Indian Christian Federation of Midwest is organized under the Not-For-Profit Corporation Act of the State of Illinois. It is a secular, not-for-profit, charitable and education, socio-economic, and cultural affairs of the Christian people of Indian origin in mid-west.
• To provide platform for dialogue among Indian American community.
• To involve in social, cultural process and cause Indian voice to be heard.
• To fight social, cultural tyranny whenever it exists.
• To welcome new immigrants, students, visitors and guide them.