Chicago Ki Awaaz A platform for aspiring singers
Chicago IL: A gathering of music lovers celebrated Old and New Bollywood Songs on Saturday August 30th, 2014 at Masala Grill Restaurant, 2948 West Devon Avenue, Chicago, IL. Event started at 7PM and went on till 1:30AM with non-stop Bollywood Songs being sung by 20 singers. Both amateurs and professional singers pleased the crowd for five hours.
Masti-Entertainment was started by Mr. Mujeeb Ahmed on June 15th 2012. It went from a handful of members to over 125 members currently and continues to grow. Over the past year, Masti Entertainment has supported or organized 19 meet-ups. Masti-Entertainment organizes karaoke night called "Chicago Ki Awaaz" every 6-8 weeks, at venues all over Chicago Land. This night is for music lovers to get together and sing their favorite songs or just enjoy listening to other singers. Chicago Ki Awaaz provides a platform for singers to express themselves through music and welcomes artists of any Age, Religion and Culture. Its mission is to bring out hidden talents within the Desi Community and support singers who have God given Talent to realize their potential. Being an integral part of the group will provide the singers opportunity to perform at local events.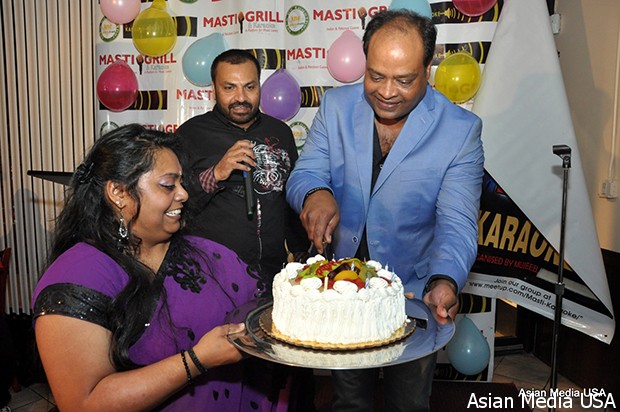 DCA (Deccan Cultural Academy) is a proud supporter of Masti-Entertainment and Chicago Ki Awaaz. DCA, a non-profit organization, was started by Dr. Siraj Ahmed. The goal of DCA is to support cultural activities of the Indian subcontinent here in the United States. DCA has been helping Masti-Entertainment over the past year by actively supporting its singers and giving them opportunities to sing at different events within the community.
Chicago Ki Awaaz was hosted at Masala Grill Restaurant in Chicago. The $ 25.00 Admission Fee included a Full Buffet of Vegetarian and Non-Vegetarian Dishes and over 5 hours of Musical Entertainment.
The evening started at 7:00 PM with an introduction by Jeent Varghese (Jee Va), as the Master of Ceremonies. Approximately 20 different singers entertained the attendees and mesmerized them with their God gifted voice. The main singers were Ranjajoy Ganguli, Rupsha Ganguli, Amrita Saha Karmakar, Raj Patel, Lesley, Mohammed Shafi, Muzpura Sharif, Muzaffar Qureshi, Mahijit Singh Virdi, Surinder Sharma, Manmeet Kaur, Imran Durrani, Sameer Shamrock and Mukram Mahmood. The songs ranged from old Bollywood songs from the 60's to latest Bollywood dance hits. The impressive and noteworthy thing about this talented group of singers is their dedication and love for music. The audience had the opportunity to listen to top Bollywood songs from Asha Bhosle to Shreya Goshal and Kishore Kumar to Rahat Fateh Ali Khan. The singers practiced and rehearsed for several weeks to give their best performance and make this event a great success. Singers came to gather as a Couple, such as Surinder Sharma and Manmeet Kaur for Dil Ki Nazarse and Kisiki Mushkarahat Par, Manmeet Kaur and Simay Ganguli for Dil Hai Ki Manta Nahin, Manmeet Kaur and Dr. Siraj Ahmed for Jagjeet Singh Gazal, Mujeeb Ahmed and Raj Patel for Main Shayar To Nahin.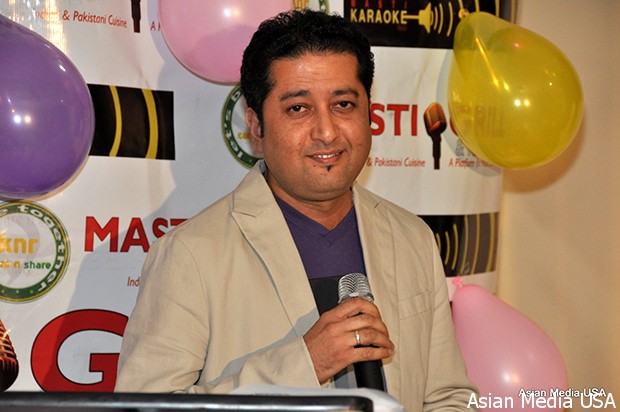 Masti Karaoke has always been a dream for Mujeeb. The guests were truly delighted to be a part of his birthday celebrations in conjunction with the 8th episode of Chicago Ki Awaaz, as well as take part in the karaoke singing. Unlike other times, this time was a bit different as Mujeeb himself got on the stage and sang his favorite song- "Mein shayar toh nahin" and he did sing pretty well. Everybody totally enjoyed his performance. He was overwhelmed with joy when his close friends got on stage to say a few words to show their appreciation. His best friends Imran, Tanveer, Faisal, Jeen , Nalini , Dipak, Kris and Moni all shared their heartfelt appreciation for his hard work and dedication for Masti Grill and Karaoke, a platform for upcoming as well as veteran artists of our community.
"Mujeeb is a loving , soulful person who goes out of his way to make everyone feel welcome at Masti", said Moni Islam and Kris Islam
Our family has always been crazy about music but my nephew Mujeeb took his passion for music to whole different level, and I will always be right beside him to support him in all his endevours, said Dr. Siraj(Mujeeb's Uncle)
We are best friends and brothers for a very long time. I truly, humbly, am thankful to God for blessing me with a brother like Mujeeb, who has always encouraged and supported my passion for singing. God Bless you Brother and a Very Happy Birthday, said, Imran Durrani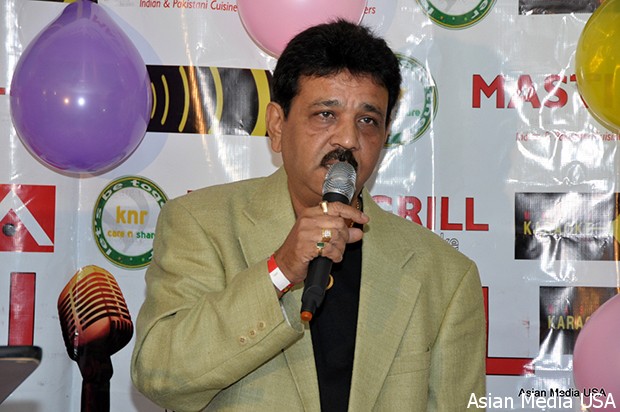 "Mujeeb is not a singer however he founded Masti karaoke for all the singers who have a passion for music. He opened Masti Karaoke as a platform for music lovers" "We bring artist from India once a year, but Mujeeb keeps alive all singers all year round" said Suresh Bodiwala Asian Media USA Chairman.
Masti-Entertainment encourages anyone interested in music to become members by signing up at www.meetup.com/Masti-Karaoke. Masti-Entertainment thanks Masala Grill for all their hard work and delicious food and Dr. Siraj Ahmed and DCA for their continued support and encouragement.
What the Audiences are saying about Chicago Ki Aawaz
WOW!!! Awesome!! Great Indian and Pakistani Music. Absolutely Fantastic.
Great Group. Fun Loving and Tolerant to all Types of Singing.
I am impressed and Congratulations for an excellent job.
Friendly Group…..had the best time.
Very nice and friendly people. Great singers.
I had a good time. Great turnout!