Shere Punjab Sports & Cultural Club Chicago embraces its 8th Annual Kabaddi Cup plus Volley Ball Tournament and Cultural Program
Chicago IL: Shere Punjab Sports & Cultural Club, Chicago held its 8th Annual Kabaddi Cup Tournament" Chicago Kabaddi Cup 2014, Volley Ball and Cultural Program" from 10:00 AM, on Sunday, August 31, 2014 at Busse Woods Forest Preserve South, Grove # 5, Elk Grove Village, IL which turned out to be a big festival of fun, food and sports. People not only from Chicagoland area but from Indiana, Ohio, Michigan and Wisconsin came in large numbers to enjoy this sports festival. The Kabaddi and Volleyball teams from Detroit, Arkansas, Milwaukee, Indianapolis and Chicago participated in the tournament. In the evening a famous Punjabi folk singer Sarbjeet Cheema entertained guests with his Punjabi hit songs, entertained the audience with his popular songs for more than three hours. Mr. Raghbir Singh (GHUN) from Houston was the Chief Guest.
In the open Kabaddi Cup matches the first prize was won by the Punjab Sport Club [PSC] Milwaukee. They defeating Shere Punjab Sports and cultural Club, Chicago. The first prize of $5100 was sponsored by Jaswinder Singh Gill & Najar Singh Gill of Waukegan, Illinois and 2nd prize of $4100 was sponsored by Gurdev Singh Gill and Amritpal Singh Gill of Ludhiana Four teams competed in the open Kabaddi. Besides winner and runner-up teams the other two teams were Indiana and Arkansas. The competition was tough. There was a lot of excitement amongst the Kabaddi lovers whenever a raider or stopper scored a point. They appreciated the players by announcing cash prizes for every point scored. Kabaddi players of International repute were playing in both the teams.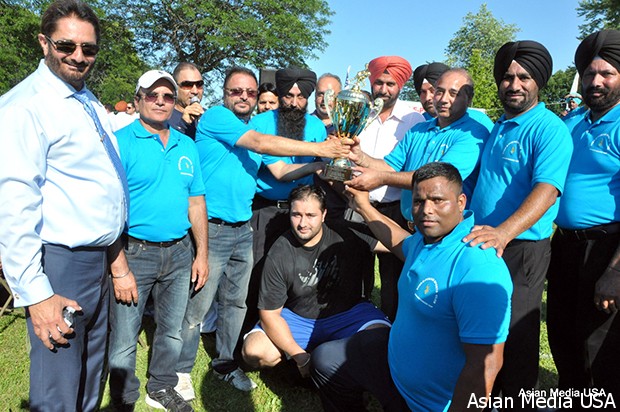 Volleyball- 1st prize and 2nd prize sponsors by Amarjit Singh Ghindsa.
Best Raidar and best Stopper awards were given in the memory of Late Gurdev Singh Bandesha , sponsored by his son- Jang Bandesha.
The sports festival started with prayers by Bhai Gurjant Singh, Head Granthi of Gurdwara Palatine. There was lot of free food for the spectators who enjoyed along with tea and lunch. The food was free and there was no entry fee. Women and children also came to see the festival in large numbers.
A number of other sponsors gave their valuable contribution to make this Kabaddi Mela successful. Thanks to all sponsors. The event was successful with the generous donation by event sponsors. The sponsors were recognized and presented plaques.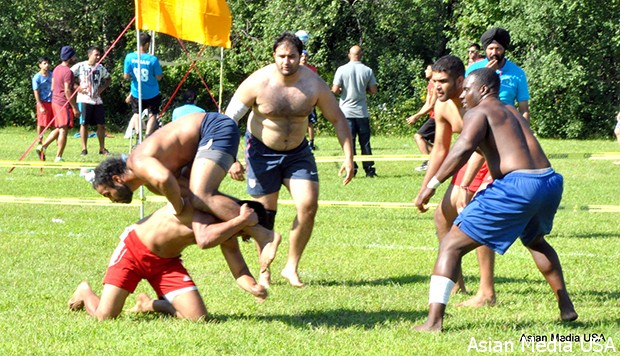 Chairman of the club is Harinderjit Dhaliwal, President is Hardeep Bandesha and all the Members of Board worked hard to make the event success. Club President Mr. Harinderjit Dhaliwal and all Board Members thanked to all the Spectators, Sponsors and Supporters. The whole event was telecasted live by Global Punjab Channel.
Priest recited prayer and Tournament was declared open through blowing Balloons. Following are score for kabaddi Cup Tournament
• The first match was played between Shere Punjab Sports & Cultural Club and Sports Club of Arkansas was played which resulted in win for Shere Punjab Sports & Cultural Club by 35/30 at Half Time they were 21/18.
• Second Match was played between PSC Milwaukee and PSC Indianapolis which was won by PSC Milwaukee by35/31. At Half time they were 19/14
• Third Match was being played between PSC Arkansas and PSC Indiana which was won by Indiana by 20-1/2/20. At Half time they were 13/10. PSC Indiana was declared third.
• Fourth and Final match was being played between PSC Milwaukee and Shere Punjab Sports & Cultural Club and Sports which was won by PSC Milwaukee at Half Time they were 20-1/2/18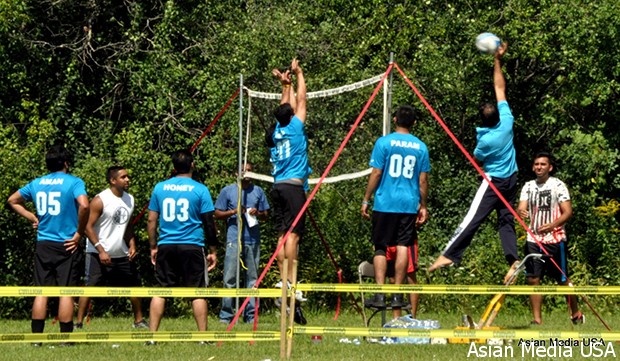 PSC Milwaukee was Champion and Shere Punjab Sports & Cultural Club Team as Runners up. Ultimately Finale took place amidst huge encouragements from spectators present in large numbers and players of both teams were being introduced to many dignitaries during its Half Time who congratulated them and wished Best Luck in Finale. In Finale Teams of PSC Milwaukee and Shere Punjab Sports & Cultural Club participated and Milwaukee Team won the Finale and was declared Champion. The match was heart throbbing one.
Team 21 [T 21] Kabaddi match was being played between players comprising of T 21of age from Michigan Detroit Club and Milwaukee which resulted in win for Michigan Detroit Club. Indian by 41/26 and at Half Time they were 22/12. Michigan Detroit club was the winner. T 21 Kabaddi prizes were given out by Shere Punjab Sports & Cultural Club Vicky Samipaur deserves kudos for Kabaddii Cup. Raghvinder Singh Mahal was Scorer and Harjeet Ghotra and Raja Talan were referees for the matches. Rana Sidhu and Iqbal Singh Galib entertained the entire audience continuously with their nonstop Commentary over all live matches and also continued passing on various information as to Sponsors, Dignitaries and so on.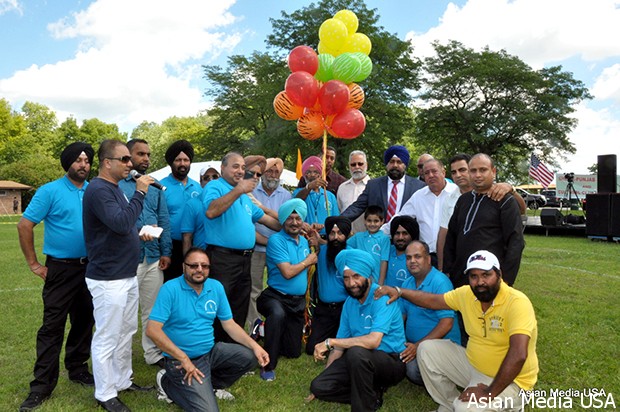 Kabaddi Cup Tournament:
• First prize was given to PSC Milwaukee Team with a check of $ 5100 and a Champion Trophy also was given.
• Second prize was given to Shere Punjab Sports & Cultural Club Team with a check of $ 4100 and a Runners' up Trophy also was given.
Volleyball Cup Tournament:
• First prize was given to Shahid Bhagat Singh Club Chicago
• Second prize was given to Go Green club of Madison
There were many individual Platinum Sponsors and others Sponsors such as State bank of Cheltan; Nanak-For Great Taste-Dairy-Appetizers-(Everest Traders) and food was supplied by Ashiyana Banquets and Caterers.
There were many Dignitaries present and they were introduce to audiances by Shere Punjab Sports & Cultural Club
Culture program started with a song by Jesse Singh, a local singer, who just recorded his first song 'Soney Suttan Wali'. Jesse Singh sang his original song first time on this kabaddi mela, beautifully. His song praise the punjabi girl in her colored punjabi suites, looks beautiful and charming. The song is written beautifully and seems like will earn good place in this year's good punjabi songs.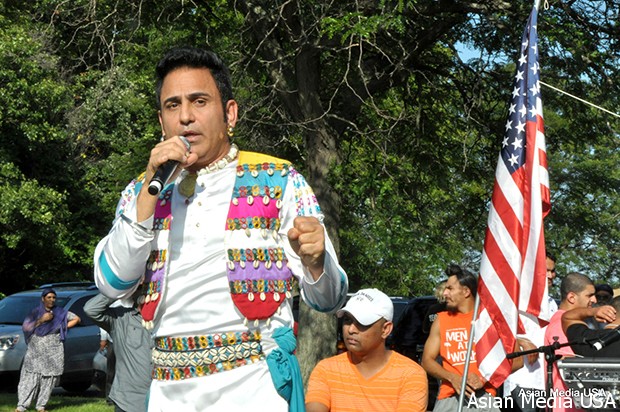 Sarbjeet Cheema, A well known Tollywood actor and Punjabi singer, who started his career as a singer in 1996 with hit Songs Rangala Punjan and Mela Vekhdiye Mutiyare, took the stage. He also acted in some punjabi movies. Some of them are- Pind di Kudi, Apni Boli Apna Des and Punjab Bolda. He sang some of his famous songs as ' Rangala Punjab' in which he praise punjabi mothers who are so great and ready to scarify anything for their families, how young man's are so hard working in farms and in army – taking care of their country. The song tells how Punjab is a true treasure in this world.
In other song, Yaarian, he ex[plains how world is full of people who take advances of your friendship but still there are many friends who are always there for you in their whole life. In song 'Nashey' which is from a new upcoming album, he warns young generation how 'Nasshe' -addiction is bad for them. Then he tells them that if they really want to have a addiction, have a addiction to be a good person by loving human beings, love God and respect othjer people. He tells them that if you get this addiction, this will give you more satisfaction than any other 'Nasha'.
He continued singing meaningful songs like in 'Paisa Jiye Nachaie Janda Duniya Nachi Jandi Hai' in whihc he tells how everyone is in love with money and just running behind money. To try to get more money, one sibling is killing other sibling.
He sang, one of this famous song' Mela Vekhdiye Mutiyare' and RangRara Riri Rara' in whihc he praise Punjabi Girls beauty and how she enjoys parties and be part of any function gracefully. These songs are still among a few evergreen famous songs in Punjabi parties and going to stay like this in coming generations after generations. When he sang his other song on Kabaddi, he told audience that he used to play kabaddi with some of famous kabaddi players whose names and how these players are good , used in his song. These players as well as this song will stay part of Punjabi Kabaddi Mela. He ended his show woth some of Punjabi Boliyans. Audience enjoy his songs that much that even it was too hot to stay outdoor on thjis day, all the audience kept sitting peacefully during this whole concert. We are sure Sarabjeet Cheema enjoyed this concert as well to see such a respect from this followers.
Sarbjit Cheema was accompanied by Ajay Randhwa and Narinder Kumar on Key Board; Iqbaal Singh on Dhol; Sunny Singh on Dhol and Bittu Devgun on Drums. He mesmerized the entire strong audience amassing more than 3000 spectators with his Scintillating, Romantic, Energetic and vigorous Music which made many enthusiastic ones to rush to the stage in spite of tight security to compliment him. He also gave number of worth remembering quotations, examples and showed his humbleness. The program was about Punjabi Songs and Dances made most zoom.
Chairman- Harinderjit Dhaliwal, President- Hardeep Bandesha, Other members- Jinder Benipal, Jindi Khangura, Parminder Walia, Amardev Singh, Jassi Gill, Billu Gill, Baljit Mangi, Balwinder Chatha, Harbant Grewal, Mohnajit Singh, Lakhwinder Biharipur, Vicky Shamipurya, Rajdeep Pamma, Lakhbir Thindsa, Pali Dhaliwal, Dapinder Dhaliwal, Paramjit Mahiraj, Rupinder Arora, Lakhwinder Singh Shenkhon, Jagdishar Kaler, Gurdev singh Joda, Harjeet Sandhar, Kulwant Dhillon, Surjit Dhoor, Dr Gucharan Singh Grewal, Harbhajan Singh Sandawalia, Harinder Chahal, Bhadhar Singh, Darshan Singh Grewal, Satwinder Singh Pumpy, Sohinder Singh Bilkhu.
Raffle Tickets also were sold and draw was done where winners were given prizes of TV and Laptop