Shreya Ghoshal Stunning Chicago Concert Woos Fans
Chicago IL: Shreya Ghoshal Live in Concert rocked at Sears Centre Arena, 5333 Prairie Stone, Parkway, Hoffman Estates, IL On Friday, August, 15 2014. The magnificent Sears Centre Arena was packed with a phenomenal number of people who attended this sold out Concert. A record breaking attendance of over 7000 plus audience attended the concert, making it the Biggest Shreya Ghoshal Concert Ever In Chicago!!! Shreya Ghoshal, the heart-beat of Bollywood music and Cinema, who is a playback singer, mesmerized enthusiastic crowds for about 3.5 hours. Tickets for the show ranged from $39, $59, $69, $99, $150, $250 (VIP) and $500 (VVIP). The National promoter of this concert tour was Balaji Entertainment and the Chicago show was organized by Babubhai Patel and Bhavesh Patel from Sahil and Nick Patel and Mayur Patel from L.A. TAN.
Shreya Ghoshal Live in Concert had many skilled musicians who looked stylish and very remarkable. The orchestra included 1 violinist, 1 keyboard player, 1 drum player, 1Dholak/ Tabla player, 1 Congo player, 1 Octapad player, and 1 Guitarist and 4 female performers. Sahil and L.A. TAN did a fabulous job organizing this event. The stage was decorated by Sears Centre Arena along with directions from Shreya Ghoshal team which was very impressive. There was state-of-the-art set up on the stage. Sears Centre Arena never looked like this before." The sound system was of very high quality and really outstanding. Security personnel did an excellent job at the event. Volunteers handled overall management making sure the show was well organized and disciplined.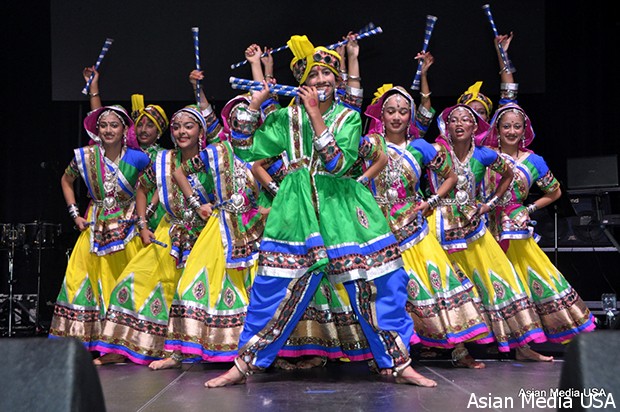 Sahil and LA TAN are pioneers in USA for organizing big shows of Bollywood stars in Chicagoland area. This show was no exception to their organizing skills and created a fantastic concert experience for the audience. Chicago music lovers were treated to an evening of extraordinary music by the versatile singer, Shreya Ghoshal and her band of musicians who are currently on a 90-day world tour covering a total 17 shows. The shows are in Washington D.C, New Jersey, Toronto, Chicago, New York, Atlanta, Houston, Vancouver, San Jose, Seattle, Los Angeles, Dallas, Orlando, Detroit and Montreal. Sahil and LA Tan are always keen to promote local talent. They are promote our cultural heritage and generously encourage younger generation of Singers and Dancers.
Shreya Ghoshal was born on 12th March 1984 in Berhampore, West Bengal, India, to bengali parents, Sh. Bishwajit Ghoshal and Smt. Sarmistha Ghoshal. then she moved to a place called Rawatbhata near Kota, Rajasthan, where her father, who is an Electronics Engineer, was posted. She has spent first thirteen years of formative part of her life there and completed her schooling up to Eighth Standard, in Atomic Energy Central School, Rawatbhata. At the age of 4, she started learning music, mainly Bengali songs, from her first Guru – her mother. She learnt Classical Hindustani Music from Rakesh Sharmaji of Kota, Shri Jayawardhan Bhatnagar, her school's music teacher and thereafter, from Mahesh Chandra Sharmaji of Kota. She got her intial exposure to hindi film songs and rajasthani folk from Shri Bhatnagar. She received training in playback singing from Padmashree Late Late Kalyanji Bhai at later stage. After shifting to Mumbai she continued her training in Classical Hindustani Music with Late Mukta Bhideji. s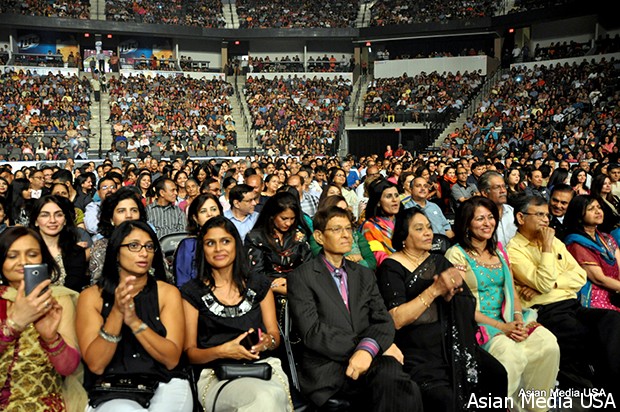 She started recording in regional languages (Marathi, Bengali, etc.). Sanjay Bhansaliji and music director Ismail Darbarji selected her for playbacking for Paro played by Aishwarya Rai, in DEVDAS. After Devdas, she has been continuously working and recording songs with many music directors. She has recorded film songs not only in Hindi but also in Assamesse, Bengali, Bhojpuri, Gujrarati, Kannada, Marathi, Malayalam, Nepali, Oriya, Tamil, Telegu, etc.
She has been performing all over the world and captivating audience with her charming personality, ability to connect to audience instantly and above all her musical ability. She has judged child contestant in Musical Talent Show " Voice Of India – Chhote Ustad" with exceptional ability. Her performance as a team leader and a performer in "Music Ka Maha Muqabala" has been legendary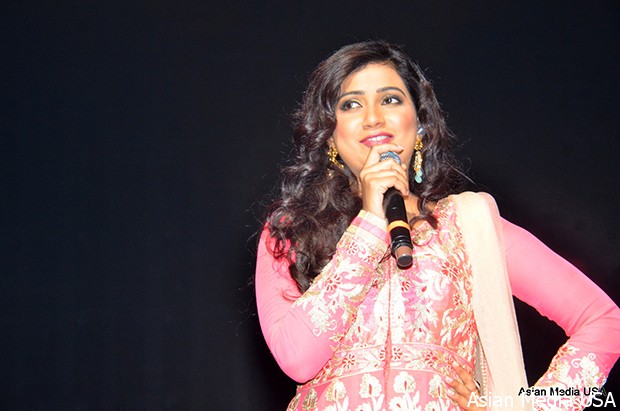 Shreya's melodious voice and her ability to sing in different languages makes her the most sought after layback singers today.
The concert started as 8: 35 pm. The program started with Opening Dance of Surjan Chicago Fogana Junior Raas 2014. They are winner First place in Fogana 2014 held at Detroit.
She started her concert with Sun Raha hai na tu and ended with Mere Dholna. With a twinkling smile and relaxed demeanor she took up listeners' requests that reverberated through the packed hall. She sang a number of songs to the demand of the audience and tried to satisfy all with her sweet and mellifluous voice.
The orchestra gathered around Shreya to play an effective supporting role while she herself drew upon all of her stamina and technique to deliver a mercurial. Light Effects and Sound system was very well synchronized.
Shreya Ghoshal is the best female singer of the decade in India. Her voice is sweet, powerful, melodious, her singing is like no other!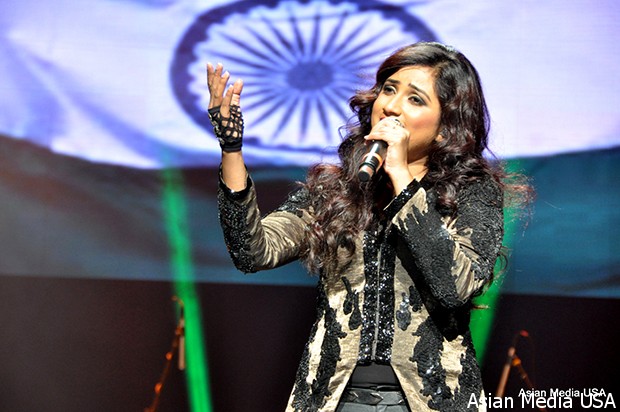 Shreya Ghoshal is a multi-award winning pitch-perfect songstress, known for singing an endless list of Bollywood hits including Nagada Sang Dhol from the upcoming movie Ramleela, Chikni Chameli, Balma, and Sunn Raha Hai.
Before ending the program Shreya thanked the entire team of organizers calling Bhavesh and Nick Patel of Sahil and L. A. Tan on stage, who called other dignitaries whose tireless work made this show successful
Gold Sponsors: Globe Trotters International Inc.; Silver Sponsors: Suga Builders and Construction-Commercial and Residential; Chicago Motor Cars www.chicagomotorcars.com;
Supported by: Al Mansoor Video; Air Tours Inc.; Moviemax Cinemas; Cuisins of India; hi India; Radio Chan Pardesi; The Meadows Club; Masti Grill; DCA; R.N. InternationalWholsale Distributors of General Merchandise; Food was available for purchase by: Sai Saffron Chat House