Vaishnav Samaj of Midwest Celebrated Platinum Jubilee of Pa Pu. JiJI Indirabetiji, Bhumi Pujan for New Big Haveli, and 6th Patotsav in Magnificent Way
Chicago IL: Shreejidwar Haveli (www.shreejidwar.org) established by Vaishnav Samaj of Midwest (VSM) located at 440 W Fullerton Avenue, Addison, IL 60101 celebrated its 6th Patotsav (6th Anniversary) and Bhoomi Pujan for building bigger and better Haveli over a period of three days from 18th to 20th July, 2014 in a grand manner. There were unique Darshans of Lord Shrinathji under Pushti Pranali every single day. There was a unique occasion of interweaving two Great events that of Golden jubilee of Pa. Pu. Go. Shri Dwarkeshlalji Maharajshri (Champaran -Kandivali) and Platinum Jubilee of HDH Goswami 108 Shri Indira Betiji Mahodaya. Board Members of VSM left no stone unturned in making this celebration exhaustive and memorable and with the cooperation of innumerable volunteers they successfully executed it. 1st day was allocated to Bhumi Pujan and Celebration of Golden Jubilee of JJ.
Patotsav Celebrations started on Saturday, 19th July with Shobha Yatra. The patotsav's theme was Chaurasi Bethak Manorath. Chaurasi Bethak, literally meaning "84 seats", refers to the 84 places where Vallabhacharya, a devotional philosopher, gave discourse of Bhagavata in the 15th century. This forms one of the very important concepts in the pushtimarg tradition of vaishnavites in India, and these places are treated as sacred sites by the followers of this sect, for performing devotional rituals.
Pujya JiJi began her spiritual journey from childhood and holds a special place in her heart for the devotees here. She has been accepting their invitation to participate in the Shobha Yatra Her presence makes it possible for a number of devotees to have her darshan and gives everyone involved the opportunity to cherish her Vachanamruts.
Pujya JiJi was escorted to temple where she was greeted by Neetaben Shah, ' Krishna Swarupa Krupa Shakti Shri Yamunaji form, respected and loved by all Vaishnavs world over rare ancestor of Shri Vallabha Pu. Goswami 108 Shri Indirabetiji Mahodaya's 75th Birth Day is being celebrated by us. We are proud to have such good luck as real ancestor of Shri Vallabha has spent her life's every moment in Bhakti Yoga, Karma Yoga Gyan Yoga and has addressed numerous Kathas the world over and also through Bhagwat-Bhakti Ganga, Gita Gyan Sarita, Shodash Granth Vachanamrut led lacs of disciples towards devotion. She has established numerous institutions in world over and she is the spiritual benefactor of Shri Goverdhanji Temple and Shriji Dwar of Chicago. With Shravani's sub name she has released her poetic formations in name of Shravani wherein her impeccable knowledge is reflected. She is continuously involved in religious leadership along with Social, Human Welfare, Economic, Education upliftment and also have risen to the occasion in disasters to help. Her life itself speaks of her Idealistic living. She has been a friend, philosopher and guide in every nook and corner of activities of VSM. Let us hear her Vachanamruts.'
Pu JIJI asked everyone to know yourself and if you know half the world is won. Be positive and considerate. Remember the sayings of MahaPrabhuji and follow his life doings. Gave different illustrative examples and emphasized the need to have Unity. She explained Bethakji Sewa and directed to perform sewa in basement where 84 bethaks were prepared systematically by volunteer team displayed with name plates of their whereabouts to perform sewa as directed by JiJi following that other devotees took darshans and thereafter snacks was served.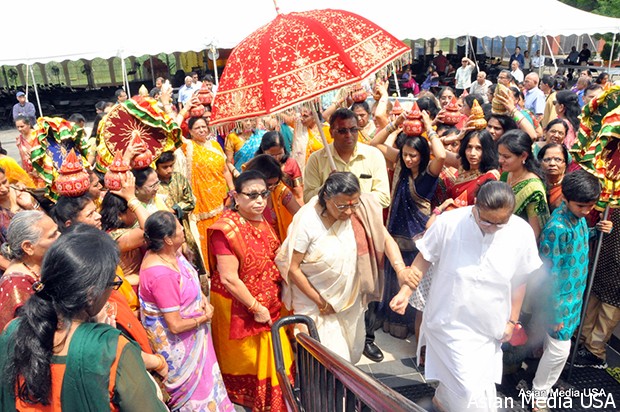 After the break, program started with different performances prepared by Tavasmi Groups. Tavasmi is an only religious organization in Chicago that teaches students about Pushtimarg and Hinduism. The educational material is prepared keeping in mind the youth living in the multi-cultural and multi-religion environment. The educational material is presented as story sessions based on KrishnaLeela, Ramayan and MahaBharat.
Tavasmi Group presented wonderful program based on different facets and charecteristics of Lord Krishna with the support of different Groups, Choreographers, Teachers and program directors,participant's parents etc. Tushar Mehta, Kintul Dalal and Prashant Shah conducted the entire program efficiently. Tushar Mehta; Ami Mehta; Pradouti Shah and Shefali Shah who are Teachers..
Pu. Jiji entered and all gave her standing ovation. Hansaben Patel and Paragiben Patel greeted her with Mala and Tilak.
Dr. Umang Patel greeted Jiji and wished Happy Birth Day on her 75th Birthday and described her illustrious career and her presence of mind, devotedness, Scholarly mastery in Vaishanavism, Bhagvat, Gita, her sympathetic attitudes and what not. She has been a role model of Vaishnavism and have shown paths to many forgotten persons. He shared his personal experiences with her. He complimented her to give chance to VSM to celebrate her Platinum Jubilee and remained present for three days sparing her precious time in spite of health problems.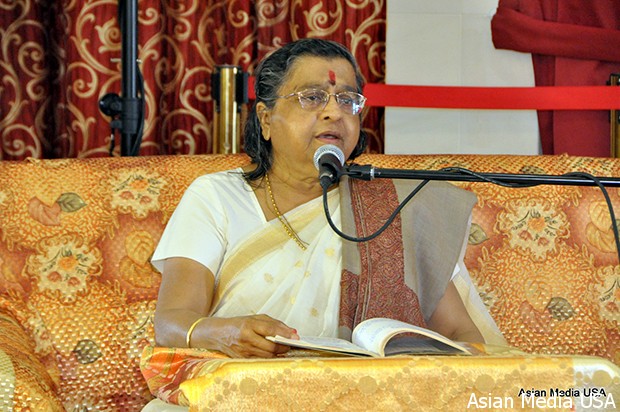 Hansaben Patel shared her personal experiences and praised her presence of mind and preciseness of herself as well as same is expected off others. She said,' JiJi has been instrumental in bringing out Shrijidwar, the name assigned by her and guided all VSM samaj in executing even the minutest detail, be it selection of Idols, Dresses system establishment and everything.
Harish Doshi who has the fortune of spending many years with Jiji shared his experience and applauded the activities she has been performing for upliftment of Pushtimarg.
Sonali Majmudar a young lady born and brought up in USA described her views about Ji Ji.
At this stage a Video presentation was made depicting various facets of JiJi's life , her achievements, Religeous Vachnamruts, Work done during Disasters, Building of self-sufficient village given in presence of Hon. Narendra Modiji, Medical camps, Ophthalmic Operations, Physical Therapy Camps and lot more.
After traditional Happy Birthday Song was recited and ceremonial Cake prepared in Pushtimargi Recipe was cut amongst great cheers by JIJI to the delight of all without candles being blown. Incidentally she gave Ashirvachans on the occasion.
Hindola Darshan of Flower was opened and all dispersed cherishing lucky memories after Dinner.
More than 4,000 devotees from Chicago land and Midwest participated in the event. Youth had become the volunteers and shouldered the responsibilities of Event Planning, Parking, Food, Darshan Management, etc. Devotees praised the excellent management of every activity.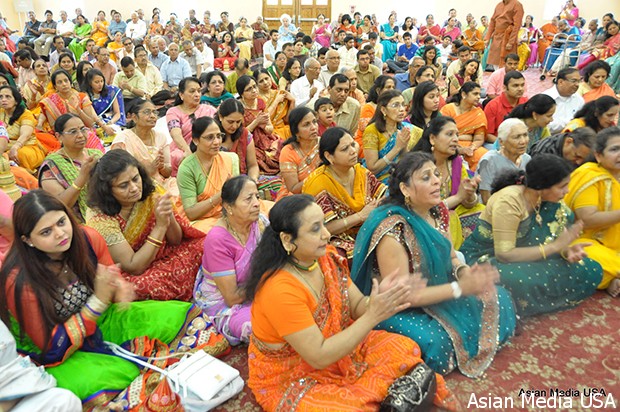 Shreejidwar was built with a capital outlay of more than $3 million in May 2008. In just five years Shreeji Dwar has grown in strength. There were less than one thousand regular devotees in 2008 which now stands at 4,000+. VSM had a bank loan of $1.1 million in 2008 which has been almost repaid in just 5 years.. VSM's devotees have acquired more land in last 3 years. All the festivals are celebrated in rich and unique tradition of Pushti Marg. It is the charter of VSM to satisfy the devotional needs of followers of Pushti Marg which was established by great reformer Mahaprabhu Vallabhacharyaji.
The current leadership of VSM has plans to take Haveli to a different level. Additional 30,000 square feet of construction is planned to accommodate the growing congregation. VSM has already received approvals for meeting point for senior citizens. Very soon, Prasadam Kitchen will be inaugurated. It already provides education and inculcation of hindu values to kids growing up in America. There is a plan to start Yoga classes shortly. Shreeji Dwar has become the pride of the community. It is supported well by Addison city, Congressman Roskam and other community leaders.
Shreeji Dwar since its inception is attracting large and growing number of devotees from Chicago and Midwest area. It is becoming difficult to accommodate large number of devotees in the currently facility. More than 4,000 devotees participated in last year's Chhappan Bhog event during 5th Patotsav celebration. Though it was liked and appreciated by everybody, it was clear that the number of devotees have out grown the size of facility has new larger facility is urgently required.
VSM is proud to have dedicated volunteers. Youth have taken interest. They have become the volunteers and shouldered the responsibilities of Event Planning, Parking, Food, Darshan Management, etc. Devotees have been praising the excellent management of every activity.
VSM management led by Dr. Umang Patel (President) and Rajesh Shah (Chairman) and majority of Founder Trustees and Board of Trustees have ambitious plans for the needs of devotees in general and community as a whole. VSM welcomes all to visit Haveli and seek the devotional and spiritual blessings from Lord Krishna. VSM is thankful to devotees, volunteers, Press reporters, and spiritual benefactors for their support.