Sixth Annual Fund Raising Gala by AARA
Chicago IL: The wonderful amalgamation of Indo-Pak community was seen in American Association of Retired Asians Sixth Annual Gala on Friday, May 9, 2014 at Ashton Place Banquets, 341 75th St, Willow Brook, IL. The program was hosted by AARA has shown the fine juxtaposition of unity and brotherhood among various South Asian countries including India, Pakistan, Bangladesh and East European. The evening was attended by more than 350 enthusiastic supporters and invited guests.
Present in the audience were elected officials, dignitaries, American Politician, Indian and Pakistani Prominent community leaders, seniors and their families. All the volunteers and supporters of AARA took great pride in hosting this event. The evening was warm, welcoming and most of all very enjoyable.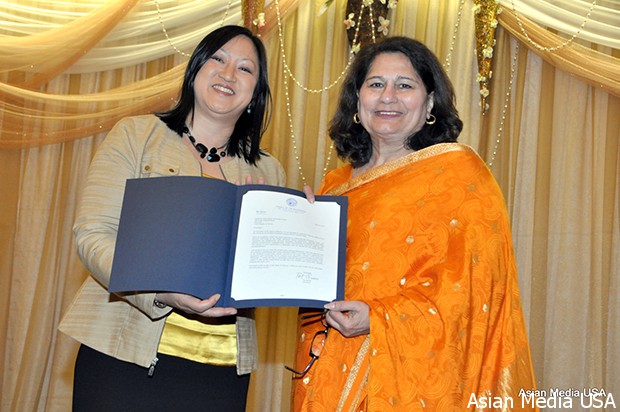 The event started with a social hour at 6:30 PM as the guests started coming in. Everybody enjoyed the tasty Hors d'oeuvres while relaxing and mixing with their friends. There was an extensive Silent Auction table with a variety of items to bid on. The main program began promptly at 7:30PM. Arshia Hasnain, the emcee for the evening welcomed the guests in her speech and gave the highlight of the program as follows: AARA President's Message, AARA's achievements, Fundraising, Awards, Fashion show, Silent Auction, Raffles, Music and final Note of Thanks by AARA's Vice President, Tasneem Matthis.
"On behalf of AARA, it is my great pleasure to welcome you all on this beautiful evening of May 9, 2014. AARA is completing seven years of service and growth. All of this is only possible thanks to our committed volunteers and members who have invested endless hours as a team, to support AARA's Mission. In the near future, AARA plans to have its own community center to accommodate the growing needs of our South Asian seniors. It is intended to help fulfill our seniors' emotional, social, cultural, recreational, linguistic and faith related needs and accompanying activities. We also continue to work on establishing affordable housing for our senior community, and are excited to start the preliminary processes to make this goal a reality this year" said by Dr. Talat Khan in her Presidents Message.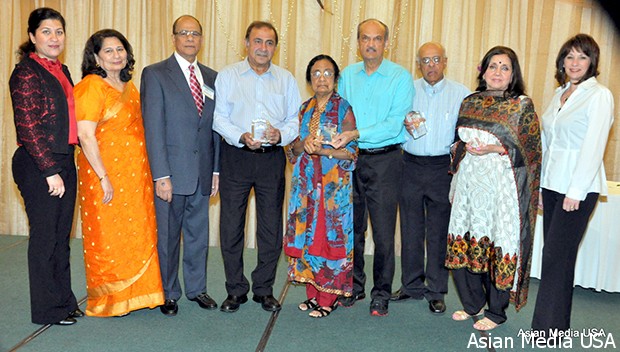 Theresa Mah, Senior Policy Advisor and Director of Asian American Outreach Office of the Governor was in attendance. She read Governor Pat Quinn's letter and gave it to Dr. Talat Khan. It stated – "It is my pleasure to welcome everyone gathered for (AARA) Annual Gala. Since its inception, AARA has been dedicated to enhancing the emotional, social, and physical well-being of the Asian American senior community. Through providing translation and interpretation services, assistance obtaining government support, and offering compassionate companionship, AARA has positively impacted many seniors. I am proud to live in a state that boasts such a diverse population, and I am pleased with the countless contributions that Asian Americans make to our state. Your organization is at the forefront of providing critical services to our state's vibrant Asian American population."
"It is my honor to welcome you to the 6th Annual American Association of Retired Asians Gala. Finding proper healthcare information and navigating complex medical systems can be stressful and overwhelming. This is especially true when there are linguistic and cultural differences creating additional barriers to overcome. For years, the American Association of Retired Asians has filled this void by offering translating and interpreting services for Seniors". Tommy Duckworth Member of Congress said in her letter.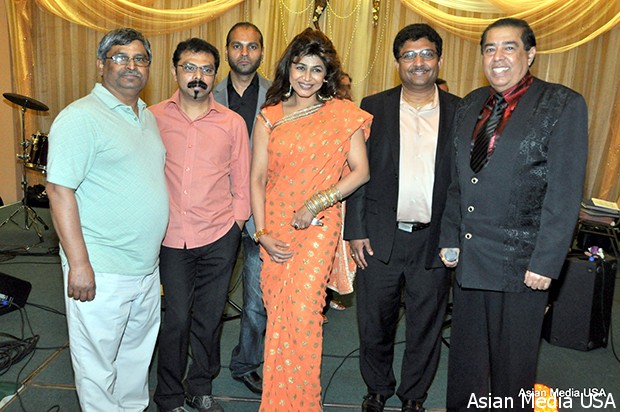 Suhail Khan, the official Fundraiser, gave an overview of last year's achievements and updates on AARA's Senior Housing Project. Next was fundraising. This year's main focus was to raise funds towards building the Senior Housing Project. People were very generous with their contributions and donations.
AARA's 2014 Awards for Excellence in Community Support, dedication and outstanding work were given to:Anwar Gazi [Shahi Nihari], Athia & Saeed Syed, Chandrakummar Duttia, Musarrat (Moneek) Khan, Orner Khan [HiPoint Technology Services, Inc], Rashid Hameed, Shahid Azam, Teri Bornack & Farah Huber [mb Financial Lombard Branch].Dr. Talat Khan, President and Founder of AARA presented the awards.
AARA Senior Fashion Show was a huge hit with the audience. The participants were Anam, Ayesha, Chardra Shah, Erum, Jessie, Moniza, Mussarat, Nuzhat, Purnima, Rabia, Saba, Saeed, Sania, Tasneem and Vipin Shah. The show was a creative tribute to the Bollywood song evolution during the last 80 years. Each decade was represented by a song and each song was introduced by poetic verses written by Poonima Jha. Make up & Hair Stylists are Nafees Hussain, Joya Hussain, Jessie, Farhat Ahmed. The Fashion Show was organized by Jugnu Khan, Ayesha Bokhari and Narima Azam.
Suhail Khan came back for another fundraising push. He also announced the winner of the Raffle. This prize included a boat trip on Lake Michigan with dinner and fireworks.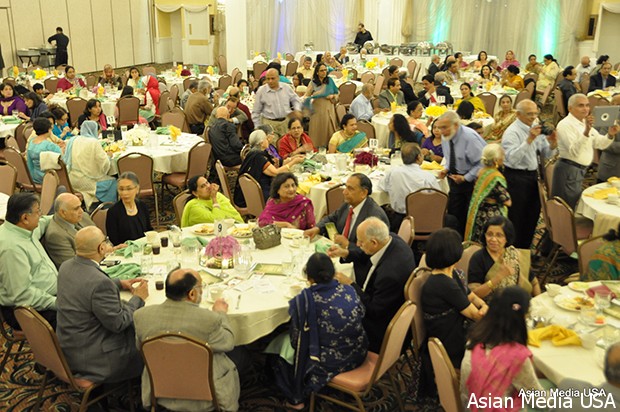 The last great attraction of this event was the Bollywood Singer Poonam Bhatia along with Chicago's own Raju Bankapur & Hitesh Master on Key boards with his team Gopal Shah on the Drums and Richard Christian on Tabla, Dholak and Octra Pad. She is a familiar and well-respected name in the Bollywood Playback Industry. Poonam Bhatia is a world renowned Bollywood singer who has travelled throughout the world enthralling the audience with her lively songs and dances. Poonam took over the stage to entertain the audience with non-stop singing for two hours. She set the stage on fire with her talented jokes and amazing singing performance. She warmly interacted with the audience before starting off the rendition of the melodious poem in her mellifluous voice. After that, it was time to entertain the guests with some evergreen melodies of Bollywood. Most of her song selection included the evergreen hits of Ashaji, Lataji and Samshad Begum like Aiye Meharbaan, Ao Hazoor, Inhi logo ne and Afsana Likh Rahi Hoon, Aaaaz de kahan jain, Jiya Bekarar Hai to name a few.. Upon the request from the audience to sing some faster, new songs she was joined by Raju Bankapur for some very nice old and new duets like. Teri ore, oo lala Oo Lala, Tere Mast Mast, and some old nostalgic numbers like Gata Rahe, Phool tumhe bheja, Tere Liye and others. Raju Bankapur, who is well know as Kishore Kumar of Chicago o and has had the honor of singing with other bollywood celebrities like Kavita Krishnamurthy and Bappi Lahiri , sang some solos of which Agar Tum na hote was much appreciated by the audience. Like all good things, The entertainment had to finally come to an end although the audience wanted the music to go on. The audience took to the dance floor and danced till mid night.
AARA Supporters are Platinum Sponsor- Alden; Simply Me -Salon and Spa; MB Financial Bank; Oakbrook Smiles-Dr. Umar Haque; Hipoint; Dupage Dental Care; Shahi; Therapy providers; DuPage County Senior Citizen Council; Beauty Trendz; Cloudview Realty; Naazish Yarkhan; Naseem Khan; Nilofer Hasshmy; Omer Khan; Nasir Khan; Suhail Khan
Organizing Committee: JugnuKhan, Arshia Hasnain, Firdaus Jafri, Ayesha Bokhari, Ghousia Sultana, Khairunnisa Koita and NarimaAzam
Board of Directors: Talat Khan; Tasneem Matthis; Ahsan Hafeez; Farida Shariff; Indra Makhija; Jugnu khan; Narima Azam; Naveeda Athar; Mujahid Ghazi
AARA Advisory Board: Aamera Zafer , Athia Saeed, Ayesha Bokhari, Chandrakumar Dutia, Ghousia Sultana, Malini Patel, Musarrat II Moneek" Khan, Nazneen Hashmi, Nisha Koita, Padma Patel, Pratibha Dixit, Shahid Azam, Suhail Khan, Syed Saeed and Talat Rashid
About AARA: The mission of the American Association of Retired Asians (AARA) is to provide and/or facilitate access to services to help meet the growing needs of the senior population in the South Asian Community. The American Association of Retired Asians (AARA) is a non-profit organization dedicated to addressing the logistical, cultural, linguistic and advocacy needs of the aging South Asian-American community. Its services, however, are not limited to any ethnicity or national origin.