Association of Pakistani Americans in Bolingbrook celebrated Pakistan Day in Patriotic manner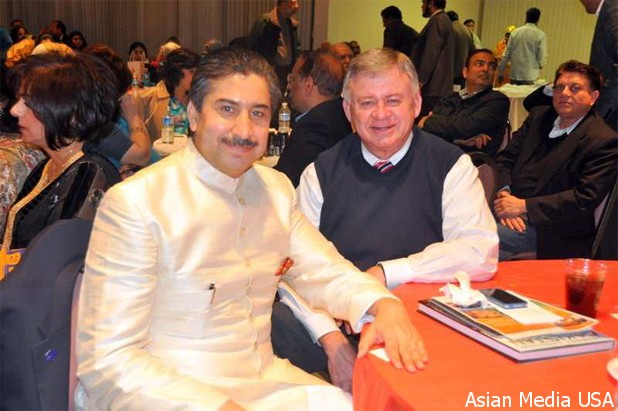 Bolingbrook IL: Association of Pakistani Americans in Bolingbrook celebrated Pakistan Day on March 26th in the Levy Center, 251 Canterbury Lane, Bolingbrook IL. Consul General of Pakistan Honorable Zaheer Parvez Khan was the chief guest. Mayor of Bolingbrook Honorable Roger Claar was the guest of honor. He attended the event with several city officials.
Consul General in his address highlighted the importance of March 23rd and thanked Pakistani community in Bolingbrook for arranging this event to educate the local community members. He appreciated the gesture of the Honorable Mayor for attending the function.
It is to the credit of the Bolingbrook Pakistani American community that that Bolingbrook is the only community in the entire United States of America to host this flag hoisting event for eighteen years! And the Consulate General of Pakistan has never failed to attend any of these flag hoisting events. Consul General presented the book, "Journey thru Pakistan book" to the Mayor Claar and invited Mr. Talat Rashid, Ajaz Gill, Mir Ali and other prominent member of the community to be at the stage. There were around 200 people.
The program was divided in two parts, 1st half was about Pakistan and other half was the musical entertainment program. The members from the Indian American community also were attended the event, including Mr. Prem Lalvani and Mr & Mrs Krishan K. Sant.
Program started with Tilawat Quran by well known Pakistani American, Ibrahim Khan. He also spoke about Pakistan and recited a very famous song, which the audience applauded highly. National anthems of both countries were played. Mr. Bill Mayer the Dupage Township Supervisor addressed the crowd and appreciated the work of APA. Representatives from Etihad Airways and Barakat food, who sponsored this program, also spoke.
A children's program was presented later by young boys and girls about the famous poet, ALLAMA IQBAL and his inspiring poem (Gazal) – LUB PAY ATI HAY TUMMANA MERI. This segment was among the best and appreciated by the Consul General and the Mayor. The children who participated were rewarded with certificates and the gifts bags. Our community's favorite poets, Mr. Wali Khan and Mr. Fahim Ahmed recited the poem about Mr. Talat Rashid for receiving the lifetime achievement Award and presented the award to him. The musical program started after the dinner with songs by Ms Rama Raghuraman and Suresh Singh. Mr. Shahzad and Waseem Khan also sang two patriotic songs each and the audience enjoyed it very much. The program ended at 11:30. Mir Ali was the Master of Ceremonies and received appreciate from one and all for an excellent job of EMCEE. Mr. Ajaz Gill kept everything well organized.
Association of Pakistani Americans thanked to media, Mr. Suresh Bodiwala Chairman of Asian Media USA, Mr. Azeem Quadeer of Asian times and Mr. Javed Rana of News Pakistan for attending the event.
Money Magazine included Bolingbrook in its "100 best places to live in the USA" for the second year in a row. Bolingbrook ranked #43 this year and was #1 in the State of Illinois passing up Arlington Heights #59, Mount Prospect #56 and Naperville #54. This was not an overnight accomplishment but took much hard work and the leadership and vision of Bolingbrook Mayor, Roger C. Claar who brought us this prestigious honor. Bolingbrook has a vibrant and diverse community, which is keeping its traditional values and at the same time plays a significant role in the progress of the Village.
Honorable mention of the following community leaders has been made in acknowledgement of their valuable contribution to the progress of the Bolingbrook Village.
Talat Rashid is the founder of the Association of Pakistani Americans of Bolingbrook. A model citizen (Citizen of the year 2003) of Bolingbrook for over 20 years Talat Rashid has been a part of the political process in the Village of Bolingbrook for many years. A precinct Committeeman, a planning commissioner for the Village and a member of the Bolingbrook Lions Club, he is the Vice President of a Manufacturing Co in Chicago where he also serves on their board and a certified Six Sigma Green belt holder. He Holds a B.S. in (Computer Science) from Northeastern Illinois University and MBA from Keller Graduate School of Management. He taught management at the Robert Morris University Chicago and also taught in Pakistan Navy.
Mir Ali plays a vital role in the success of the Pakistani community in Bolingbrook; currently an area manager for Shamrock Company, before that worked for United Airlines as an International Purser. Mir married to Kulsum and has two lovely children Mahek and Hayat.
Ajaz Gill has been a Bolingbrook resident for 19 years, a respected member of the community and a successful business man. He is the president of Nascent Group and CEO of Midwest draperies, providing luxury home decor to many top retailers. He has been involved in community activities for a long time and been an integral part of the Pakistan Day celebration of which he is also a strong supporter. He is an active member of the Muslim Association of Bolingbrook. He completed his master's from university of the Punjab and finished his business school from Northern Illinois University. During his graduation at university of the Punjab he published three research papers under the supervision of Doctor S.H Iqbal.
Ajaz moved to the USA in 1989 with his family and is a resident of Bolingbrook since then. In 1992 he established his first interior design corporation as Midwest Draperies Inc. In 1995 He launched his second Manufacturing and Design Corporation as Nascent Group Inc. Midwest Draperies has a fortune five hundred clientele from last 18 years. Midwest Draperies works with Ethan Allen, Home Depot, The Great indoors and Expo design centers just to name a few . Ajaz is married to Rizwana A. Gill (president of Midwest Draperies Inc.) They have three children Hasan Gill, Ahsan Gill and Zain Gill.
Photographs and Press release by: Asian Media USA
Suresh Bodiwala
Chairman
Asian Media USA
Bus: (847) 679-8583
Fax: (847) 679-5336
Cell: (847)420-4789
sbodiwala@sbcglobal.net
Copyrights (c) 2010 – Asian Media USA
No one shall download or otherwise duplicate the graphics, images, press release and written content from the PDF without our express written permission. Likewise, no one shall reuse the aforesaid things, as the same are the intellectual property of the Company, we hereby reserve all rights
Disclaimer: – Asian Media USA
"The information in this e-mail and any attachments is confidential and may be legally privileged. It is intended solely for the addressee or addressees. If you are not an intended recipient, please delete the message and any attachments and notify the sender of misdelivery. Any use or disclosure of the contents of either is unauthorized and may be unlawful. All liability for viruses is excluded to the fullest extent permitted by law. Any views expressed in this message are those of the individual sender, except where the sender states them, with requisite authority, to be those of the Asian Media USA