Presidents' Day Celebration by The Democratic Party of DuPage County
Dupage County IL: The Democratic Party of DuPage County celebrated their Presidents' Day Gala 2014 with great enthusiasm on Saturday February 22, 2014 from, 6:00 PM, at Carlisle Banquets, 435 E Butterfield Rd, Lombard IL. More than 300 people were present at this exciting program.
"What a year to be a Democrat in DuPage County," said Bob Peickert, DuPage County Democratic Party Chairman. "Thank you for being here to celebrate our growth in the county and our growth as a party."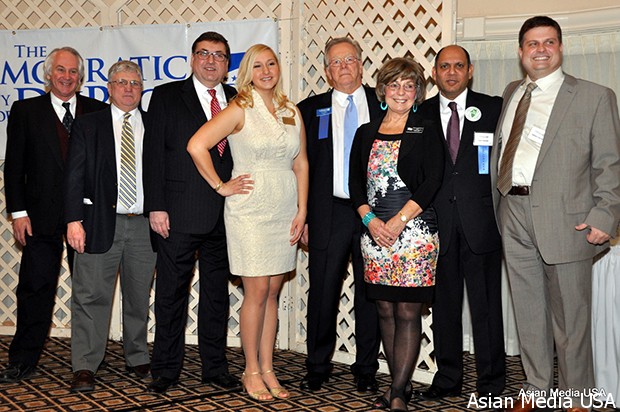 Peickert's congratulatory statements were directed toward a group of more than 300 supporters, who came out to applaud the Democratic officials elected to national, state and local government in the most recent election. This year's theme was "Rebuilding the Middle class, Rebuilding the American Dream".
As the Master of Ceremony, Bob Peickert ,Chair of the Democratic Party of Dupage County welcomed the guests and thanked them for supporting DPDC.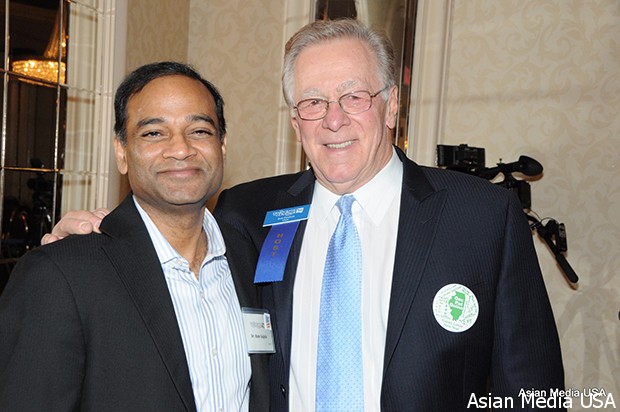 The program began with Senator Dick Durbin's initial remarks where he asked IL Democrats to work
together in a coordinated effort to help elect Governor Quinn and his running mate Paul Vallas in the next election.
Paul Vallas, who is running for Lieutenant Governor of IL was invited to speak. In his brief address, he commended the efforts of Governor Quinn in creating more jobs, expanding early childhood education programs, improving K-12 and special education programs, creating funding for veterans benefits and implementing Medicaid reform in Illinois. He assured his full support to continue the work that is in progress and ensure financial growth of our state.
Prominent Leaders from the Democratic Party who attended that gala include Senator Dick Durbin, Congresswoman Tammy Duckworth, Congressman Bill Foster, State Senators Dan Kotowski, Linda Holmes and Michael Noland, State Senator (and State Treasurer candidate) Mike Frerichs, State Reps Kathleen Willis and Stephanie Kifowit and Wayne Highway Commissioner Martin McManamon plus several Democratic candidates running for county and states offices in the upcoming election such as Mike Quiroz, candidate for DuPage County Sheriff, Jean Kaczmarek candidate for DuPage County Clerk, Moon Khan, candidate for DuPage County Board from District 4 and Pamela Miles, Candidate for DuPage County Board from District 3, Shannon Burns for Forest preserve in District 6 and Laurie Nowak for County Board District 6 were also present at this event.
The Trustees and Executive Committee Members of the IADO were represented by Dr. Ram Gajjela (Past President), Dr. Ashish Sen (President) and Jitendra Diganvker (Director). They were joined by several prominent community leaders from Indo-Pak community.
The highlight of this event was the special recognition award given to 3 incredible women who served on the DuPage County Board in 1974. They are Jane Spirgel, Mary Eleanor Wall and Elaine Libovicz who were honored with an award for their service to the county.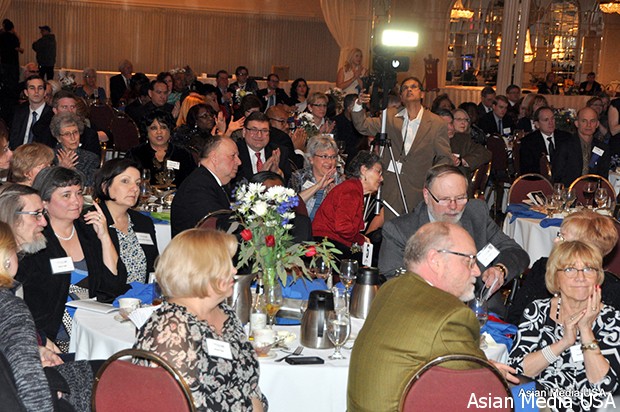 Jane Spirgel (served for 12 years and ran for Secretary of State!), Elaine Libovicz served one term but has been constantly active in Elmhurst caucus and government ever since and Mary Eleanor Wall has been a guiding force behind a myriad of community projects related to seniors, charities, land-use planning and women's issues.
Bob Peickert introduced the keynote speaker of the evening, Bill Press, who is a talk radio host, liberal political commentator and author. He was chair of the California Democratic Party from 1993 to 1996. He hosts the nationally syndicated Bill Press Show (Monday-Friday from 6-9am ET) which airs on WCPT 820 AM in Chicago. Bill Press also attends the daily White House press briefing and writes a syndicated newspaper column, distributed weekly by Tribune Media Services.
Bill Press emphasized the importance of focusing on the current 2014 election and winning the House of Representatives back which requires the Democrats to win 17 seats. He strongly urged the Democrats to put in their best efforts and work hard to ensure victory in 2014. He stated important priorities for the Democratic Party which are raising the minimum wage, extending unemployment insurance benefit, and protecting Social Security, Medicare and Medicaid. His inspiring speech was greatly appreciated by the audience.
The 2014 award winners were: Rose Fitzpatrick who received the Kathryn "Tinker" Harvey Pioneer Award and Steve Bosco from Naperville Township Democratic Party who was presented with Precinct Committeeman of the Year Award.
President's Day Gala 2014 sponsors:
Dr. Ram Gajjela and many unions including UAW and the West suburban Teachers Union.
The Democratic Party of DuPage County officers were also recognized:
Bob Peickert (Chair), Dianne McGuire (1st Vice Chair), Nasir Jahangir (2nd Vice Chair), Paul Fessenbecker (Vice Chair), Laurie Nowak (Recording Secretary), Doug Cole (Corresponding Secretary) and Bob Jeffers (Treasurer), Tony Fuscone (Sergeant at Arms) and Amy Rohrer ( Executive Director).
Gala committee event coordinator was Rose Fitzpatrick and Committee members were Karen Hoffman, Janice Rinehart, Sarbani Chowdhury, Edith Makra, Connie Sunderhaus, Amy Rohrer, Dawnn Basaraba, Barb McDonald, Nasir Jahangir, Laurie Driscoll, and Martin McManamon.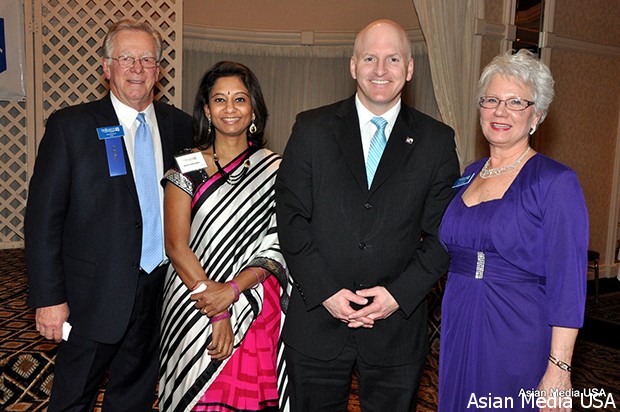 Jyotikumar Chokshi, Editor of Asian Media USA had an opportunity to talk to Dr. Ram Gajjela (President of Indo-American Democratic Organization) about the Gala. He said, "This is a great event for Multi Ethnic Community to develop Political Network and diversify Dupage Development under the leadership of Bob Peickert". Program ended with Raffle drawing and prize announcement.