Vidyaranya Kannada Kuta Celebrates "Sankranti" Festival.
Chicago IL: Viidyaranya Kannada Kuta (V.K.K), is a non-profit organization that provides a forum through which members can participate in the cultural and social activities representative of Karnataka's regional traditions and to support humanitarian causes through the Vidyaranya Kannada Kuta Charitable Fund.
V.K.K on Sunday February 10, 2014 celebrated Sankranti Festival (Harvest Festival) at the Rama temple , Lemont. In spite of the below freezing temperatures, plenty of snow and slushy roads, Kannadigas in big numbers gathered to celebrate this occasion "Suggiya Sambrama". The attendees first gathered in Gupta Dining Hall for a Social hour Meet and Greet session. During this hour Coffee and Snacks were served to the attendees.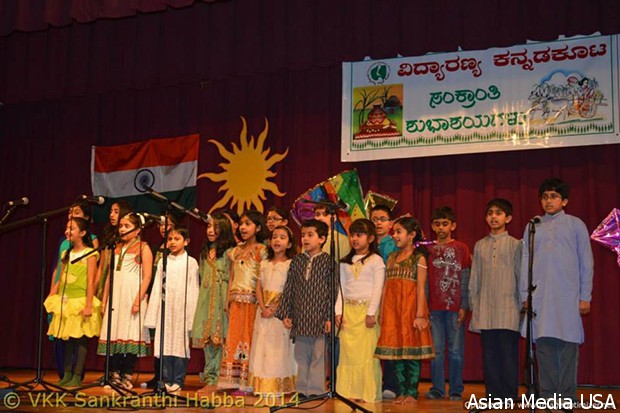 Cultural Committee collectively worked together to make the Cultural program run smoothly. The stage was decorated with Kites, Props of Sun, Sugar cane, Props of pile of grain, Flowers which brought a festive look. There is a tradition in India to fly Kites during this festival. Therefore a "Kite Decorating Contest" for kids was also conducted. First, Second and third places prizes was determined by the judges.
After religious rituals were performed by Temple priest seeking the blessings of the almighty, the program was formally inaugurated by lighting of lamp by distinguished guests including Deepak Patil, President – VSNA Chicago, Prasad Krishnappa, President – VPA Midwest, Vishwanath Baliga, President – AMKA Chicago and Shreesha Jayaseetharam, President – V.K.K.
Program continued with invocation, followed by singing of American and Indian Anthems by students of Sirigannada Kannada School. State Anthem was sung by IIT students of Chicago Area. V.K.K. President Shreesha Jayaseetharam welcomed the guests and assembled Kannada Kuta members.
Special Entertainment program of the evening was "Nireeksha" by "Soorya Performing Arts" from St Louis. Leadership of 'Natya Vidwan' Prasanna Kasthuri and 'Akka Idol' fame Seema Kasthuri, the team sung and performed dance for Kannada Literary Songs in Bharatha Natyam and Kathak Classical style. Jugalbandi of Kathak and Bharahtantyam dances and live singing by the sweet voice of Seema recieved huge applaudes. The audience enjoyed this Special Program.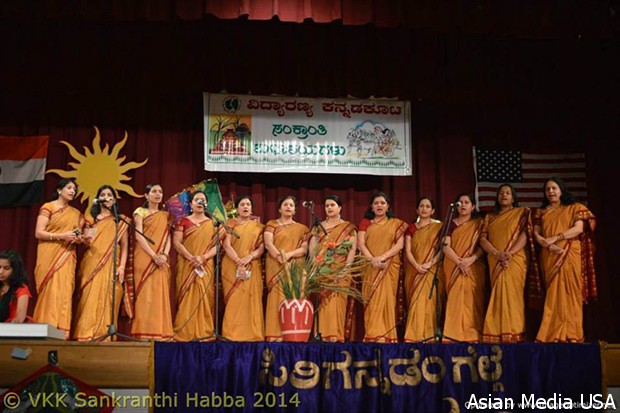 There were also a variety of other programs performed by junior and senior members of the Kannada Kuta which created a celebrative atmosphere. One set of Kids performed Fancy dress depicting famous Indian personalities and another set of kids demonstrated their Kannada proficiency by talking about various topics. They kept the audience mesmerized.
There was a Stand up Comedy session which brought loud laughs from the audience. Group of adults and kids sang a group song" Banthu Banthu Suggi" (Harvest season has come) with Key Board support which came out very melodius. Kids performed a group dance to the song "Suggi Kala Higgi Bandithu"( Harvest season has brought Happiness) which gave a glimpse of happiness brought in farmer's life by the harvest season.
There was a solo Barathanatyam Performance by one of the youth members, Navya Kamath who has completed her training in Bharatantyam and performed Arangetram. Apart from these festive songs, dress ups and dances there were two programs to honor famous Indian personalities.
In memory of Swamy Vivekananda, a song with live orchestra was performed. G.S.Shivarudrappa, a famous Kannada Poet passed away recently. A tribute was done to honor his work through group singing of his poems by group of adults and kids. In between the programs, informations were provided to members about other Kannada related programs happening in the USA and also about other programs conducted by V.K.K such as Winter Olympiad, Sangama- a biannual magazine.
The evening ended with Vote of Thanks by the Secretary. After the program a delicious traditional dinner including Pongal, Ellu Bella was served to the attendees in the Gupta Dining Hall. Indeed it was an Evening of Celebrations of the Harvest Festival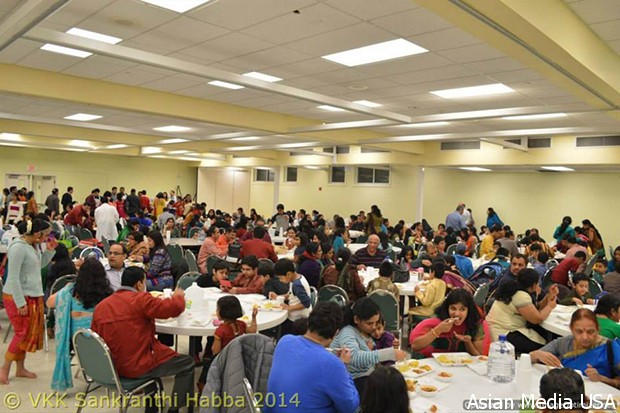 Pictures Captions:
Sankranthi_0.jpg Sankranti" Festival
Sankranthi_1.jpg Chief guests during the inauguration of the VKK Sankaranti Festival Celebration.
Deepak Patil, President – VSNA Chicago, Manjunath Kunigal, Secretary – V.K.K, Vishwanath Baliga, President – AMKA Chicago, Prasad Krishnappa, President – VPA Midwest, and Shreesha Jayaseetharam, President – V.K.K.
Sankranthi_2.jpg National Anthem by Kannada Kuta Kids
Sankranthi_3.jpg Tredetional Fancy Dress by Kannada Kuta Kids
Sankranthi_4.jpg
Sankranthi_5.jpg Suggi Banthu Suggi Song By Kannada Kuta Members
Sankranthi_6.jpg Special Program by Surya Performing Arts, St. Louise
Sankranthi_7.jpg Audiences at Sankranti Festival