Chicago Indians walk to Support Statue of Unity development
Chicago IL: Overseas friends of BJP (OFBJP) and Global Indians for Bharat Vikas (GIBV) organized 'Walk for Unity' in Chicago on the occasion of 65th Republic Day of India. The walk commenced at 12:30 PM from North Shore banquet, 2519 W Devon Ave, Chicago, IL. More than 200 people attended to show solidarity with the Gujarat government's attempt to build a statue of Sardar Vallabhbhai Patel, even though temperature was brutally cold in Chicago. In USA 2 other places, Atlanta and Arkansas as similar event
The walk was organized to show solidarity of Non Resident Indians (NRIs) with the Gujarat Government's initiative to build world's tallest statue in India the Statue of Unity to commemorate India's unity in diversity and invaluable contributions of Sardar Vallabhbhai Patel towards nation building.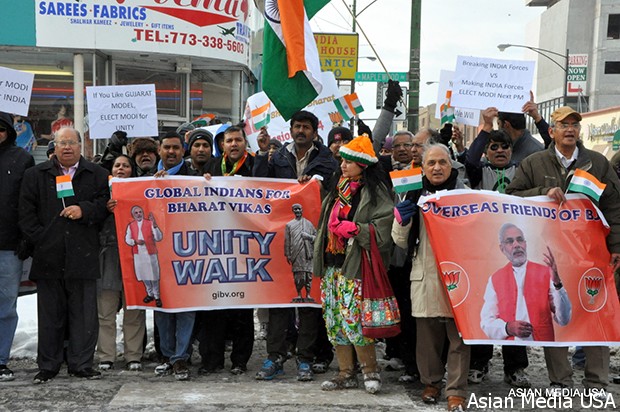 Global Indians for Bharat Vikas (gibv.org) aims for Congress Mukt Bharat and for bringing Sri Narendra Modi as the Prime Minister of India. This is a USA based forum for NRIs around the globe. This forum is open to all who want to see a change and see hope in Narendra Modi, irrespective of one's political ideology. India is at a crossroads today. Only till recently the whole world was looking to India as the next world economic power which has a functional democracy. However, after the initial euphoria India today is far from gaining the economic progress it deserved, and it is sliding down very fast.
The walk was initiated from North Shore banquet on Devon Street which is a popular hangout for the Indian community in Chicago. Attendees were chanting 'Vande Mataram'. The enthusiasm of the participants was undeterred despite the freezing cold temperature. The entire area was reverberated with the sounds of 'Bharatmata Ki Jai'. People from Chicago and neighboring Wisconsin participated in the walk. NRIs belonging to Jammu & Kashmir, Andhra Pradesh and Tamil Nadu came in support of Gujarat Chief Minister reflecting the unity in diversity of India.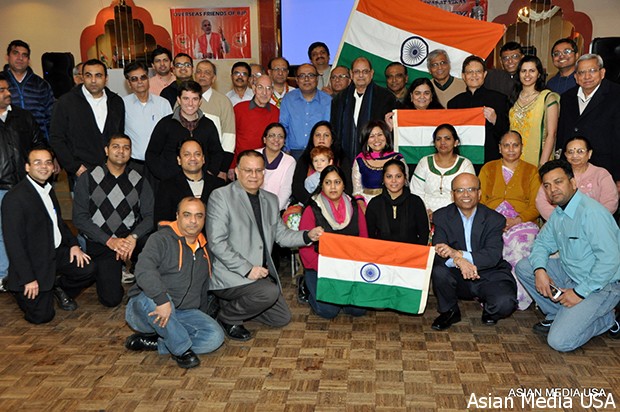 Program was started by Kalpesh Desai, GIBV's Chicago Coordinator, who welcomed everyone to event of freedom and unity for the India's 65th Republic Day celebration and introduced Global Indian for Bharat Vikas (GIBV). He encouraged all to register as a GIBV volunteer to come together with a single minded focus to actively participate to help fulfill the expectations of millions in India. Jenish Bulsara, a high school student, sang national anthem of USA, and everyone rised and joined to sing national anthems of USA and India. Everyone watched and enjoyed special video of Statue of Unity, and got excited to hear about this project in Gujarat, India to honor Sardar Patel for his successful efforts to unite the whole country right after independence in 1947.
Dr. Indrajit Patel talked about Silver coin made to raise funds for Statue of Unity. As all know, there is a drive for collecting fund for this Statue known as Statue of Unity and for this purpose Sardar Patel Seva Foundation, whose President is none other but Dr. Bharat Barai, a well known Doctor, Community activist along with Dr. Indrajit Patel as Vice President. It is heartening to note that they along with other leading Community workers like, Naren Patel of Medstar Laboratories, Mafatbhai Patel of Patel Brothers, Bhailalbhai Patel contributed Silver to create Silver coins to be sold for collecting fund for Sardar Patel's Statue comprising of carved photo of Sardar Patel and Mahatma Gandhi. This coin was inaugurated by hands of Hon. C.M. Narendrabhai Modi, who also assured of meeting all of them in person during their visit to India.
Ajay Jain, Member of VHP's National Executive Council, conducted rest of the program by introducing Vandana Jhingan of Midwest TV Asia, who encouraged women to participate in the political process and make meaningful contribution. Then Riddhi Raval encouraged youth women to get involved.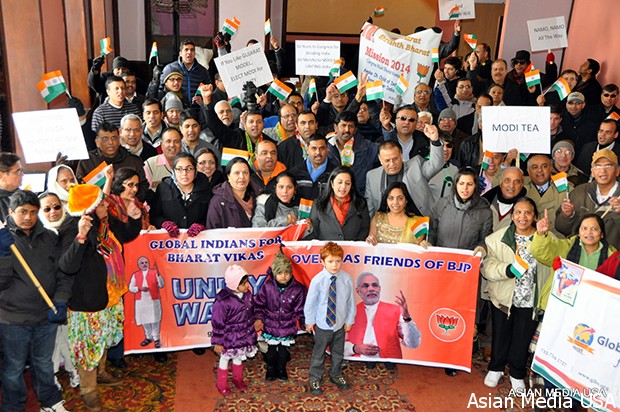 Vice President of Overseas Friends of Bhartiya Janata Party (OFBJP), Amar Upadhyaya shared their activities and history of OFBJP in North America. Then, he introduced Bob Dold's representative to share his views about India-USA relations and common interests. On this occasion, Philipe Milline who represented Congressman Bob Dold, appealed the Indian community to build strong India-US ties. Amar Upadhyay, Vice-President of OFBJP addressed the gathering briefing them about the activities of the organization. He also appealed the audience to work towards accomplishing the mission 272+ to make Narendra Modi the next Prime Minister of India. Nirav Patel, co-convener of Global Indians for Bharat Vikas also appealed the audience to register with the organization to support Narendra Modi. Hundreds of overseas Indians in Chicago have already registered with GIBV to become a part of mission 272+. Similar sentiments were echoed by other dignitaries, including Nimesh Jani Prasad Yalamanchi and Jitendra Diganvker.
Naren Patel of Medstar laboratories who attended with Bina Patel, in spite of the extreme cold weather. He specifically appreciated the Patriotic and staunch efforts of Narendra Modi, for whom he has high regards and wished for everyone to support BJP and Narendra Modi. "Unity among Diversity is the need of the day. People worldwide have realized that the Bharatiya Janata Party (BJP) with Shri Narendra Modi as the leader has the potential to fulfill the expectations of millions, and perhaps it is the only hope for India today. Each one of us can be a potent force in reshaping future of Bharat if we all come together and work with a plan and single minded focus" said Naren Patel.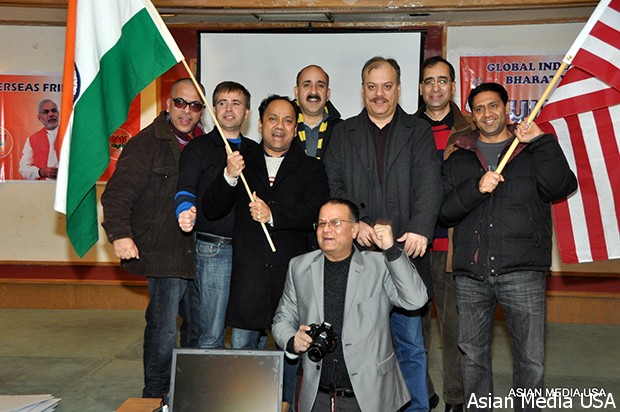 Sohan Joshi, who is the president of National Federation of Indian Americans was also present at the occasion. The celebrations concluded with the chants of Vande Mataram. After that, Jitendra Bulsara sang a hindi patriotic song "Ab Tumhare Havale Vatan Saathio" of film Hakikat sung by Mohammed Rafi and everyone was immersed in the patriotic emotions. Nirav Patel, Co-convenor of GIBV in North America, encouraged everyone to get involved in the activities of GIBV and to help BJP win the elections of 2014 in India. Jitendra Diganvker, Co-coordinator of GIBV mid-west, explained the importance of opposing Article H.R 417 proposed in US congress.
Prasad Yalamanchi, Veteran Community Leader of Chicago area, explained everyone the importance of actively contributing to political process of India and USA, and risks of not doing it. He also urged everyone to lobby the congressman/woman of their area against Article H.R. 417. At the end, everyone enjoyed delicious Indian food before departing.