Six Gam Patidar Samaj of Chicago hosted a colorful Diwali festival
Chicago, IL : On Saturday, November 9th, 2013, Six Gam Patidar Samaj (SGPS) hosted a splendid Diwali Dinner Celebration with SGPS Families, Friends, and Relatives. The event was held at India House Banquet, 1521 W Schaumburg Rd, Schaumburg, Illinois 60194
The evening was full of exciting short speeches, delicious traditional Diwali chow, and Live Entertainment, Spectacular Cocktail Reception, Dazzling Decoration, Indian Food, Cultural Programs, Vibrant Dances.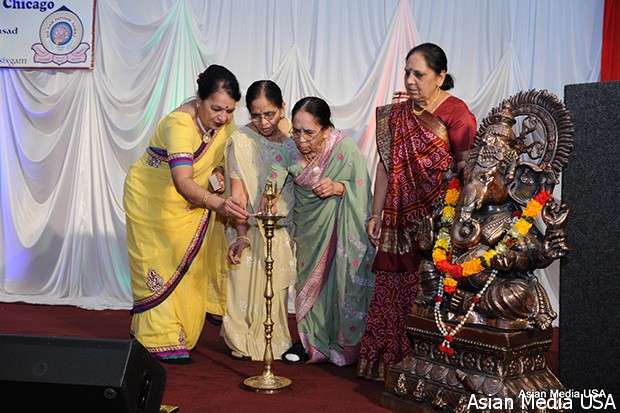 Diwali is one of the biggest Hindu festivals celebrated among many people and communities in the United States. Many schools, community groups, Hindu associations, Indian organizations and corporate businesses get involved in celebrating Diwali. Politicians, including governors and past presidents, previously made public announcements expressing their greetings and well wishes to Hindus on Diwali.
Event's Master of ceremony was conducted by SGPS-Chicago secretary Nirav Amin, and Binti Patel(Daughter of Kamlesh Patel, SGPS Board of trustee). The event started around early evening hours with a spectacular cocktail reception, lasting for almost an hour and half. SGPS families and friends greeted each other with warmth enjoying mouth watering Indian appetizers. Right after that the event was started with an American and Indian national anthem by Eva M Patel. The welcome speech was given by SGPS-Chicago president Diptesh Desai, welcoming and greeting with Diwali & New Year Wishes to the community, friends & family. The event was opened by a traditional Diya Ceremony. Diyas were lightened by respected seniors ladies of the community with a thumping applause from the audience. The event was further progressed with a classical Hindu prayer, beautifully performed by Radhika Patel.
The keystone Guest Speech was given by talented Beenaben Patel, and She started with, "I am honored to speak about empowering youth and inspiring bravery. Getting our youth involved and inspire them to be a part of our culture is not an easy task. It requires understanding and planning. We need to respect the American culture where they are growing up and merging with our Indian Culture and Heritage. We need to find a way to involve our youth and come up with the activities that they enjoy. You invest in children, you invest in future and you will get returns 10 folds."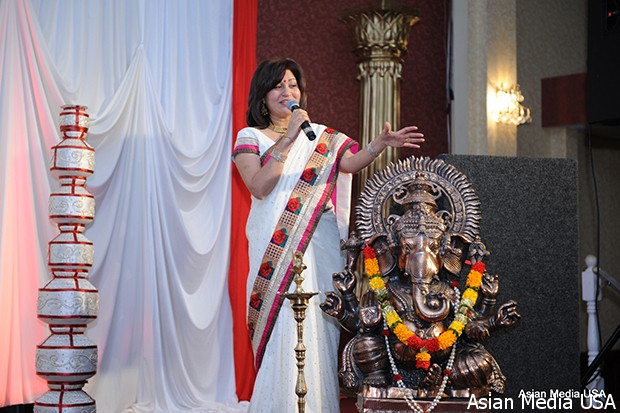 We need to speak to them using the tools that they use to communicate like Facebook, Tweeter, Skype or face time. Any expert can give advice when it comes to find employment, promoting a business or finding solutions with work issues. Employing these tools, adults and youth alike can work effectively to solve problems big and small, global and local, with friends and family, colleges and bosses, and most importantly maintain positive relationships.
It requires being able to use the power of critical thinking and compassionate and inclusive care. Today, I will talk about building a culture of love, compassion, and empowerment for youth by giving examples of famous youth icon such as Lady Gaga, Derek Rose, Megan with Down Syndrom and Malala.
Keep your thoughts positive because your thoughts become your words. Keep your words positive because your words become your behavior. Keep your behavior positive because your behavior becomes your habits. Keep your habits positive because your habits become your values. Keep your values positive because your values become your destiny.
Great minds discuss ideas, average mind discuss events, and small minds discuss people. No one can make you feel inferior without your consent. Thank you and enjoy the rest of the program.
She conducted entire evening efficiently and humorously.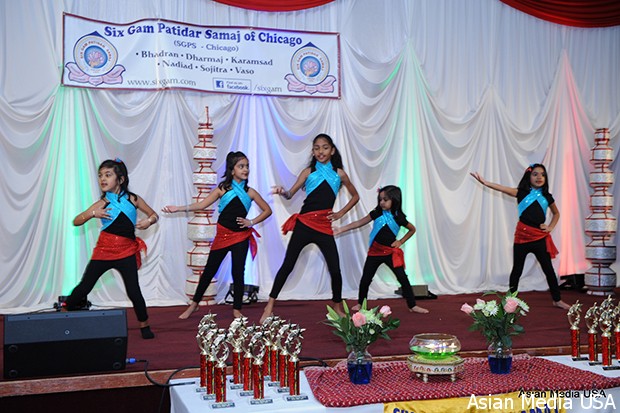 The guest speech was followed by the cultural program performances/Bollywood performances by young generation. These dances were choreographed by Leena Patel, Mausmi Patel, Neema Patel, Ishika Patel, Maliya Patel, Radika Patel, Nijal Patel, Madhavi Patel and Sejal Patel. The participants were Esha P Patel, Eva M Patel, Krish Patel, Rayna M Patel, Aysha Patel, Bansi Patel, Nishi Patel, Riya Patel, Payal Patel, Akash Krishanan, Ishika Patel, Maliya Thakker , Riana Patel, Sejal Patel and Nemma Patel.
SGPS-Chicago promotes education by awarding student of the year awards every year for High School graduates. The 2013 High School Graduate of the Six Gam Family, member of the SGPS. AWARD CONSISTS OF: (1) "Student of the Year" award consisting of a plaque and cash award of $501, and (2)" Academic Excellence" award consisting of a plaque and cash award of $251. These awardees are selected based on Scholastic Achievements, Leadership Role, and Extra-Curricular Activities. The winner of the "Student of the year" award for year 2013 was Mihir Desai. The Cash Award for this winner Donated by Umesh Patel of Jaya Travels. The winner of "Academic Excellence" award was Shiv Desai. The Cash Award Donated by Rajendrabhai Patel in the memory of Late Urmilaben Rajendrabhai Patel from Karamsad. The Plaques- Donated by Harshadbhai and Ritaben Amin.
SGPS-Chicago Chair-person introduced the young and dynamic board of Directors and Board of Trustees to the community by inviting them on the stage, greeting and congratulating them for their countless efforts, hard work and the team spirit. All the participants including MCs of the events were thanked and honored by the President of SGPS-Chicago Diptesh Desai honoring them with trophies individually on the stage. The SGPS-Chicago Secretary Nirav Amin delivered a "Vote of Thanks" speech to the community thanking them for their participation and support.
The Dinner break was announced for a very lavishing Indin food and was followed by Live entertainment: Music by Amit Patel, and Live singers, Ajay Bhatia and Radhika. The dance floor was open with a DJ Abhi Trivedi's music. The raffle prize winner was announced and a prize was awarded.. The event was concluded by the traditional Gujarati Garba round on the dance floor.
Diwali message
On this auspicious occasion of Diwali, please accept our heartfelt wishes for a year filled with blessings, happiness, and good health. While it is natural to mark this joyous day by celebrating, let us also use the occasion to pause and take stock of our lives and priorities– individually and collectively. Diwali reminds us, through the wisdom of the sacred narratives associated with it and through the significance of the traditions and rituals that surround it, that we abound in opportunities to choose light over darkness. As we observe Diwali this year, may we re-dedicate ourselves to living out our spiritual principles in all that we do. May we see this one sacred day as the first in a year full of sacred days ahead, each one giving us a new chance to help and heal rather than to divide or destroy. May we choose to be instruments in the hands of the Divine, humble but bold carriers of light in a world that is so desperately in need of it?
There was overwhelming participation from predominantly young audience enjoyed the memorable evening. Many in the audience, especially ladies and children wore very colorful mesmerizing and dazzling traditional dresses for this special occasion with appropriately matching ornaments and extravagant hairstyles.
Board of Trustees and executive committee members and volunteer's good planning and excellent team work were evidenced by excellent arrangement.
Current president Diptesh(Didee) Desai thanked the committee heads and volunteers that made the event possible. With entire well organized dedicated Six Gam Patidar Samaj team effort with solid & hard work and enthusiastic support and participation by the community the event was a grand success.
Executive Board 2013: President-Diptesh Desai, Vice President-Jatin Patel, Treasurer-Tushar Patel, Secretary-Nirav Amin, Joint Secretary-Shaunak Patel.
Board Of Trustees 2013: Rajesh Patel-Chairperson, Mitesh Patel-Vice Chairperson, Sanjiv Patel, Kamlesh K Patel, Ritesh Patel, Dilip Patel, Vanleela Amin, Virendra Desai, Hiren Patel, Lina Patel, Dikunj Desai, Tapan Desai, Miral Patel, Ashish Amin, Rakesh Amin and Rajal Amin
About Six Gam Patidar Samaj(SGPS- Chicago):
Six Gam Patidar Samaj (SGPS–Chicago)- (The Charotar Leuva Patidar people of predominantly Hindu faith (particularly originating from the Six Gam Patidar Villages) was incorporated in 1982 to promote a non-profit religious, cultural, non-political organization to preserve the culture, social and academic activities for Six Gam Patidar community in Greater Chicago land and surrounding areas. Six Gaam Patidar Samaj of Chicago was founded on the basis of sharing, teaching, and learning more about our faith, ancestral roots and passing them on to the coming generations. Our members belong to one of six ancestral gams: Nadiad, Bhadran, Vaso, Sojitra, Dharmaj, and Karamsad, Through social events, geared towards family and youth programs, we are creating new and innovative ways of spreading our knowledge, roots, and culture. From our yearly picnic to Diwali celebrations, we have events that cater to all ages and strive to maintain growing our reach more and more every day. We also work to offer the youth growth opportunities in education through our scholarship program, which is awarded yearly. Comprised of members who serve their community professionally and personally, SGPS-Chicago is a great place to make new friends, contacts, and join one big happy family Six Gam Patidar Samaj strives to instill moral, cultural, and higher education values in younger generation. The SGPS-Chicago has become a platform for youths to meet and create life-lasting bonds.
Event Pictures with Captions:
1. SGPS Board Members: sgps diwali dinner 2013 (43)
2. Diya Ceremony by Community Senior members: sgps diwali dinner 2013 (172)
3. The Audiance : sgps diwali dinner 2013 (148)
4. SGPS President Diptesh Desai along with Chairperosn Rajesh Patel and Board of Trustee Dikunj Desai: sgps diwali dinner 2013 (851)
5. The Keystone Guest Speaker: Beenanen Patel : sgps diwali dinner 2013 (193)
6. Traditional Classical Prayer- Radhika Patel : sgps diwali dinner 2013 (174)