Roaring Success of Chicago Indian Icon 2013 Grand Finale
Chicago IL: Chicago the vibrant city with its enormous blend of music from every part of the world is truly a unique city to live in, to visit, to mingle with the people, and above all, to feel the musical pulse that is never-ending. It is here that Chicago Indian Icon concept was born, nurtured, brought to a reality by several auditions at Ashyana Banquets and culminated in the grand finale at the Meadows Club on Saturday, September 21, 2013. The highlights of the show were Mr. Shekhar Suman, a movie actor and TV personality of the millennium as a host and Pt Ronu Majumdar, Grammy Award Fame as a celebrity judge…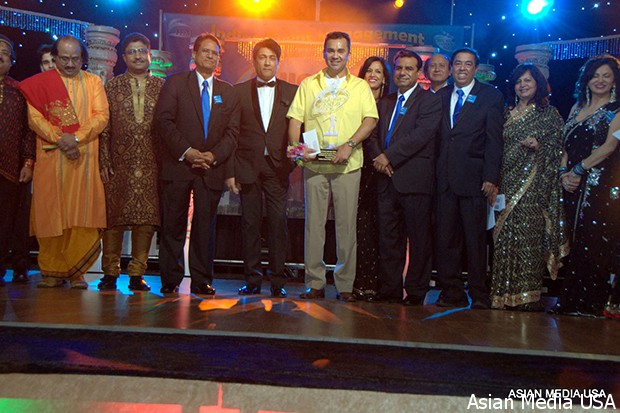 The overwhelming success of the Chicago Indian Icon grand finale was largely due to each and every one of you who are music lovers and support such an event by your presence at the show. It was as truly a unique, historic moment. It is also equally important to place on record the tremendous, unwavering efforts, and long hours of commitment by the five members of the Indian Event Management team, namely, Brij Sharma (President), Pratibha Jairath (Vice President), Sharan Walia (Director of Planning and Management), Raju Bankapur (Director of Entertainment and Execution), Anoop Walia (Director of Public Relations and Business Services) who made it all happen.
The path was long, the work was hard, but there was excitement and enjoyments form both sides of the aisle, the audience and the performers throughout the entire selection process. There were a total of 211 Contestants who auditioned and through a rigorous, multi-level judging process, the ultimate crowning of the Chicago Indian Icon 2013 that everyone has been patiently waiting finally took place and this history-making, prestigious title and Trophy went to Mr.Gautam Khanna.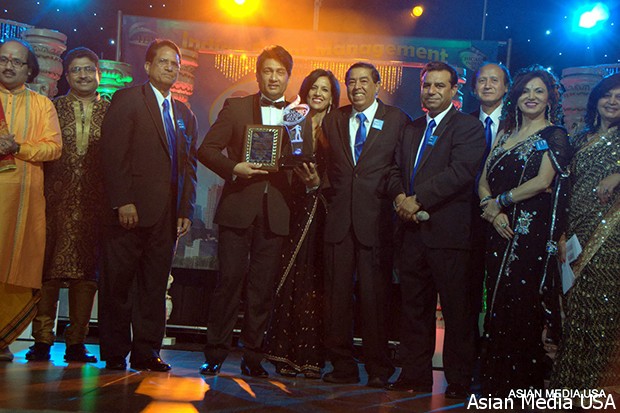 Captivating everyone's attention at the grand finale event of Chicago Indian Icon and showering every watchful eye of the audience with his magnificent presence was Mr. Shekhar Suman, a multi-talented personality, known as the 'Badshah of TV'. His show 'Movers and Shakers' quickly became one of the most talked about shows. His humor, his wit, his captivating stage presence, singing ability, and connecting with both the audience and the performers alike made the event very special and took the entire event to the next level that many will cherish for years to come.
The program commenced with traditional Diya Lighting ceremony by IEM team and the esteemed Judges, Pt Ronu Majumdar, Kalyan Pathak & Hitesh Master. The IEM president Mr. Brij Sharma spoke about the success of the show and announced his plans for Indian American Indian in 2014. He motivated the participants and audience and said "I hope that you keep the spirit of music alive and continue to instill our culture in the younger generation".
Having Pundit Ronu Majumdar, Grammy Awards Fame as a celebrity judge, added another Golden feather to the CII show. The participants felt proud to perform in front of him and looked forward to his divine Bansuri performance.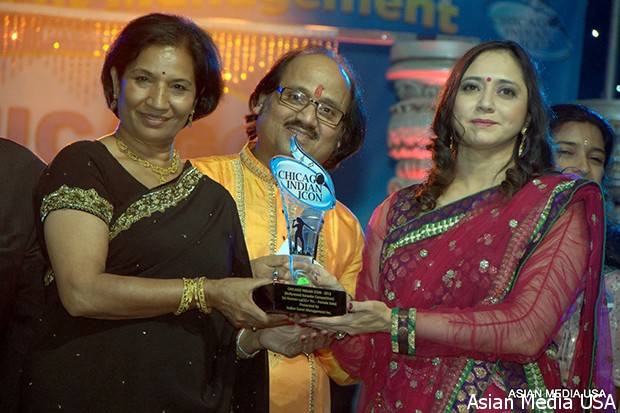 Pratibha Jairath, the Vice President of IEM, explained how the passion for Music motivated the four partners to plan the project. "But we only came up with a sketch. The colors to the sketch were only added by Brij Sharma's vision to promote our culture and will to support the project", she said.
All the contestants had planned a scene that consisted of either Classical or Contemporary dance to add 'Wow factor' to their song performances. Natasha Trikha, winner in her category sang 'Kabhi Sham Dhale" and had an awesome team of friends who presented a contemporary dance in which she also participated. Nipa Shah presented 'Mere Dholna' along with beautiful Bharatnatyam dancer creating the scene from the movie. A few contestants had brought Beautiful young Kathak performers to enhance the song performance. Suraj Patnaik was the winner in his category and did a beautiful job with 'Laga Chunri mein Daag', once again accompanied by a young Bharatnataym dancer. "I was impressed by background dancers, it added the visual effect, kept audience engaged and took the show to a higher level", .commented Asha Mehta, a fan of Chicago Indian Icon.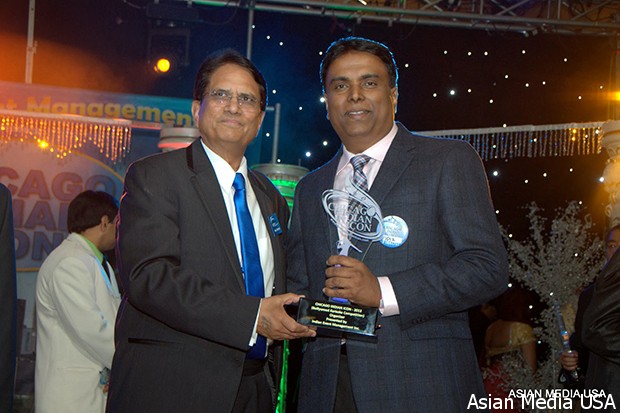 The auditorium witnessed the outstanding performance of Pandit Ronu Majumdar, Hitesh Master and Kalyan Pathak, while the flute notes mingled with the drum beats and keyboard echoed against the walls. Their excellence in music and their wonderful performance got reflected when the audiences gave a thunder round of applause and the standing ovation to the trio. End of every stanza was a beginning of another one, giving Goosebumps to the speechless audiences while they raised their eyebrows in appreciation.
The constructive feedback from the esteemed judges was appreciated by participants and audience. The participants were elated to hear positive comments. One such unforgettable moment was felt when Praveen Jaligama sang "Bheegi Bheegi Raaten' and Ronu Ji commented "It was better than original".
Sharan Walia explained Voting instructions to all the audience which was another interesting aspect of the show. "Remember to be fair, the contestants have worked hard and need your honest votes", he reminded the audience.
Scenia Nath (Winner in the category), Nitya Nair and Priyanna Khanna (Under 12 category contestants) stole the heart of audience when they performed.
There were a few special awards presented to three contestants …They entailed "Shining Star award' to Shreya Addanki, 'Community Service award' to Shaila khedkar and "Artistic Creativity award' to Nehali Dhutia, "DJ Excellence" to Mr. Sahaj Shah, accepted by Mr. Sunil Shah.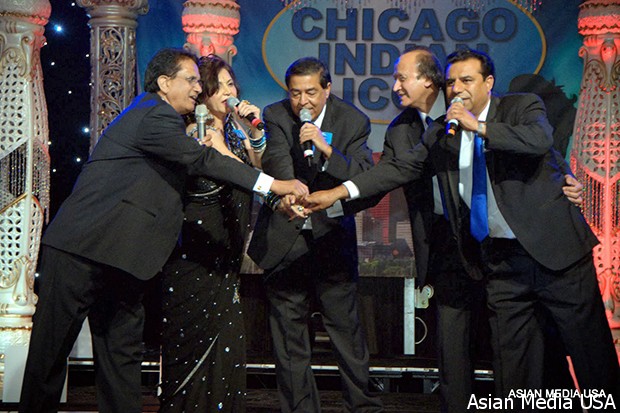 Raju Bankapur (known as the Kishore Kumar of Chicago) and his team were at their best in program execution and score calculation process. "Contestants feel proud and happy to be judged by this caliber of judges", he said.
The professionally set up stage with the backdrop of images of the legendary Hindi Music Icons, high tech cameras to capture and broadcast the event, excellent sound system and sound engineer were a few elements that contributed to level of the show.
TV Asia will be broadcasting half hour episodes of CII show starting in October.
Anoop Walia was happy to see that contestants were actually performing not just singing. "That adds another dimension to the song", he said.
RJ Sachin and all his Chann Pardesi Radio Team stayed involved with the process through out the auditions and semi finals. They broadcasted live interviews of Shekhar Suman and IEM team on their Radio station.
Mr. Anil Loomba (Home Mortgage Solutions), Dr. Thomas John (World renowned Ophthalmic Surgeon), Jasbir Suga (Suga Builders), Mr. Sunil Shah (New York life), The Air India team and Mlaah (Actress: Avengers & Dhoom-3) were some of the guests of honor who presented awards to winners and runner-ups.
It was a historic karaoke night where one listened to some of the finest voices, of all age groups, and contestants from various parts of United States who flew in to Chicago to be part of this event. Every participant followed their karaoke dreams and aspirations in executing their best performance ever in an attempt to be a winner. Awards were made in every category based on the multi-level, judging process. But, the truth of the matter is, every participant was a musical winner!