MAFS celebrates Annual Fundraising event
Intro: MAFS celebrates 21 years of community services with Magical show, Dazzling Fashion show, Bollywood Dances, Soul rendering music and numerous dignitaries here & abroad
Schaumburg, IL – People were awe struck, when they saw illusionary tricks of world famous magician, Dennis Watkins at the Metropolitan Asian Family Services annual fund raiser dinner to cover the gaps in State, Federal and local funding . MAFS is a not-for profit organization that provides an array of services to promote the well-being of South Asian immigrants celebrated 21 years of community service on September 21st, at India House Schaumburg.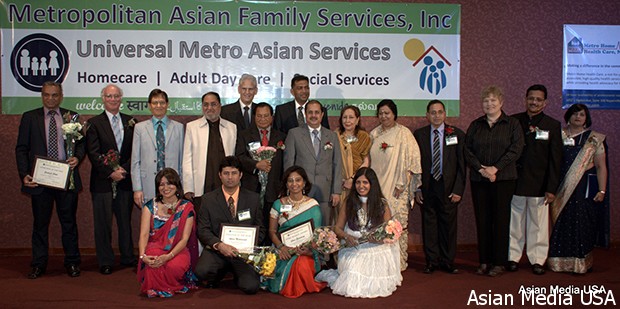 In the 21 years since its inception in 1992, MAFS has transformed and grown exponentially to serve the needs of the community. The present day MAFS serves the community through its various developed programs: Public Benefits Assistance, Citizenship and Immigration Assistance, an Adult Literacy Program, Light and Heat Program, Hot Lunch Program, Computer classes, and others.
The program was started by the lightening of auspicious 'Deep" by Kusumben Patel, Founder of Global Gayatri, followed by Ganesh-vandana prayer dance by Catherine Jafri and her group and welcome address of Dr. Firdaus Jafri, president MAFS.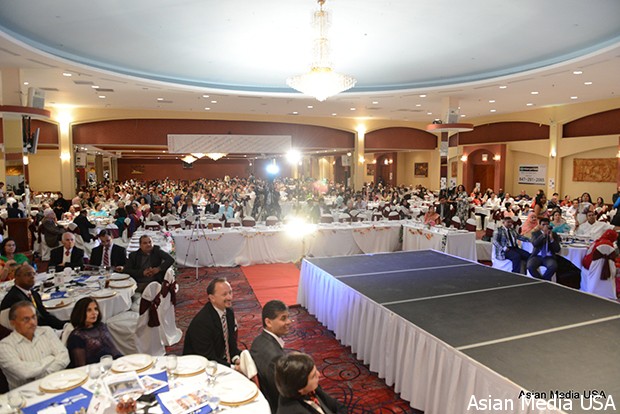 In his keynote remark, Bill Foster, US Congressman commended the vision and mission of MAFS's and reaffirmed the commitment of his Democratic Party to welfare programs and reformation of immigration law to give immigrant sensible policy. Married to a first generation Asian American, the Congressman pointed out that more than 40% of Fortune 500 companies here have been founded by immigrants and children. "Comprehensive immigration reform is needed and it will also boost home sales, widen tax base, and provide other wider benefits. He went on to clarify his political and social priorities."
Guest speaker Husain Dalwai, Member of Parliament Upper House (Rajya Sabha), lauded MAFS for doing a noble job in human welfare and for lessening the pangs of old age. Invoking Swami Vivekananda's speech at the World Parliament of Religions in this city of Chicago, he also denounced the murder of his friend Narendra Dhabholkar by extremists and stressed the need to follow the example of leaders like Gandhi, Nehru, and Azad. Dalwai spoke on various programs that Government of India has initiated to remove this problem and said that we have to look MAFS as a role model in serving and enriching the community without any discrimination to origin, cast, creed and religion.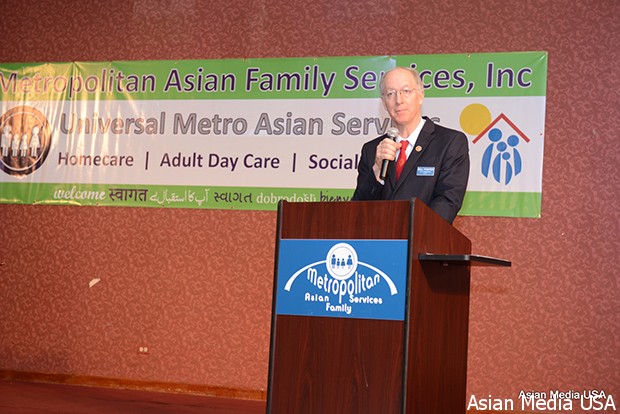 Hon'le Consul General Chicago, Dr. Ausaf Sayeed praised Mrs. Santosh Kumar & her organization, MAFS for persistently serving community with its various programs, since 1992 in her leadership. She is rightly recognized as "Mother Teresa of Chicago", he said.
Mary Killough, Deputy Director, IDOA, remarks, that it is her 4th year to attend the function and every time she amazed with number of people, and programs MAFS serve and growing to meet the increased needs of its community, despite shrinking of state and federal funding for social services.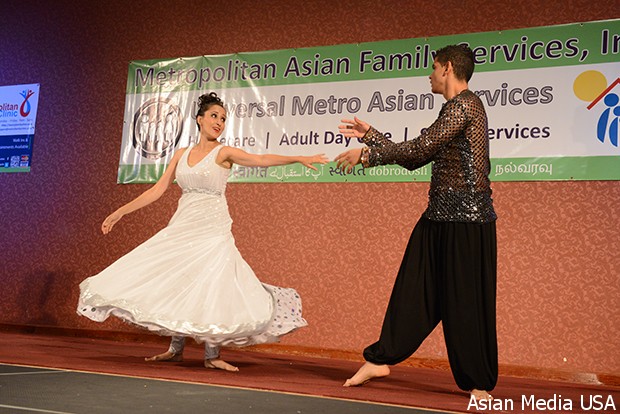 Mrs. Kumar spoke on how MAFS is working in collaboration and shared vision with community and how it is transforming the entire field of social services as a shared responsibility of all. She asked the community to join in this honorable mission to serve and nurture the community by sharing their responsibility and understanding the importance of Government funds which are thoroughly audited. Mrs. Kumar thanked her team for collectively working through in rain and shine to take the MAFS's vision to the next level. She thanked her Board member for supporting the cause of MAFS and her hardworking staff and community and media for showing their support to MAFS.
Other prominent dignitaries present is Mr. Michael Gelder-Health Policy Advisor to the Governor Pat Quinn, Marta Pereyra, Executive Director CLESE, William D McLead –Mayor Hoffman Estates, Michelle Mussman – State Rep. 56th district, Jonathan Levin – CEO, AgeOptions, Billie Roth, Mayor of Streamwood, Sajid Desai, businessman, Balvinder Singh – Community leader and social activist, Ms. Gurubachan Kaur, president Hindi Lover Club, Ram Saini, President of Rajasthan Association, Nand Kapoor, past president Association of Indian in America, Sher Rajput, Board member Indo-American Center, A. Anees, Board member of Aligargh Muslim University, Sadruddin Noorani, Jamat Khana.
This year the "Making a Difference in the world award," was given to Dr. Joseph Marek, MD, for his cardiac screening program designed to identify high school and college students at risk for sudden cardiac death. Public Service Award was conferred on Husain Dalwai, Indian Member of Parliament (MP), for being an engine of social, political, industrial progress, and his work with tribal, Dalit, and minority communities. The Best Employee of the Year Award given to Afaan Muhammad, IT Manager and Jahnavi Bavisi, Manager Niles branch. Best Supervisor award was given to Smitesh Shah, supervisor and Public Benefit Award was given to Shree Gurusamy, SOS specialist.
Ms. Catherine Jafri, Bollywood choreographer and her New York dance group presented one of the most colorful dances that were interspersed with fusion, traditional and contemporary dance presentations. Live magic show by Dennis Watkins, award winning famous magician from Chicago Theater has left everyone with illusion and laughter. Raaz boutique, leading fashion house in Devon Ave, showcases its haute couture and pret collection. Finally RinkiTalati, sensational local talent has enthralled everyone with famous Bollywood numbers till midnight.
The event also included surprise birthday announcement of Hon'le Consul General, Ausaf Syeed. Mr. Syeed's family including his mother, sister wife enjoyed and thanked MAFS for celebrating this blissful day with blessings and good wishes.
The program was emceed by Dr. RakeshAsthana, Board Member, Neelam Desai, Manager Carol Stream location and Shree Gurusamy, SOS specialist. The final vote of thanks was proposed by Beena Patel, MAFS Secretary and Nikunj Baxi, Board Member. This year MAFS has raised $ 75, 000.00 for continuing its services to serve to community through its various benefit programs.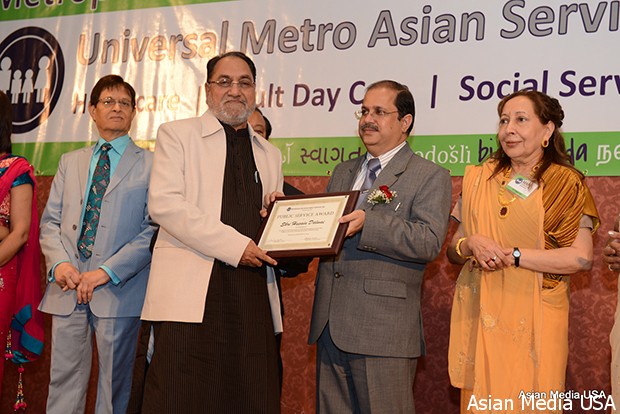 Captions –
1) Lamp lightening ceremony by Kusumben Patel, Founder of Global Gayatri.
2) Prominent dignitaries with awardees
3) Attendees at the event
4) Bill Foster, US Congressman
5) Hon'le Consul General, Ausaf Syeed presenting Public Service Award to Husain Dalwai, Indian Member of Parliament (MP), for being an engine of social, political, industrial progress, and his work with tribal, Dalit, and minority communities.
6) Bollywood Dance performance by Ms. Catherine Jafri and her New York