Air Tours appreciate their customers with Many Raffles
Chicago IL: Air Tours, Inc., "One Stop Travel Shop" hosted its annual customer appreciation banquet on September 22, 2013 at The Meadows Club in Rolling Meadows, Ill for their Ticket / Holiday & Cruise Customers. There were many raffles including Two Business Class Air Tickets & Vacation Packages to Dubai/Singapore/Malaysia/Thailand/Turkey & India and many surprise prizes for their valued clients, the Mumbai Masti Group (MMG) provided live entertainment with full energy.
The Air Tours have been market leader in Midwest Region for Tickets since inception and today is one among the top consolidators for the most major airlines. The hall was packed with more than 600 valued guest & invitees.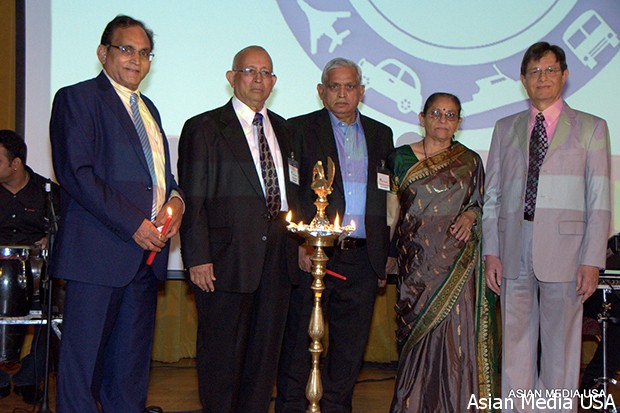 The event started with socializing hour of cocktails and hors d'oeuvres, The Air Tours Staff welcomed the guest from the entrance and continued the hospitality, Program started by MC Beena Patel welcomed the guests present, and also clients who could not make it, to celebrate the company's growth and achievements. Air Tours President Mr. Mafat Patel, VP Mr. Tulsi Patel, and Founder Mr. Amrit Patel—Joined by Amathi Patel and Medstar Laboratories CEO Mr. Naren Patel lit the auspicious lamp. MC recognized Mohammed Anwar from Etihad Airways, CEO Ravi Shankar from Associate Partner Vacation Exotica, and Business Development Specialist Sandra Agusti from Norwegian Cruise Lines, Mumbai Masti group remained on stage from the beginning till the end, with at first to provide background music. The Group comprised of team anchor and mimicry host Anand Chaudhari, accompanied by team Indian Idol Milind Jadhav (Sunny), Kalpesh Karwar (Team X Factor), Alka Thakur (vocal), Prasad on bongo, Rakesh (dhol), Anurag (keyboard), and Sameer on octopad, and Bipin (sound operator). The ensemble even performed the prayers accompanying the lighting of the auspicious lamp. The entertainment had been arranged by well-known producer Bhavna Modi.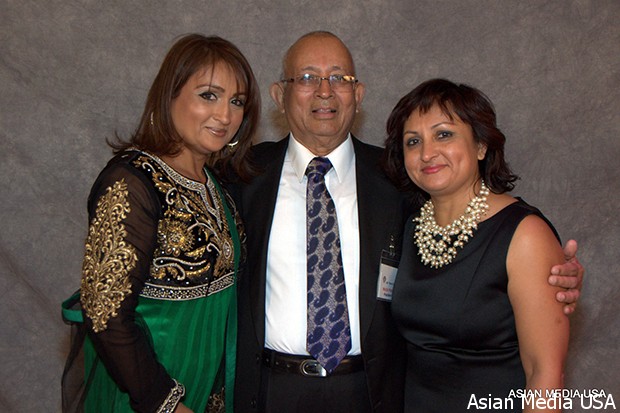 MC Beena recounted how Mr Mafat Patel, coming from small village in Gujarat, deeply sympathized with the plight of fellow Indian immigrants, especially vegetarians like himself, in meeting their culinary needs. The grocery store he established here has grown into Patel Brothers, the largest chain in USA. She was surprised to learn, while on vacation at Santa Lucia in the Caribbean, that he was well-known even to the local Indian retailers there.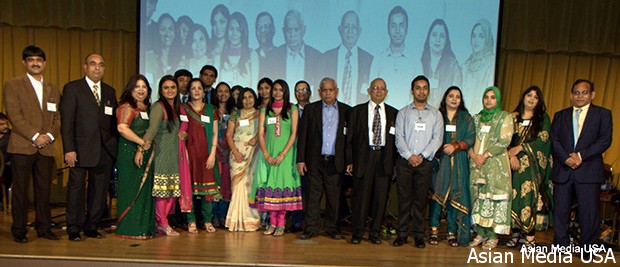 She invited Mr. Mafat Patel, a man of few words, to deliver a proper speech. He thanked his staff for their commitment and also clients for their continued trust and support: "I remember when this venture first started: we barely had the resources to run a business, besides struggling just to get up from the ground. We did not know the outcome of our venture… All we knew was that we wanted to create the company that would bring a new level of service in the travel industry, but most of all, we wanted to satisfy our clients. We relentlessly worked toward our objectives and carried out all the necessary steps towards growth and success." Mr. Patel also believes that "challenges are part of life but in the long run hard work and honesty always pays off." A video clip by a satisfied customer who had availed of their services for Tickets/Vacation Packages & Cruise Vacations were shown.
Air Tours Managing Director Varsha Patel introduced her staff, starting with Schaumburg Branch Manager Pravina Patel, who established the Schaumburg branch 15 years ago. The team comprised of ticketing agents Ms. Pavithra, Ms Mohini, Ms. Farheen, and Ms. Sana. Manshi Brahmbhatt Manages the Devon Head Office team comprising Ms. Hema, Ms. Rutva, Ms. Asra, and Mr. Bhaskar. Manager of vacations and cruises Hitendra Desai's team comprises Ms. Vandana Laxmi, Ms. Sunita, Ms. Binita, and Mr. Jagdish and Anil. Accounts Manager Manoj Chokshi and his assistant Rohan rounded up the list of staff members felicitated.
A Short Presentation was given by Etihad Airways , Air Tours Holidays & Vacation Exotica & Norwegian Cruise Liner with Raffles, showing benefits by traveling through Air Tours INC. Various Videos of Air Tours INC satisfied & Happy customers shown during the event. It was very delightful to see the commitment of Air Tours to their customers. The Etihad Aiways offered Two Business class tickets to the winner of the draw
Keeping their belief in commitment to our service & quality in Highly ethical and professional standards, and bringing new destinations every year to their valued clients announced Greece & Turkey / Vietnam & Cambodia apart from this year destination Russia & Scandinavia with other regular departures to China / Kenya & South Africa / South America / Australia & NEW Zealand / Spain & Portugal & Europe/USA & far East. The Air Tours Holidays & Vacation Exotica offered 5 Raffles for a Couple to Various destinations of the world. Such As Dubai / Turkey / Singapore / Malaysia / Thailand & India by TCI, It is an attempt to show their customer the different part of the world and feel the services.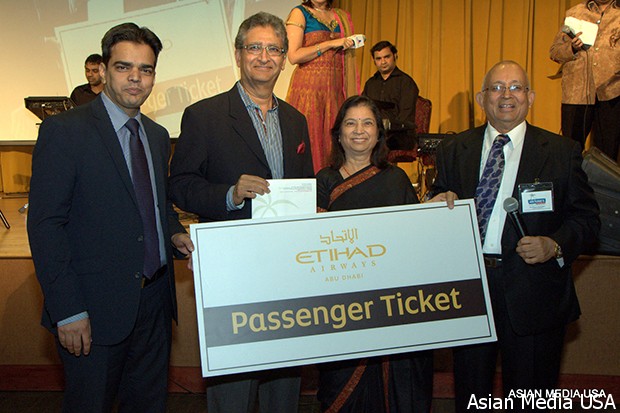 Masti Cruise, well known Cruise planner for Family Vacations & Groups with their preferred partner Norwegian Cruise Lines offered Bahamas Cruise Vacation. Masti Cruise organize every year 6 to 7 Group Departures to various cruise destinations. Announced Next year departure to Antarctica / Panama Cannel / Mediterranean Cruise & Many Other..
Raffles Draw were done by Associate Partners, Valued Clients, Patel Family. There were many surprises in between with a live quiz show giving instant Raffles apart from Main Raffles. These were again US$1500 Off Voucher for Holidays & Two US$250 Gift Voucher from SAHIL.
It was a mesmerizing & memorable night for all, as music & luck draw goes together, the event was concluded after dinner and vote of thanks.