True Spirit of Hindi Celebrated by Hindi Lovers Club of Chicago
Chicago IL: Hindi Lovers Club of Chicago celebrated Hindi Diwas Day and 150th Anniversary of Swami Vivekanand on 15th of Sept 2013 at Ashyana Banquets,1620 75th Street, Downers Grove, IL. Consul General Dr. Ausaf Sayeed was the Chief Guest.
Hindi Lover's Club is the first club of its kind for American Indians and showcases the true potential and versatility of the age-old language. This club is a part of the Indian culture and is a part of the Indian identity in Chicago.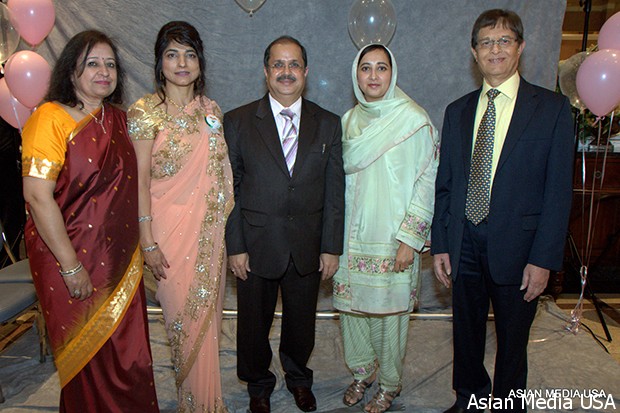 Hindi Lovers Club was officially formed as a non-for-profit social welfare organization on September 24, 2010 by three Hindi enthusiasts: Gurbachan Shewakramani, Usha Kamaria and Manjit Gill. Its main goal is to promote Hindi in simple ways, like day to day talking, writing our thoughts in Hindi bringing out Hindi literature which has been buried in this western world. Hindi Diwas was celebrated on 15th of September to commemorate the declaration of Hindi as the National Language of India on 14th September, 1949.
Vinita Gulbani is the President of Hindi Lovers Club and it is her keen desire to promote their activities on a large scale and expand its horizons to greater heights. Vinita Gulbani in her unique style introduced Jassi Parmar and Ankit Mahajan as MCs of the evening, who efficiently conducted the entire event.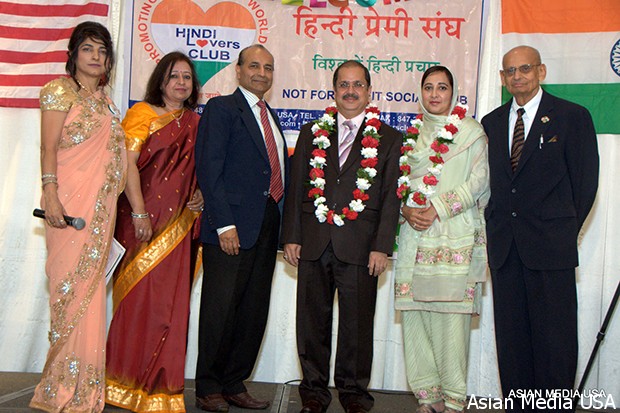 Vandana Jhingan presented the introductory speech by giving the history of Hindi Lover's Club and its activities and acknowledged services of Gurubachan Kaur and welcomed Vinita Gulbani as the new incoming President.
Introduction of the New Board was done by Vinita Gulabani as she invited them to the stage.
Hindi Lovers Club Board 2013: Founder/CEO: Gurbachan Kaur Neelam, President/Secretary: Vinita Gulabani; Joint Secretary: Beena Patel; Treasurer: Praful Rami Editorial Committee: Rawatji, Kamal Gupta, Rajeev, Kusum; Public Relations: Pratik Tanna, Ambika Jamula; Chief Advisory Board: Sohan Joshi, Vandana Jhingan;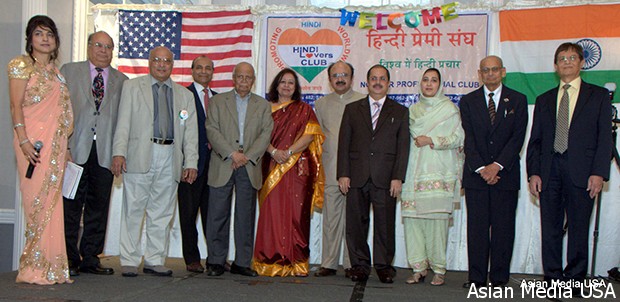 Advisory Board: Sudaksha Kapoor, Rohit Joshi, Dr. Oranga, Rita Sunil Shah, Santosh Kumar, Naren Patel, Kamal Gupta, Subhash Pandey, Manmohan Sharma, Srikant Modi, Dhiren Shah, Jia Jassi Parmar, Renu Sood.
"My dream is for us and our future generations to realize the true potential of our traditional values, or "Sanskars", read our scriptures, the way they were meant to be so that we may glean from them those words of wisdom which would otherwise have been lost in translation. I would like to make an appeal to everyone in this organization to join me in this noble endeavour of keeping Hindi alive in our Karmabhoomi" said by Vinita Gulabani President of Hindi Lover's Club.
"Hindi is one of the ancient and richest languages of the world. Indian culture has a rich heritage of Hindi literature art and Indian philosophy to bridge the gap between the older and new generations of Indian origin. Congratulations to leadership of Hindi Lovers Club for promoting a worthy cause". said Shri Naren Patel CEO of Medstar Lab.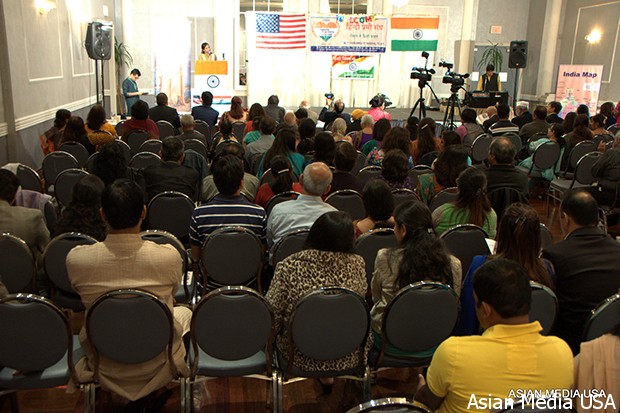 Chief Guest Shri Ausaf Sayeed, Consul General Of India, Guests of Honor Shri Naren Patel CEO of MedStar Group, Dr. Virendra Bisla and Dr. Birendra Sinha, Dr. Subhash Pandey, Sunil Shah and Dr. Upadhyay were invited on the stage and were greeted with Garlands.
Lighting of the Lamp was performed with traditional puja by Shri Rohit Joshi and befittingly a prayer was sung by two kids Sudit and Arush.
Chief Guest Consul General Ausaf Sayeed wished the activities of Hindi Lover's Club to flourish and emphasized the need to enlighten the world with the importance of Hindi. He also urged Politicians, Social and Religious leaders to engage in the spread of Hindi at the highest level.
Devi Stuti – Invocation of Goddess Durga was performed by Aadya Verma, Muskan Bhatla, Simran Mahajan & Shreya D. Patel
Vandana Jhingan on the eve of the150th Anniversary celebration of Swami Vivekananda applauded his work and gave a fitting tribute to the Great Personality of India and narrated some instances of his life. A small play was performed by group of small children depicting few examples of Swami Vivekanand's early life.
Bollywood Dance was performed by Aloki K. Pandya followed by Bollywood Act – Laksh Mehta a small kid in a wonderful style of his own. This was followed by poetry from Shanu Sinha, Solo Performance-Mujhe Rang De by Jigna Sheth, Amithab Bachan Poem by Vishnu Panjwani, Guitar Performance by Dr. Saurabh Agarwal, Group Dance (Hum Hain Hindusani) by Balodyan Group – Sauruv Garg, Ria Sharma, Sharen Gonsalves & Aahana Shedge , Poetry by Shikha Tandon, Bhajan by Bhamini, Classical Dance by Urja Patel, Skit by Pika Munshi, Bollllywood Dance, Kathak Performance – Ms. Medha Bhargav Act by Ranjoy Ganguly, Tabla Performance by Raju Deshmukh
Vote of Thanks was performed by Vinita Gulabani. Overall it was a colorful evening leaving a good message for the Indian community to promote Hindi language in our everyday life.