Dada Vaswani Discourses on Five Pillars of Spirituality
Chicago IL: Dada JP Vaswani's commemorated his 95th birthday in Chicago on September 15, 2013 with an evening discourse on the "Five Pillars of Spirituality" at the Marriott Hotel in Burr Ridge, Ill. Among the guests of honor were the Mayors of Oak Brook and of Burr Ridge. Almost 500 devotees and members of the public, composed largely of members of the Sindhi community, filled the entire hall. This free event was preceded by an hour of melodious bhajans in Hindi by Pramila Bhatia and in English by Vinay Vaswani, a touching documentary presenting the work of the Sadhu Vaswani Mission in bringing joy to the poor and helpless in India, including dogs and other animals, and followed by a question and answer session with the renowned humanitarian.
Sister Krishna Kumari presented the activities of the Pune Mission and Vaswani's recent books brought from India, several of which focused on women. His birthday is of special religious significance for devotees. Ashiyana Narayani recounted his life work and presented her Chicago Youth group of volunteers, who were felicitated for their selfless services. Chair of the Sadhu Vaswani Center (SVC) of Chicago Gopal Lalmalani, who is also Mayor of Oakbrook, introduced Mickey Straub, Mayor of Burr Ridge, who welcomed Dada Vaswani, as he is fondly called. The event was chaired by Nargis Lalmalani and emceed by Helen Chandani.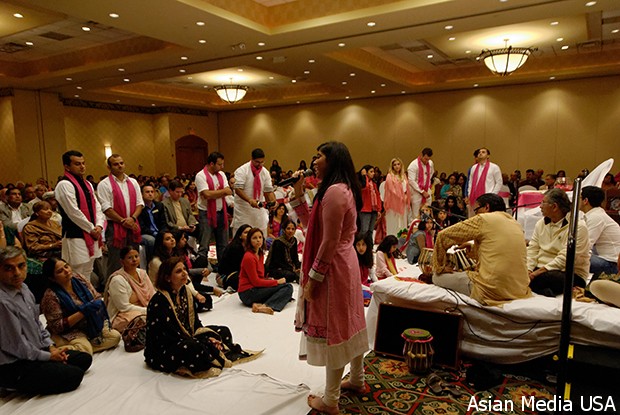 Dada began by expressing gratitude to his Chicago hosts, the several doctors taking care of his frail body, and the audience. He immediately set the spiritual tone for his subsequent discourse, by resolving to give away the shawl gifted to him to a needy person instead. He paid obeisance to his uncle-guru Sadhu T. L. Vaswani, who believed only in the religion of unity and for whom "to live was to love." He recounted an incident from 70 years ago of his guru joyfully giving away his clothes to a beggar "for my possessions and very life are but a loan."
The recipient of the U Thant Peace Award, Vaswani (born August 2, 1918) was deemed a living saint by the World Parliament of Religions, 2009. In December 2012, Dada went on to receive the Lifetime Achievement Award at the First World Parliament of Spirituality. This August 2nd, he has just celebrated his 95th birthday and was personally felicitated by Aamir Khan and HH Dalai Lama. Educationist and poet J. P. Vaswani is the spiritual head of the Sadhu Vaswani Mission based in Pune, India, which is engaged in various philanthropic activities in fields such as education, healthcare, social service, animal rights, feeding of the poor and spiritual upliftment.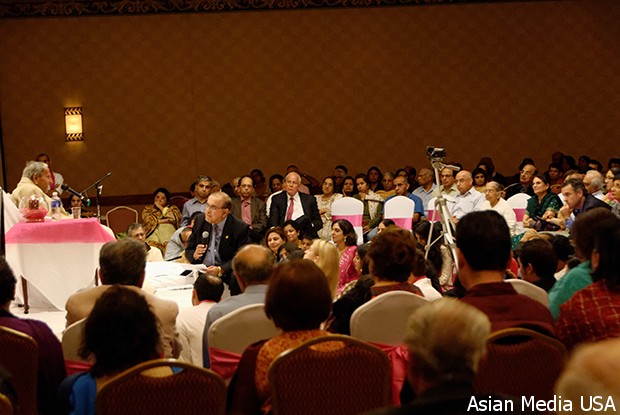 He was born on August 2, 1918, at Hyderabad, Sindh, in a Sindhi family. He passed the Bachelor of Science examination at the age of 17 years. For his Master's degree, his thesis was on "The Scattering of X-Rays by Solids", which was assessed by C.V. Raman. He also worked as a Fellow in the D.J. Sind College, Karachi. He then followed his guru and his saintly uncle Sadhu Vaswani, a mystic, philosopher, humanitarian, educationist and apostle of Indian Culture.
Dada briefly enumerated with examples the five pillars of spirituality that were obviously drawn from his own lifelong practice and that of his own guru. Handing yourself over in childlike trust to the Lord, live without a care (just as you once had implicit faith in your parents' nurturing). God's mercy is reflected in everything that happens to you, which has a deeper perhaps as yet unknown meaning, as implied in the prayer "Let Thy Will be done." Do your duty as determined by your present station in life (svadharma), quoting the Bhagavad Gita, for it is not so much what you do but the way you do it, "as an offering to Me." Also, instead of stopping there, go on to do additional acts of daily service for "the welfare of the world" (loka-sangraha) without expecting anything in return, not even the recognition of your name. Finally, observe a period of silence everyday, preferably at the same time at the same place. Use the alternation of breath as the vehicle, while invoking your preferred deity or the power of syllable AUM, to delve within.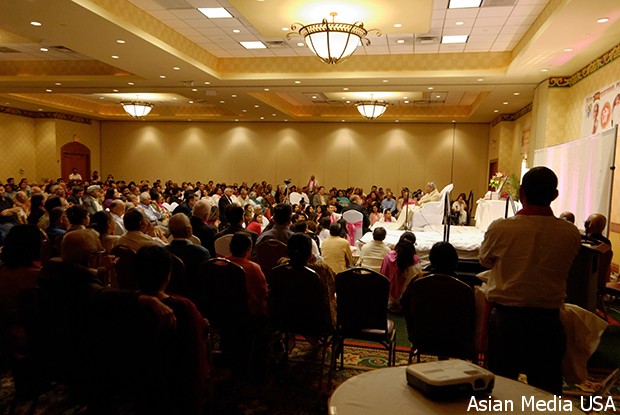 The following question-and-answer session, peppered with good humor, largely revolved around the challenges of practicing traditional spirituality amidst the challenges of contemporary life, especially for Hindu immigrants. Is it okay to convert? It is preferable to remain in one's inherited religious tradition (barring exceptional circumstances and strong inner compulsion). Dada answered simply and humbly, not hesitating to confess the limitations of his life-experience (esp. relating to sex before marriage, divorce, same sex weddings, etc.). In general, his responses were a judicious blend of Hindu conservatism and spiritual universalism that nudged the questioner towards finding the source of the problem within oneself. For example, how to deal with difficult in-laws? "Don't treat them as outlaws!" Dada especially shone and received applause when providing spiritual guidance from his own long experience: the path to salvation is surrender, seek contentment by making others happy, detachment is not to forsake one's kith and kin but to float without letting the water get into the boat.
The organization was originally founded in 1929 by Sadhu T. L. Vaswani in Hyderabad, Sindh (presently a state of Pakistan). Sadhu Vaswani, as he was affectionately called, was a prolific writer of inspirational texts during the freedom struggle in India as well as of insightful spiritual texts throughout his lifetime. His spiritual poems have been compiled into the Nuri Granth which is probably the world's largest single compilation of spiritual poems by a single author.
Photo captions for "Vaswani Discourses on Five Pillars of Spirituality" (in order of priority):
1) #55 Gopal Lalmalani, holding a mike, reads out audience questions to Dada Vaswani.
2) #58 Audience, largely composed of Sindhis, filled the entire hall to hear Dada Vaswani.
3) #43 Dada Vaswani discourses on the" Five Pillars of Spirituality."
4) #49 Dada Vaswani responds to questions; on the left is a portrait of his uncle-guru Sadhu T. L. Vaswani.