India's 67th Independence Day Gala Banquet and Parade
Schaumburg IL: Federation of Indian Associations, Chicago, under the leadership of President Ms. Rita Singh, successfully hosted the 67th Independence Day Gala Banquet on August 9th at India House Banquet in Schaumburg and Independence Day Parade on August 11, 2013 at India House Plaza in Schaumburg. The colorful banquet dinner event was attended by many VIPs personalities like Congresswoman Tammy Duckworth, Consul General of India Chicago Dr. Ausaf Sayeed, State Representatives Michelle Mussman, Marty Moylan, State Senator Michael Noland, Schaumburg Mayor Al Larson, Hanover Park Mayor Rodney Craig, Village of Oakbrook Mayor Mr. Gopal Lalmalani, Sohan Joshi NFIA President and Raja Krishnamurthy to name a few. In fact, for Consul General of India Chicago Dr. Sayeed, it was the first public appearance in Chicago after he took charge of Chicago Consulate. All these VIP dignitaries along with Banquet Chair Ms. Neelam Dwivedi addressed the audience on this occasion and wished everyone a very happy India's 67th Independence Day.
FIA President Rita Singh welcome all the guests and Participants on this occasion. She also told that our fore fathers had to fight against British Rule to get the independence but Father of nation Mahatma Gandhi taught us the path of non-violence to get the freedom. The occasion was celebrated with fanfare and enthusiasm, several cultural and other program was organized on this occasion. Bollywood actress Minisha Lamba was the Star attraction in this year's Independence Day Banquet and Parade.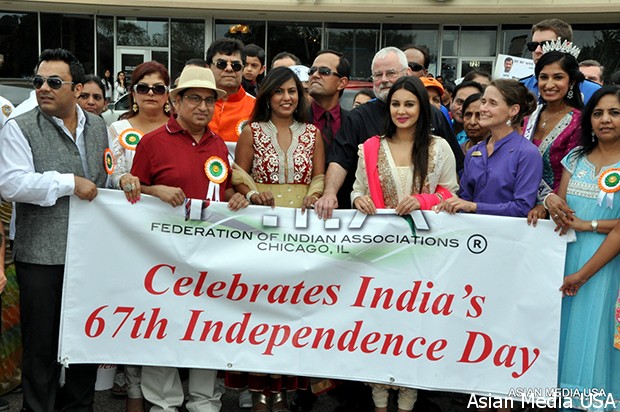 The banquet dinner evening was successfully conducted by the two very articulate and entertaining emcees Ms. Sadhna Kumar and Tarun Mullick M.D. The evening began with a tradition of the American and Indian national anthems. American Idol contestant Ms. Ashika Sachdev sung the American anthem followed by Indian Anthem sung by Shreelekha Mohanty accompanied by students of Vishali Dhande. Continuing the tradition, Rita Singh, President of FIA along with all the VIP dignitaries present at the event, Consul General of India Chicago Dr. Ausaf Sayeed, FIA Members Dhitu Bhagwakar, Rita Shah, Bharti Desai, Shahid Rizvi, Shanu Sinha, Neil Khot, Mohd. Fareeduddin Sabiri, former FIA Presidents Onkar Sangha and Sunil Shah, sponsors, Banquet Chair Neelam Dwivedi gathered on the stage for the lamp lighting ceremony. While delivery her speech Banquet Chair reminded the gathering about the great sacrifices made by our freedom fighters.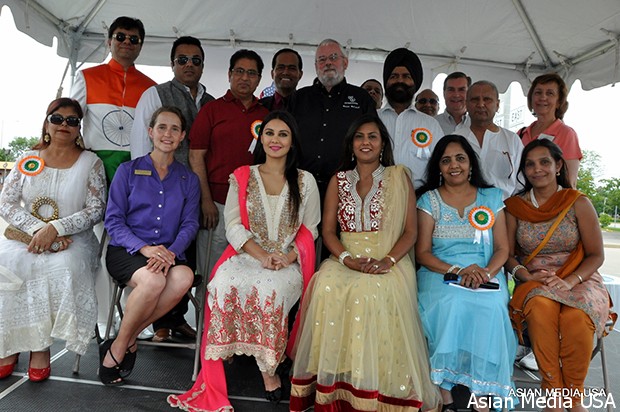 One of the key highlights of this evening was a Runway Fashion Show 2013 sponsored by Charisma Boutique, which was choreographed by Mika Chadha and coordinated by Sylvia Bhugra. The dazzling fashion show was beautifully executed by models Anshika Singh, Paveena Bhugra, Ashika Sachdev, Manya Sharma, Simi Bharaj, Simran Saini, Serena Chadha, Simran Maini, Saloni Buch, Natasha Shah, Shikhar Shah, Sasha Singh, Mira Parekh, Devdhi Kasana, Sonia Shah, Karishma Sharma, Rishva Reddy, Mehal Shah, Anju and Shivani Masih.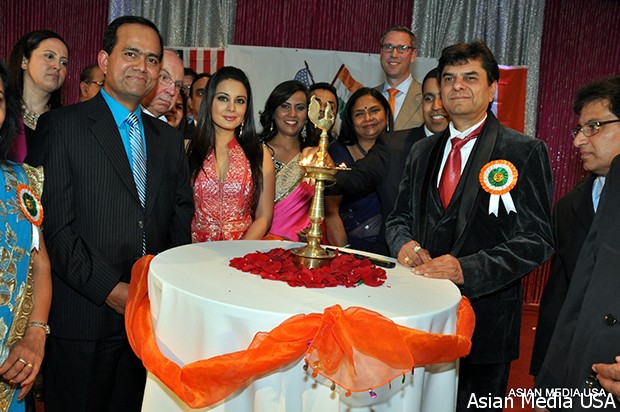 Ms. Minissha Lamba the popular bollywood actress and chief guest at banquet was greeted on the stage with bouquet by Ritvi Khurana and Rhea Oberoi. While addressing the audience Ms. Lamba thanked FIA and specially FIA President Ms. Rita Singh for inviting her on this occasion.
She was very pleased to see Indian Americans celebrating India's Independence Day with same enthusiasm and proud as we do back home in India.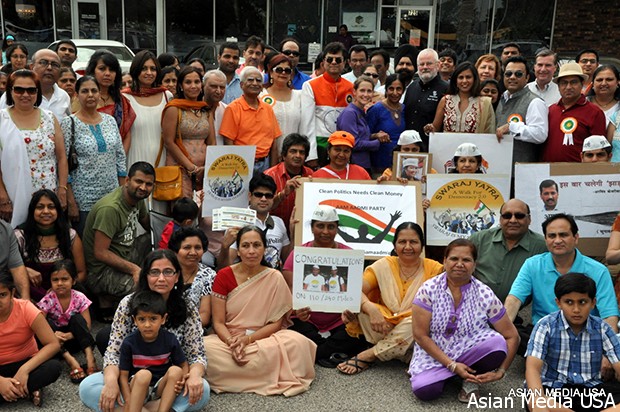 Rita Singh, President FIA, congratulated the audience on India's 67th Independence Day while delivering her welcome and keynote speech. Ms. Singh said "Today is certainly a day to celebrate the success of our democracy. We have come a long way. We Indian Americans have worked relentlessly to bring India and USA together. The relationship and strategic partnership between India and USA is stronger than ever. Today, India and the US share an extensive cultural, strategic, military, and economic partnership". She continued, "Federation of Indian Associations (FIA), Chicago is an umbrella body of Indian Americans Associations and we represent the interests of over 300,000 Indian Americans in Chicago land area. On this occasion, I feel very proud to be the first women President of Federation of Indian Associations, Chicago. With help of our dedicated volunteers and community members, we have been able to organize this grand Independence Day celebration banquet, the best FIA Independence Day Banquet event ever. FIA, Chicago is extremely thankful and grateful to each one of you for your generous support". She ended her speech by thanking FIA Board, all the sponsors, advertisers, volunteers, DJ, Media Partners and cultural program performers.
Under the leadership of Rita Singh, FIA first time in history recognized seven community leaders with Community Service Excellent Award. These seven award recipients are Late J.B. Singha former Vice President FIA, Vandana Jhingan from TV Asia, India House, Suresh Bodiwala from Asian Media USA, Anil Loomba from Home Mortgage Solutions, Inc., Ravi Rawat and Dhitu Bhagwakar. They received the awards from Ms. Minissha Lamba and Rita Singh.
Along with speeches by prominent guests, the evening was filled with singing performances by local artists like Ashley Singh, Shariq Sidz and Shreelekha Mohanty and dance performances by students from Bollywood Rhythm, Sonia Dance Academy, Payaliya Dance Studio, Pika Dance Academy and Gemini Bhimani.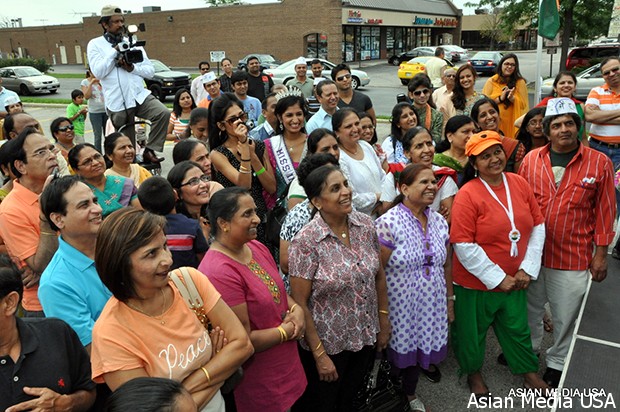 On Sunday, August 11th, Independence Day Parade was organized at India House Plaza at the intersection of Golf Rd. and Higgins Road in Schaumburg. The chief guest Minissha Lamba along with FIA President Rita Singh, Hoffman Estates Mayor Bill McLeod, State Representative Michelle Mussman, unfurled the tri-color Indian flag under cheerful applause from proud Indian Americans present at the event. Former FIA Presidents Onkar Sangha and Sunil Shah, Vice Presidents Dhitu Bhagwakar and Bharti Desai, Secretary Shahid Rizvi, Treasurer Shanu Sinha, Parade Chair Neil Khot, Ravi Rawat from India House along with many community leaders were present at this beautifully organized flag hoisting and Independence Day parade ceremony.