Shree Jalaram Mandir Organizes Bhagwat Katha and Guru Purnima
Chicago IL: Shree Jalaram Mandir, Chicago located at 425, Illinois street, Hoffman Estates, Illinois 60169 organized 'Shrimad Bhagwat Katha from Monday July 15, 2013 to Sunday July 21, 2013. Its timings were from Monday to Friday was from 6-30 to 930 pm and on Saturday from 1-00 pm to 3-30 pm and 5-00 to 8-00 pm. On Sunday it was from 3-00 to 6-00 pm. Every day Mahaprasd was served between 5-00 to 6-00 pm.The Shrimad Bhagwat is one of the most sacred books of the Hindus.It gives a tremendous insight, a profound vision, and an entirely new perspective to the person who hears the narrative. On hearing, a person is never the same. There is a complete metamorphosis, a complete transformation, literally a new birth. Atman (soul) by its own nature is sovereign – it cannot by nature be bound – whatever bondages felt are sheer illusions of the mind.
On the first Day of beginning of Shrimad Bhagwat Katha Param Pujya shree Guruji Bhupendra Pandya arrived with Pothi- Bhagwat and was received with great enthusiasm by devotees and Shobha Yatra was travelling through Parking area to the Temple and was very well received by one and all the devotees. Guruji started his preaching with explaining the importance of Pothi Yatra and also narrated the Importance of Bhagwat and continued his discourses on Bhagwat narrating various Avtars and their relevance in his distinct style with befitting examples, incidences and telling his own views. The atmosphere became divine. On the Thursday, he arrived to the birth of Shreee Krishna and the same was celebrated with great enthusiasm, with music and fine voices. Pujya Guruji was so emotional that it added more force into the celebrations. Devotees danced and sang Bhjans and Garbas and took pride in swinging Balkrishna. On Friday Nand Mahotsava and Giriraj Utsav were celebrated amongst tremendous enthusiasm of all the devotees. The atmosphere was very much like Gokul.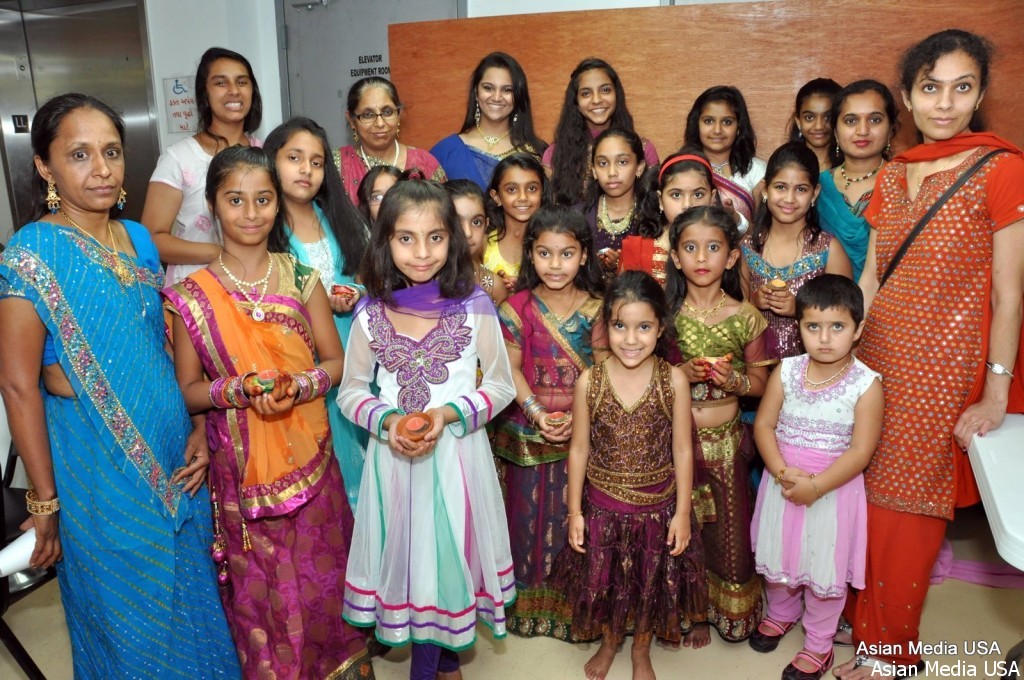 On Saturday the proceedings were divided into two phases. In the first phase, session ran from 1-00 pm. To 3-30 pm. The entire session was allotted to youth, the purpose was to attract youth towards importance of religion and remove their doubts by answering their questions. This was handled very ably by Pu. Guruji in his distinct style. There were variety of questions put forward by youth as well as few adults and they were answered aptly. Some were simple and some were very interesting as well as intellectual. One very relevant question worth noting was, 'Why there are many Gods in Hinduism? This was answered by Guruji in most befitting manner and in detail. In nutshell, the crux was, it is because of individual characteristics and qualities that emphasizes the importance of Multy Facet Characters as Gods.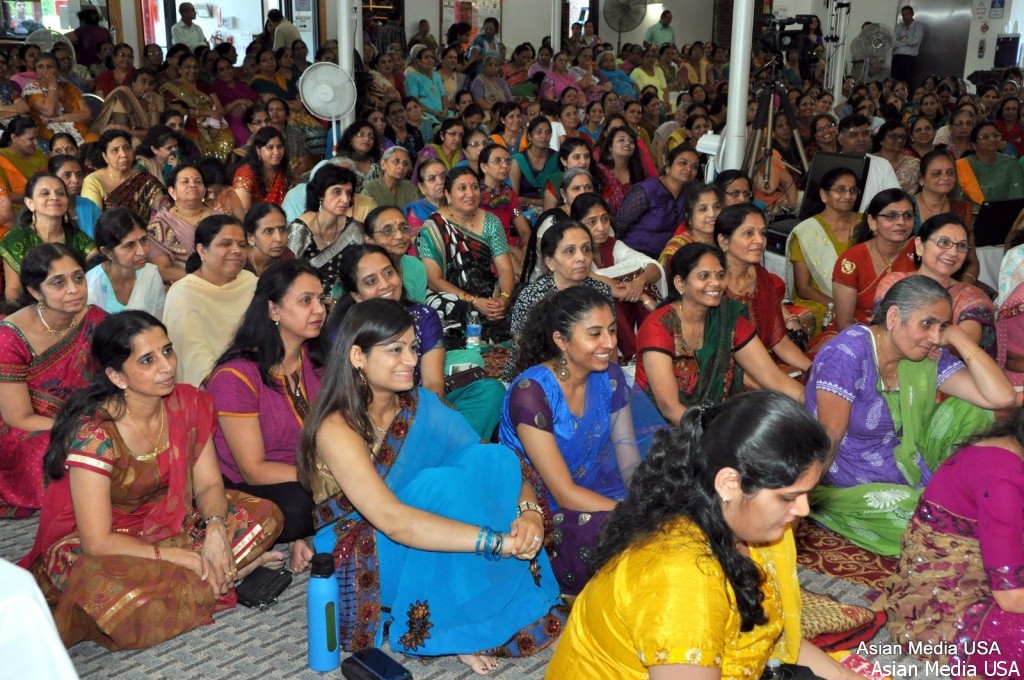 In the second phase Katha was extended and ultimately it ended with 'Rukmini Vivah' Marriage of Shree Krishna and Rukmini- a divine marriage. It was ceremoniously arranged according to Vedic Method and the whole atmosphere became hilarious and pious. On Sunday there was closing ceremony and Guruji narrated crux of Bhagawat and all dispersed with a permanent effect of having gained lot and have opened new gates of knowledge about, Hinduism, Religion and removed many Blind Faith aspects. During the entire Katha Guruji explained the importance of Sanatan Dharm and cleared many misunderstandings prevailing in minds of many. Riddhi Joshi played the role as Krishna and Arpit Joshi, Rudra Joshi and Parth Joshiplayed roles as brothers to Rukmini.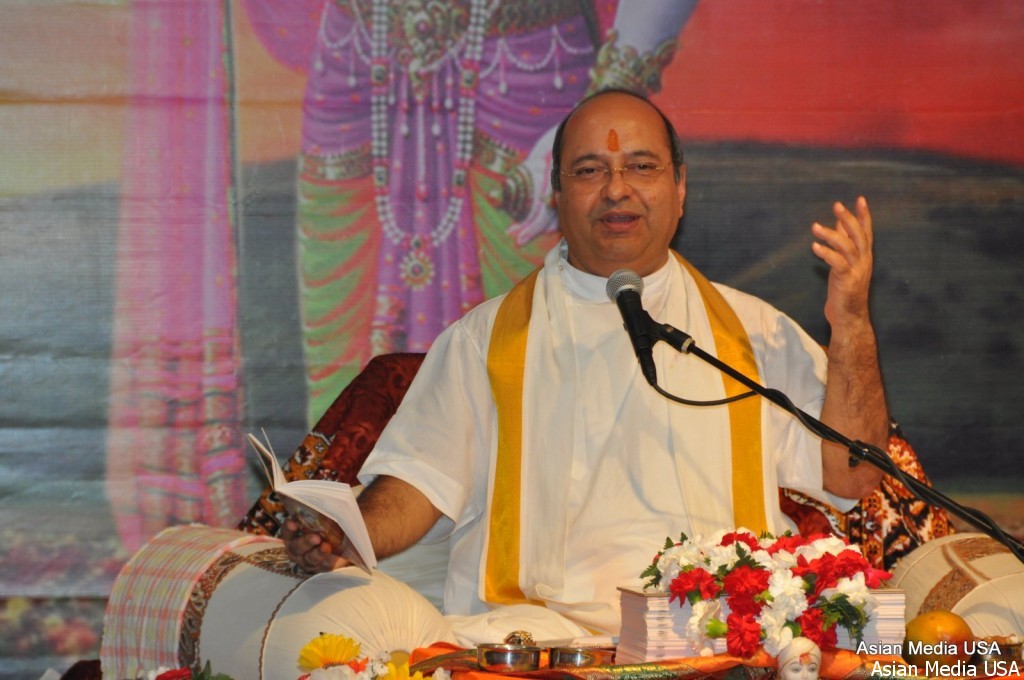 As the activities are increasing with the support of all devotees and dedicated team of workers, the present building looks quite small and it is the desire of one and all to have large complex with appropriate establishment of Statues of Gods. Plans are afoot and it was appealed by Board Members supported by Pu. Guruji a spontaneous proposal of declaring donations in Bricks @ 101$ wa floated by Guruji starting with 5 Bricks was floated and tremendous support in form of bricks was poured. Guruji also visited newly modernized Kitchen at the cost of nearly 160000 $ and gave his blessings and hoped that all selfless workforce and support of devotees will make this temple in line with Virpur Temple, the only temple in the world that do not accept donations in spite of multy activities. A booklet 'Harine Bhajta' was distributed by Shri Ghanshyam Thakkar to all the participants free of cost.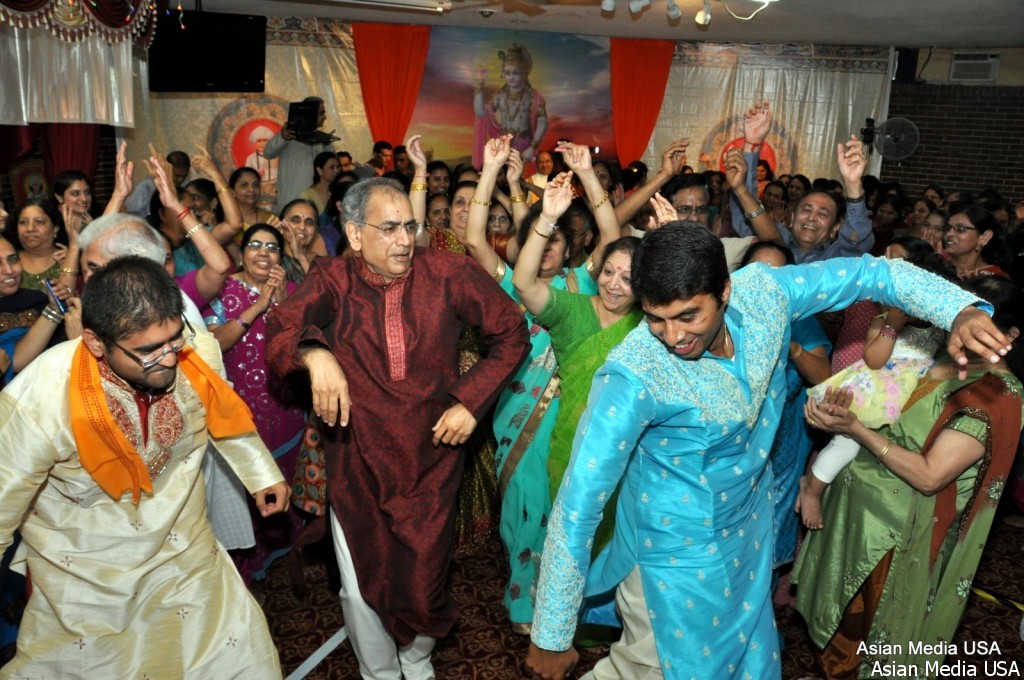 The entire proceedings were very precisely planned and executed by the entire committee and volunteers who all deserve kudos for their selfless and untidy efforts and being done in loving and courteous manner. During the proceedings of all the days for Bhagwad Katha the devotees longed in hundreds and silence was prevailing throughout, the rush was so much that even basement was provided with live telecast simultaneously with webcasting entire proceedings on websight of Mandir. Volunteers did remarkable job by controlling the rush in amicable manner also directing proper parking etc.
Param Pujya shree Guruji Bhupendra Pandya has contributed effectively to the qualitative transformation of mankind. It is under his divine guidance that many institutions such as the Samakti Foundation, Samakti Mission USA, Samakti Mission UK and Samakti Seva Parivar are active in uplifting the lives of the handicapped, and underprivileged by offering medical, social, educational, and spiritual aid. Pujyashree Bhai has held many seminars, especially for youngsters every year across the globe. Participants not only of Indian origin but even the ones with their roots in the western soil are attending these events and are showing a keen interest in how they can apply ancient religious practices in contemporary times. Indeed, Param Pujya shree Guruji Bhupendrabhai represents the fountain of 'Triveni'- knowledge based on the scriptures, clarity of Thought and compassion for fellow human beings. Youngsters who till now looked down upon religion and considered it senseless. From the manner in which he speaks it is evident that whatever is being told is not simply read out aloud but greatly lived!! Pujyashree Bhai has, thus, been instrumental in bestowing religion the pedestal it so rightly deserves. Pujyashree Bhai's expression of the divine does not have any language-barrier, as he is fluent in languages like Gujarati, Hindi, Marathi, Sanskrut and English.
He has rendered a total of more than 450 discourses on Bhagavat, Ramayan, Geeta, Upanishads and other subjects.
Chief Host: Late Shri Ambalal Dahyabhai Thakkar Family and Late Shri Dhulchanddas Karsandas Thakkar Family
Pothi Yajman: Satishbhai / Pratibhaben Jagi; Tejasbhai Bhatt; Priteshbhai / Manishaben Patel
Daily Yajman: Piyushbhai / Geetaben / Soniben Chaudhari/Nimeshbhai Patel
Krishna Janmotsav: Ashokbhai / Hemaxiben Thakkar Family
Rukmani Vivah:Krishna Paksh: Babunath Tekriwala ni Jai (Sponsorer wanted their name not published)
Rukmani Paksh: Deepakbhai / Anjanaben Patel; Rukmani Mosad Paksh: Surendrabhai / Padmaben Thakkar
Katha Purpose: Katha was organized as an effort to giving back to the community in form of providing Spiritual discourse / values as well as a Fundraising efforts for a Mandir Expansion which is planned to take place later this year. Planning for the expansion is in progress. Number of bricks donated as of 7/20 was approximately 700.
Guru Purnima was celebrated by Shree Jalaram Mandir in a befitting manner on Monday, July 22, with Yagya which was ably supported by presence of Param Pujya shree Guruji Bhupendra Pandya, who explained in detail the importance of each activitiy performed as tradition and vedic procedure in English so as to enable youth to get acknowledge and get them attracted..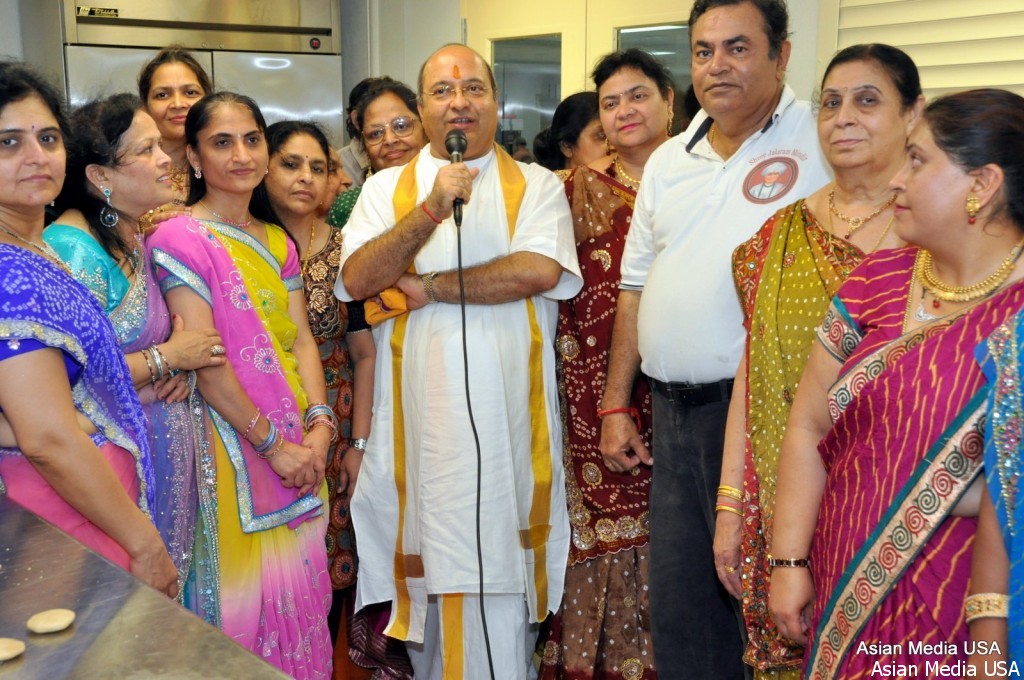 Trust Board Members: Hasmukh Thakkar-Chairman; Yogesh Thakkar – Vice Chairman; Chirayu Parikh – Secretary; Dharmendra Thakkar – Treasurer; Jasvant Patel – Comptroller; Harivadan Thakkar – Event Co-Ordinator; Raju P. Thakkar – Construction Co-Ordinator; Chandulal Thakkar – Maintenance Co-Ordinator; Jigar Thakkar – Information Technology; Ashwin Thakkar – Fund Raising Co-Ordinator; Madhusudan Thakkar – Project Co-Ordinator.
Executive Board Members: Bhupendra Thakkar – President; Rajendra J. Thakkar – Vice President; Vipul Thakkar – Secretary; Ravi Thakkar – Treasurer; Bakul Thakkar – Joint Treasurer; Jiga Thakkar -Cultural Secretary; Dipak Thakkar – Jt. Cultural Secretary; Chandrakant Thakkar – Kitchen Co-ordinator; Ramesh Thakkar – Kitchen Co-ordinator; Rajesh Thakkar – Printing & Publications;