Raunak Mela – A summer celebration hosted by Hari Om Mandir
Chicago IL : Hari Om Mandir organized their annual 'Raunak Mela-2013' at Hari Om Mandir,6N020 Medinah Road, Medinah, IL on Sunday, July,14 from 11-00 am. to 5-00 pm. where close to 200 devotees, friends, and well-wishers participated. Those who came to the the Mela enjoyed and had a lot of fun filled activities. For kids, there was Moonwalk etc. Other attractions were Snacks, Merchandise Stalls, Health Fair and much more.
There were many items for eating, which included-Chole Bhature onsite by Singla family, mouth watering Dosa's by Dakshin restaurant; Panipuri, Samosa/Tikki and Rossgulla by Star food, Sandwich & Sprouts by Sneh Chaudhari, Corn stall by Vipan Wadhera was managed by Giri Dassani, Bhel Puri, Lassi, Juice and Soft Drink etc. which were enjoyed by all. Hari Om Mandir's youth volunteers actively participated to mange various stalls and other activities.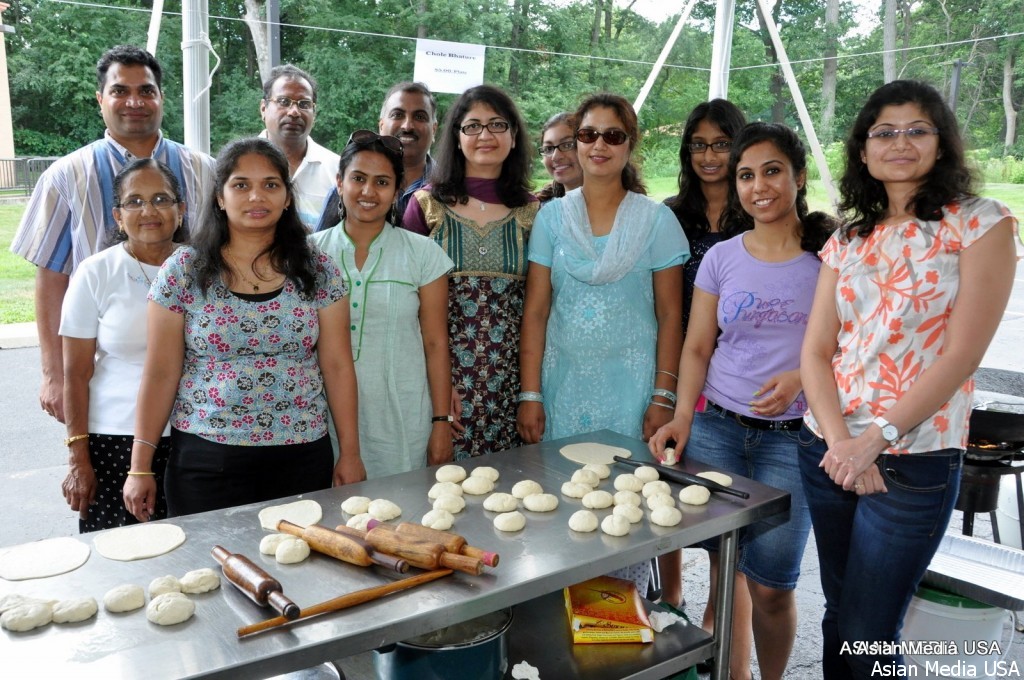 As always a Health camp was also organized for health checkup of nearly 100 people. They received Blood Sugar Checkup, EKG, and Blood Pressure screening. Dr. Om Dhingra and Dr. Ramesh Dhingra volunteered to conduct the entire Health Checkup and Shashank Saxena and Sharul Saxena assisted them.
Sham Taxali, member executive board praised the service rendered at the Health Camp during his discussion with Jyotikumar Chokshi, Editor of Asian Media. He pointed out the importance of this camp as it benefits several Devotees, their family members and friends. "Mandir is lucky to get services of world class Medical professionals for the benefit of all participants" he added.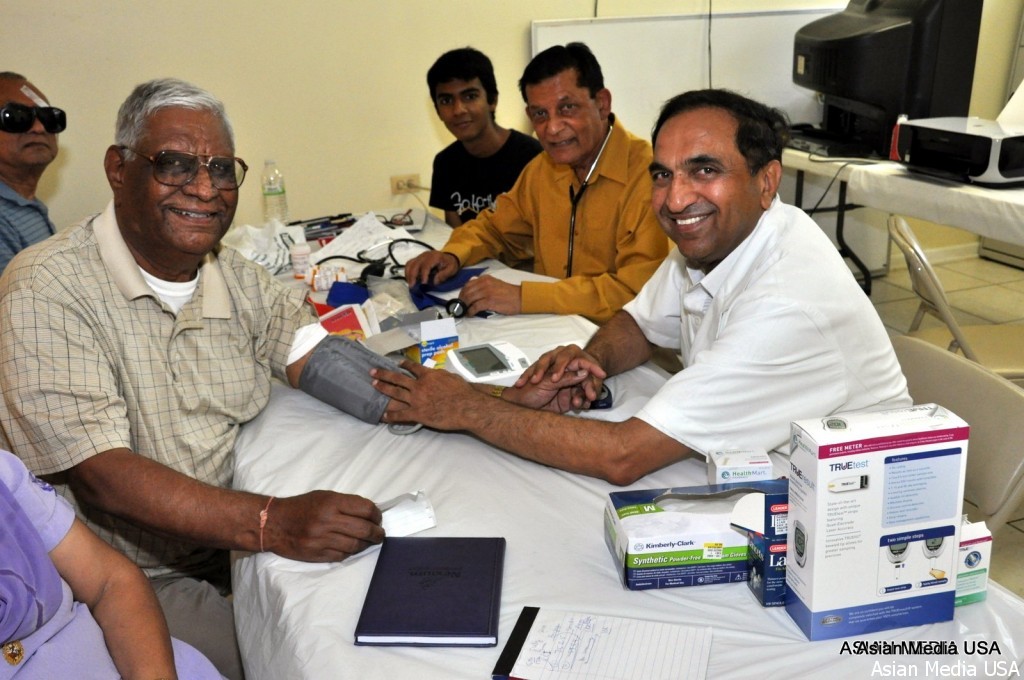 Hari Om Mandir is organizing various programs every year. Chairman Ayodhya Salwan and President Brij Lal Sharma along with their team of executives, trustees and volunteers were on their toes to maintain a trouble free environment for all who participated at this summer event.
With authentic Indian cuisine and culture, this year's Mela welcomed Summer in Chicago. For starters, there were stalls carrying multi-colored and elaborately patterned fabrics of saris, shawls and kurtas; intricately designed bangles, toe rings, anklets and earrings.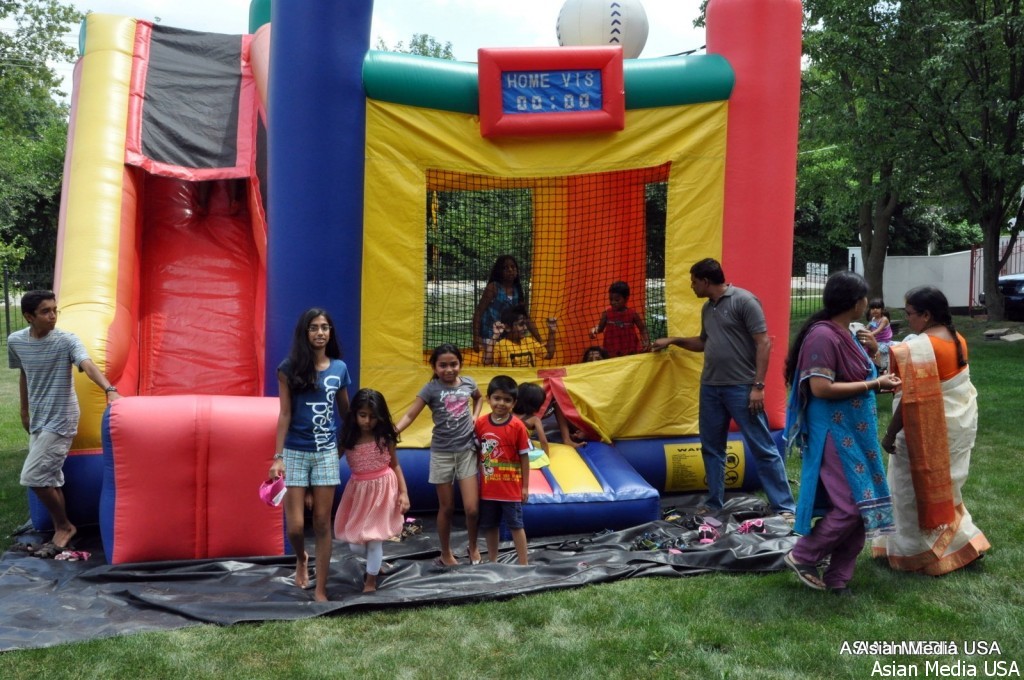 This summer festival was a bonanza of joyous, wholesome fun for everyone. Annual Raunak Mela was enjoyed by all the guests due to the dedication and hard work put in by members, volunteers and management of Hari Om Mandir. Notable among them were Brij Lal Sharma, Ayodhia Salwan, Indrajit Sarkar, Gopal Tiwari, Sham Taxali, Vikas Chaudhari, Ramesh Bhardwaj, Satish Chander, Jas Sharma, Sachin (DJ) and many more.
Shikha Tandon, Priti Sherawat and Ankit Mahajan from Desi Junction covered the whole event live on Radio. The team from Desi Junction Radio had a contest for those who had the Desi Junction app on their phone.
The highlight of the Mela was the Antakshri, part of which was aired live. The segment recorded was streamed again at 8 pm CST on 15th July. The Antakshri started with a song by Shikha Tandon from Desi Junction. The participants were so excited about singing at the Antakshari knowing that their voice would be heard all over the world by interested listeners!
Raunak Mela is an annual event that takes place in Hari OM Mandir. Mela at Hari Om Temple is a joyous occasion providing wholesome fun for everyone. Everyone left feeling uplifted and looking forward to coming back again next year. This Mela was enjoyed by all the guests due to the dedication and hard work put in by members and volunteers of Hari Om Mandir.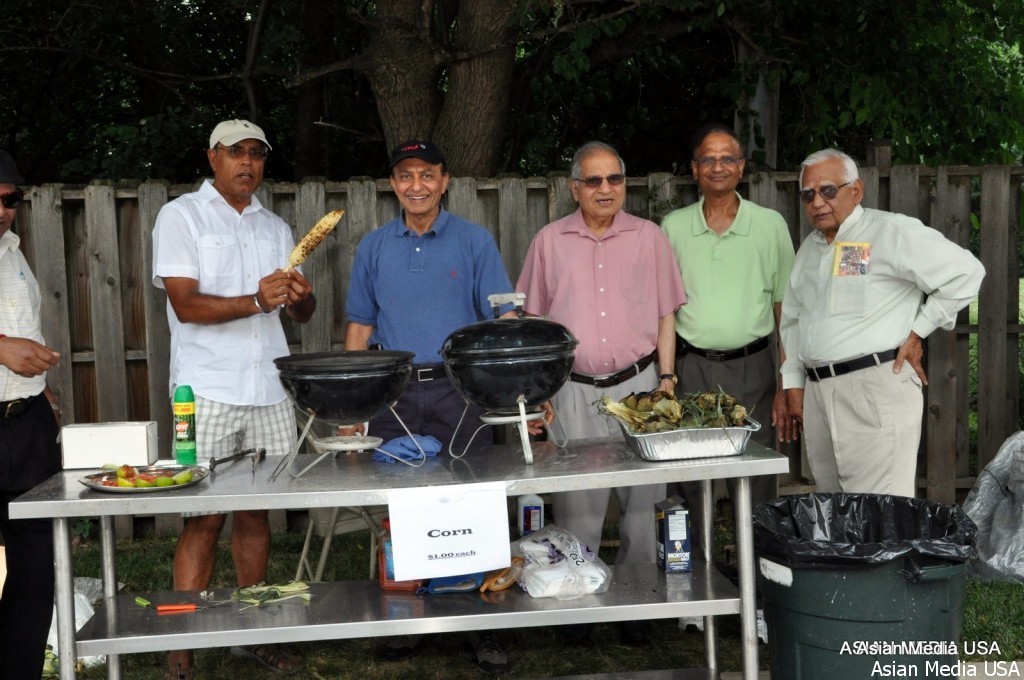 Executive Board:
Brij Lal Sharma;President, Indrajit Sarkar; Vice President, Sneh Chaudhary; Secretary, Vikas Choudhary; Treasurer, Jeetu Patel; Special Events, ShamTaxali; Property Management, Ramesh Bhardwaj; Publication & Parking, Anshu Paul; Education, Usha Verma; Food & Prasad. Board of Trustees: Ayodhia Salwan; Chairman, Sham Rawal; Vice Chairman, Mohan Karamchandani; Secretary, Krishan Lal Tejpal; Nirmal Bagga; Vipul Srivastava; Satish Chander; Amar Singla Priests: Shastri Yogesh Pandya & Pt.Dinesh Kumar
About Hari OM Mandir
Hari Om Mandir located at DuPage County in the heart of Chicago land. The Mandir has statues of all major North Indian Gods & Goddesses. Every Sunday there is a Havan and general congregation followed by Aarti and Bhojan Prasad. On every first Saturday of the month we have Devi Jagran from 7 – 10pm. Every Monday there is Shiv Puja and every Tuesday we have Hanuman Challis Path. There are two learned priests available in temple, for Poojas, Havan, Kathas etc in the temple and at home. Please visit Hari Om Mandir at 6N020 Medinah Rd, Medinah, IL Phone: (630)980-0900 http://www.hariommandir.org/