02-09-2013 ICNT Celebrates Republic Day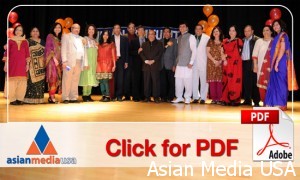 Skokie, IL: The Indian community of Niles Township celebrated India Republic Day through the afternoon of February 9, 2013 at Fairview School District 72, 7040 Laramie Ave Skokie, IL with music and dance performances, interspersed with remarks by the organizers and various guests. The initiative and inspiration behind this annual celebration since its inception has been Usha Kamaria. Chief Guest was Skokie Mayor George van Dusen. People came even from far suburbs outside Niles Township.
Among the other dignitaries present, including elected and non-elected officials, were the director of Skokie public library Carolyn Anthony, Illinois State Rep. Daniel Biss, director of drug compliance Dr. Yash Amin, and prominent community leaders such as Iftekar Shareef, Naren Patel, Sunil Shah, Tushar Chotalia, and Skokie Park District superintendent Mike Reid.
The program began with the auspicious lamp lighting ceremony performed by Rohit Joshi, accompanied by several dignitaries. DJ Chawla led the singing of the American and Indian national anthems, which preceded the opening remarks by Santosh Varghese. Usha Kamaria then took the podium to speak about Republic Day followed by Mayor Van Dusen. His wife Susan Van Dusen spoke subsequently about the annual "Coming Together in Skokie" festival that celebrates in turn one of the many ethnic communities enriching this township. She praised Usha Kamaria for her initiative and vision in promoting the idea: the first culture to be celebrated was that of Indians, followed by the Filipinos, Assyrians, and now the Greeks.
There were dances by Payalia Dance Studio, Tarana Dance Academy, and the Kalapadma Dance Academy. DePaul University Bhangra group performed the energetic Punjabi dance. There were also songs by Shaila Khetkar, Raju Bankapur, Dr. Sonal Patel followed. The outstanding cultural program showcased the rich, colorful and diverse culture of India. Performers ranged from little girls to college students, all of whom seemed to be having a good time entertaining the audience. Singers rendered old and modern patriotic numbers such as Mukesh's Mera Juta Hai Japani from Shri 420. Kids even commemorated the warrior queen of Jhansi with a sword dance.
Photo captions for India Republic Day celebration on Feb. 9 at Fairview School District
4861R – (L to R): Usha Kamaria (5), Naren Patel(9), Iftekar Shareef (10), Sunil Shah (12) and all invited guest
72: Skokie Mayor George van Dusen lighting the auspicious lamp surrounded by other dignitaries.
110 – Patriotic tricolor dance by students of Kalapadma Dance Academy [by SV]
4437- Students of Payalia Dance Studio
4479- Students of Payalia Dance Studio
4533- Students of Payalia Dance Studio performing Jhansi Rani dance
4581- DePaul University Bhangra Team performing Punjabi dance (Bhangra)
4658- Little students of Tarana Dance Academy dancing
4683- Dance by students of Tarana Dance Academy
4698- Kids from Tarana Dance Academy performing a Krishna dance
4731- Dance by older students of Tarana Dance Academy
4788 – Sonal Patel (L) and Santosh Varghese (R) singing together
4789- Shaila Khedkar and Raju Bankapur singing together
4799- Patriotic tricolor dance by students of Kalapadma Dance Academy
Audience at Niles Township Republic Day celebration [by SV]