11-11-2012 HDF Walk in Her Shoes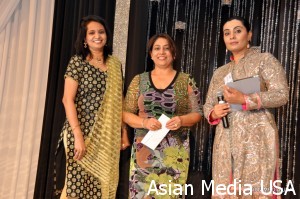 Chicago, IL: On Sunday, November 11, 2012, HDF hosted "Walk in Her Shoes: A Fashion Show Dedicated to Women's Empowerment" at The Meadows Club in Rolling Meadows, IL.
The couture fashion show featured collections by designers HSY, Mina Hassan, Nomi Ansari, Faiza Samee,Sana Safinas, Satya Paul, and Manish Malhotra, presented by Studio Elite. An exquisite stage adorned with crystals and white mums was provided Professional Party Planners.
HDF combats extreme poverty by "Helping people help themselves." Their powerful, Holistic Model is comprehensive and is focused on lasting change in 5 key areas – Education, Health Care, Economic Growth, Social Mobilization and Sustainable Environment. HDF's goal aligned with Millennium Development Goal (MDG) 3, is to Promote Gender Equality & Empower Women. HDF's concrete programs empower women to live, learn, earn and lead their communities.
"HDF envisions women to participate actively & equitably in all spheres of life, and to play a fulfilling role in the development of their society." Fakhia Rashid, Executive Director of HDF.
HDF's Chicago Chapter hosted this prestigious event for girls' education. One of HDF's most imperative programs is Education & Literacy: Educating women and girls provides the single highest return on investment in the developing world. The intended goal for this event was to raise funds to support 2 of the largest HDF schools for girls in Northern Pakistan, which educates over 1,500 girls. Emotionally moving interviews from various women benefitting from HDF programs was presented to event guests. Arshia Hasnain, member of the HDF Chicago Chapter and master of ceremonies of the event reiterated, "As we watch, put yourself in the shoes of these women interviewed…. just for a moment walk in her shoes… people like you, and your donations, have helped to empower them."
Sponsorships were graciously provided by Jewel-Osco, Mariano's Market, & Target. Air India generously donated 1 round-trip plane ticket package to a lucky raffle guest. Premier perfumery brand Jo Malone™ provided give-aways, samples, and hand-massages to event guests. Event guests included Ms. Robyn Dessaure Chief Director of the Department of Homeland Security of the US Government. The event featured silent and live auction items, with all proceeds going towards HDF Girl Schools in Mardan. If you were unable to attend the event and wish to give a gift of education please visit www.hdf.com.
Photographs and Press release by: Asian Media USA
Suresh Bodiwala
Chairman
Asian Media USA
Bus: (847) 679-8583
Fax: (847) 679-5336
Cell: (847)420-4789
sbodiwala@sbcglobal.net
Copyrights (c) 2010 – Asian Media USA
No one shall download or otherwise duplicate the graphics, images, press release and written content from the PDF without our express written permission. Likewise, no one shall reuse the aforesaid things, as the same are the intellectual property of the Company, we hereby reserve all rights
Disclaimer: – Asian Media USA
"The information in this e-mail and any attachments is confidential and may be legally privileged. It is intended solely for the addressee or addressees. If you are not an intended recipient, please delete the message and any attachments and notify the sender of misdelivery. Any use or disclosure of the contents of either is unauthorized and may be unlawful. All liability for viruses is excluded to the fullest extent permitted by law. Any views expressed in this message are those of the individual sender, except where the sender states them, with requisite authority, to be those of the Asian Media USA