11-17-2012 IAMA Annual Meeting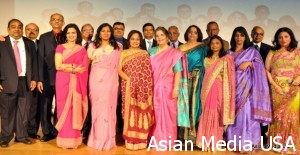 Rolling Meadows, IL: The Indian American Medical Association of Illinois held its 32nd Annual Meeting and Banquet on November 17th at the classy Meadows Club reflecting on highlights of this past year.Dr. Aruna Vade, President of IAMA thanked her team and members for a successful year in fulfilling the vision and goals of the IAMA such as supporting the Free Clinic, educational and community awareness seminars. The key note speaker for the evening was Dr. Shrinivas Shanbagh, Medical Director of Reliance Group of India. Dr. Shanbagh addressed how health education and emphasis on preventive health care led to increased participation and compliance with preventive measures among employees in his organization. Dr. Malliswari Challapalli, Pediatric Infectious Diseases Specialist said that the successful measures implemented by Dr. Shanbagh could serve as a blue print for all organizations and industries throughout the world.
Earlier, the evening began with a cocktail hour, which featured some mouth watering appetizers and top shelf premium bar service by the chefs of the Meadows Club. The Guest of honor Congressman William G Foster spoke to members elaborating the need for reform in immigration policy to recruit and keep talented people in USA.
Golden Stethoscope Awards were created by IAMA to encourage research among students, residents and fellows. The top award went to Rahul Bijlani, 2nd year Medical Student for his innovative research on "Alternative Radiographic Scoring System for Charcot Arthropathy of the Midfoot"
Dr. Sudha Rao, Pediatric Oncologist received the Distinguished Physician Award of 2012 for her significant contributions to the medical field and the Indian community. Awards were also presented on this occasion to Dr. Bapu Arekapudi and Dr. Roger Rodrigues who showed unwavering dedication and commitment to the mission of IAMA.
Post the awards the attendees were treated to some gourmet cuisine by the chefs of the Meadows Club which put them in the right frame of mind for the incredible entertainment that followed. Dhrishti's presentation Fiesta Fatale, which featured a plethora of fascinating dances interspersed with vocal presentations from Bollywood singers Samir Date and Dipali Somaiyya had the attendees mesmerized. The dancers included, Kathak maestro Prashant Shah and the Arya Dance troupe from New York, Bharat Natyam exponent Sulakshana Jayram, Shivani Thakkar and her troupe of versatile dancers from Los Angeles and Chicago based Megan Hartman and Jessica Beuckman
The concert narrated by Shebani Kulkarni and conceived by Madan Kulkarni featured dances and vocal presentations of different genre namely, the classical, the folk, fusion and popular Bollywood item dances. Hits which included, Piya Bawri, Rhydhun, the Madhuri Dixit medley and the item dance medley by Shivani, Gloria, Joya, Jack Tyler and Kaasi Aysola had the audience in raptures. The brilliant dancers were backed up by some exotic lighting and sound by the engineers of the Meadows Club. It was an indeed an evening which will linger on in the memories of the attendees for a long time.
Dhrishti, an organization founded by Madan & Shebani Kulkarni to promote Indian and World Music, dance and other art forms. Over the last 11 years they have presented over 160 concerts and events in the US and India. The Dhrishti Foundation founded by them in India does pioneering work in the area of imparting education in classical music & dance to under privileged children and women in India.
IAMA is a non-profit professional organization comprised of Illinois Physicians of Indian Origin committed to professional excellence in quality patient care, education and community health care. Their motto is unity of purpose, collegiality in action, commitment to excellence and compassion towards fellow beings. IAMA promotes professional solidarity in the pursuit of excellence in patient care, teaching and research.
Photographs and Press release by: Asian Media USA
Suresh Bodiwala
Chairman
Asian Media USA
Bus: (847) 679-8583
Fax: (847) 679-5336
Cell: (847)420-4789
sbodiwala@sbcglobal.net
Copyrights (c) 2010 – Asian Media USA
No one shall download or otherwise duplicate the graphics, images, press release and written content from the PDF without our express written permission. Likewise, no one shall reuse the aforesaid things, as the same are the intellectual property of the Company, we hereby reserve all rights
Disclaimer: – Asian Media USA
"The information in this e-mail and any attachments is confidential and may be legally privileged. It is intended solely for the addressee or addressees. If you are not an intended recipient, please delete the message and any attachments and notify the sender of misdelivery. Any use or disclosure of the contents of either is unauthorized and may be unlawful. All liability for viruses is excluded to the fullest extent permitted by law. Any views expressed in this message are those of the individual sender, except where the sender states them, with requisite authority, to be those of the Asian Media USA