High Energy Packed performance by Mika Singh Rocks Chicago Music fans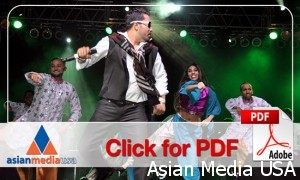 Chicago IL: Cine Starz Entertainment – Rafi Hussain. A leading name in the Entertainment World presented Bollywood and Desi Songs with live band Bollywood Badshah Mika Singh performed Live at the Sears Center for the first time ever in Chicago. It was an electrifying performance by Mika along with Professional Dancers. He was accompanied by the beautiful feminine Miss India Finalist Ishita Sarkar and a successful Playback Singer Shraddha Pandit, live on Friday, October 26, from 8:30 PM, at Sears Centre, 5333 Arena – Hoffman Estates, IL. Ticket Rates were: $75, $55, $39.
Ishita Sarkar one of the most talented Emcees started the program with her scintillating and gorgeous style. Presenting a Musical Song by Ravi on violin, followed by forceful, talented, upcoming stars Raman Kappor and Aka Singh. Presented popular Bollywood and Punjabi Songs in Hilarious style. Thereafter array of love, romance started with Shraddha Pandit presented an array of songs mesmerizing the audience.
Then entered Badshah of music, Mika Singh starting with 'Ek Dusre Ko Rat Bhar Sone Nahi Denge and ending also with the same songs. In between there was an Ocean of Vigour, Spirit making the entire audience rocking with his spectacular presentation of Punjabi and famous Bollywood Songs mixing with Dances and Bhangra forcing to dance ladies and gents, children and old. He allowed ladies also near stage and children on Stage too.
Ishita Sarkar also made the atmosphere lively with her beautiful vice, dressing and spectacular style of comparing the whole program as well as singing and dancing herself and making others too.
Mika to pay tribute to Dev Anand, Shammi Kapoor , and Rajesh Khanna on his upcoming world tour Mika Singh, who will soon leave for a tour spanning the US, Canada and the West Indies, will devote a segment of his shows to screen legends Shammi Kapoor, Dev Anand and Rajesh Khanna. The singer will sing popular retro numbers from the late actors' films. "I will sing some of the famous songs picturized on the actors. This is my way of paying tribute to them," says Mika.
Mika said, "My tribute to Vande Mataram is introspective. It is an honor to re-create a song of national importance. I am glad that Life OK has bestowed this honor upon me and I hope that I do justice to the original melody."
He was received by the audience with standing ovation and sang hits from various Bollywood films which rocked the crowd and kept the audience spellbound. The audience enjoyed some of his hits songs and continued with many more making the entire audience rocking with his voice and melodious and hilarious music.
Love has no limits, truth has no confines, and music knows no barriers. These may seem like lofty ideals, but they are standing pillars of life, of which we see, testimonies time and again power of music –melody, rhythm and devotion are all you need to produce a masterpiece from which no one can stay away. This may be why music is truly the only universal experience that can touch everyone.
Mika Singh is one such musician who has transcended boundaries. He has been embraced by Indian cinema with open arms. His voice has moved audiences everywhere, and he has won a place in most hearts.
Mika Singh had given many gifts to different Ladies/Girls and Children. He had specially permitted only ladies to perform dances near the stage, advocating, they hardly get chance to perform in public.
Mika, known as 'The Badmaash of Bollywood, is a Prolific Singer, Composer, Performer and Songwriter who has belted out many chart busters from his private albums and Bollywood films. He is considered a Highly Acclaimed Musician. Amongst a wide catalog of smash hits, the prominent ones remain "Singh Is King" (Singh Is King), "Mauja Hi Mauja" (Jab We Met), "Idne-Batuta" (Ishqiya), "Dhanno" (Houseful), "Dhin Chika" (Ready), "Desi Beat" (Body Guard), "Subah Hone Na De" (Desi Boys), "Pungi" (Agent Vinod), "Ganpat" (Shootout at Lokhandwala), Gabru (album) and Sawan Mein Lag Haye Aag (album), to name a few. He is also famous for "Iaatan (Jat) Ka Chora" song which is based on Jat clan. Mika was born on June 10, 1977 at Durgapur, West Bengal and brought up in Patna, Bihar with his brother Daler Mehndi. Although born and raised in Bihar, he is a Punjabi. His father, Ajmer Singh Chandan, was an Acclaimed Classical Musician and Amateur Wrestler. His mother, Balbir Kaur, took interest in folk music and is a state level Amateur Wrestler. He is the youngest of six brothers. Mika is known as a powerhouse entertainer and his live shows are full of energy. Having performed globally, his audiences dance to his hit tracks, irrespective of their age and nationality.
Shraddha Pandit grew up in Mumbai and belongs to a large family of successful musicians, singers, music producers and actors. Shrraddha has sung for many prolific music composers including A. R. Rahman, Anu Malik, Salim-Sulaiman and Sajid- Wajid. She also sang for her uncles Aadesh Shrivastava and [atin Lalit. She provided her voice for [atin Lalit in four movies – Khamoshi (1996), Khoobsurat (1999), Raju Chacha (2000), Kehtaa Hai Dil Baar Baar (2002). Her two Siblings also have had successful careers in the Bollywood industry where her sister, Shweta Pandit, is also a well known playback singer and her brother Yash Pandit is a film and television star. She first sang for the film Khamoshi, then garnered some success when she sang for the film Dev a song called 'Rang Deeni; which became a popular Hindi song in 2004 within India. Shrraddha recently released an album Teri Heer, where she has written and composed many of the songs by herself.
Ishita Sarkar was one of the contestants of Femina Miss India 2009, a beauty pageant organized by Femina, a womens magazine and Pantaloons, a multi format retailer in India. She was among the top five finalists and also won Collection g in association with Ddamas & World Gold Council Femina Miss Golden Heart sub-title on AprilS, 2009.
Rafi Hussain A leading name in the Entertainment World, started back in 1994 with a show with Salman Khan and Aamir Khan with an investment as one of the partners in the show. Then Rafi took part in the Amitabh & Anil Kapoor show in 1995. The super success of that show got him great relations with the top names in the show business world and what followed was his first world tour with Cineyug . Rafi's talent was well known after that with the stars and the production team which included the mega tours from 1996 to 2002. In 2003 Rafi was one of the first person to bring Rahat Fateh Ali Khan at the Skokie Theater. The success of Rahat Fateh Ali Khan show was one of the driving forces for Rafi in promoting solo shows and World Tours once again. Rafi has spent 15 shows with his friend Shahrukh Khan and the greatest actor of all times Mr. Amitabh Bachchan. His name is popular among stars and producers. In addition to the Entertainment World, Rafi has an extensive aviation background with airport operations working along with Government and Security Personnel. Rafi also has a great talent and experience in Construction Area. His company Laguna Builders has built some great homes in the North side of Chicago.
Sponsors: Holiday Inn Skokie, Combined Oil Company, Andaaz Jewels, Monty's Banquets, National Bank Card, Suga Builders, Punjab Auto Works, Dr. Firdaus Jaffri, Sajmil Construction, Amar Carpets, Universal Accounting Services, Pro Dental Concepts and Murad Studio
Cinestarz Entertainment Team: Program Champion & Coordinator: Harbir Virk; Project Manager/Finance & Media-in-charge: Fawad Siddiqui; Project Manager/Sales & Marketing: Harvinder S. Billa; Project Manager/Advertising: Narinder S. Sra
Special thanks to: Imran Sidiqui, Mohamed Ifitequar (Moe), Zehra Quadri, Anish Shah, Adnan Khan, Surender (Karl Karla), Aamir Khan (Atlantic Video), Kanu (Al Mansoor Video), Jaspal Singh (Spice & Rice), Babu Patel (Sahil), Nick & Mayur Patel (La Tan)
Special thanks to: The Management & Staff of Sears Center, Ben Gibbs (Sears Center), Pamela Lintern (Sears Center) Dan Guzza (Sears Center), Erin Sweeney (Sears Center), Mrs. Anjum Husain, Mr. Aftab Baig and Mr. Mark Eson. A very special thanks to all the attendees.
National promoter of Mika Singh world tour: Dei Films: Mr. Arun luthera and Mr. Jai Singh; Cineyug Entertainment: The number one producers of Bollywood shows worldwide (Mr. Karim Morani & Aly Moran)
Poojanka Entertainment: Bhart Jotwani
Starpromotionsinc: Rajender Singh, Mr. Ahmed khan, Dr. Siraj(DCA) & Grace Printing Staff
Among him, Mika Singh had many skilled musicians, all look stylish and very remarkable. Orchestra and singers were doubled, changing lights, large images on LED screens and a spectacular cast which brings more live impact on audiences. The sound system was of very high quality and outstanding. Security also did excellent job for general audience volunteers had done excellent job by doing overall management making the whole show seem most organized and well disciplined.
Photographs and Press release by: Asian Media USA
Suresh Bodiwala
Chairman
Asian Media USA
Bus: (847) 679-8583
Fax: (847) 679-5336
Cell: (847)420-4789
sbodiwala@sbcglobal.net
Copyrights (c) 2010 – Asian Media USA
No one shall download or otherwise duplicate the graphics, images, press release and written content from the PDF without our express written permission. Likewise, no one shall reuse the aforesaid things, as the same are the intellectual property of the Company, we hereby reserve all rights
Disclaimer: – Asian Media USA
"The information in this e-mail and any attachments is confidential and may be legally privileged. It is intended solely for the addressee or addressees. If you are not an intended recipient, please delete the message and any attachments and notify the sender of misdelivery. Any use or disclosure of the contents of either is unauthorized and may be unlawful. All liability for viruses is excluded to the fullest extent permitted by law. Any views expressed in this message are those of the individual sender, except where the sender states them, with requisite authority, to be those of the Asian Media USA