Manav Seva Mandir Celebrates Saptadev Katha and 19th Patotsav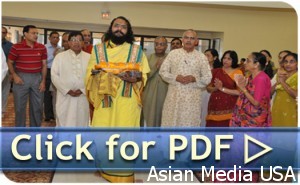 Chicago IL: Manav Seva Mandir located at 101 S. Church Road, Bensenville , IL celebrated Saptadev Katha and Gyan Yagya with devotees on July 21 to July 27, 2012 also 19th Patotsav was celebrated on Saturday, July 28, 2012 and Sunday July 29, 2012 at Mahalaxmi Hall. Saptdev Katha and Gyan Yagya were organized under guidance of Pujya Giriraj Shastriji . Patotsav is a ritual which celebrates the anniversary of the tithi when the murtis were first consecrated. Over 5000 devotees witnessed the special evening of Saptadev Katha and Patotsav.
Mandirs and Murtis form the basic element of the Hindu Dharma. A traditional sacred ritual celebrating the anniversaries of Murti-Consecration (Prana Pratishtha) of Mandirs known as Patotsav, the word is a compound of Paat and Utsav, meaning festival. Paat is derived from Patti, a strip of garment tied on the head of a murti. From this evolved Paat.
In essence, Patotsav is a Re-Consecration Ceremony, Re-Invoking Paramatma. This stems from the belief that during the whole year, the Murtis lose some Divinity from two possible factors: 1) Any Laxity by the Pujari in offering Devotional Worship. 2) The sheer volume of burden heaped at the Lotus-Feet of the Murtis by devotees overwhelmed by Maya. It is to be clarified that Paramatma's divinity never dissipates. It is only our Bhava – devotional love that ebbs.
On Saturday, July 21, all deliberations started at 2-00 pm, starting with Shobha Yatra taking Pothi by Yajman Shri/Shrimati Chhotabhai Patel who headed procession taking pothi on head of Mrs. Patel escorted by Kumbhas put on heads of several ladies. This was followed by Pravchan by Shastriji on Hanumanji Maharaj befitting Saturday in his own style narrating various incidencies of Hanumanji's life. Shastrji continued his mind boggling speech for a continuous seven days, picking Gods in sequence as Suryanarayan Bhagwan on Sunday inclusive of a Cultural Program, Mahadeo Bhole on Monday, Ganpati Maharaj on Tuesday also inclusive of Cultural Program of Dance, Mataji on Wednesday, and Radha Krishna on Thursday and Friday including Cultural Program. Arrangements for Light Refreshments were made Monday to Thursday before Katha and Prasad was made available on Saturday and Sunday. Main Host for the Saptdev Katha was Pravin Patel and his family.
The entire program was free to the devotees. The Temple Hall remained filled to its capacity with Devotees, Pujya Giriraj Shastriji kept the devotees captivated for more than three hours daily with excellent mix of Shlokas and Practical advice. The program was very well attended and many families showed up regularly on all evenings. Pujya Shri Giriraj Shastriji did an excellent rendition of Saptdev Katha for more than three hours each day keeping the devotees spellbound for the entire program. The program ended with standing ovation from the devotees and a long queue for darshana of Pothi and Pradaxina. Shastriji was very humble and acknoweledged many individuals for their unstinted services and specially honored Elderly Shastriji C.L. Shastri for his long services to the temple and Community as a whole with a Shawl. Sumptuous Maha Prasad was served to all. It was a rare incident where Shashtriji asks and appeals to devotees to come to the Dias and give every one's assurance of leaving one of the bad virtue/habit within everyone's own mind and heart. If somebody does not give any money, it will do but the aim of his telling Katha will be fulfilled if virtues developed as a result of hearing.
Chairman Jairambhai briefed devotees about coming events and appealed to donate as much as possible to enable carry out programs without burden and in grand manner. President Dahyabhai perform duty to thanks by vote of Thanks.
19th Patotsav Program was organized on Saturday, July 28,2012 and Sunday, July 29 amidst huge number of devotees. On Saturday, July 28, program started with Mangla Aarti followed by Bhakti Sangeet, Shringar Aarti, Welcome Speech by and Vipra Varni, Kalash and hwaja Poojan, Kalsh and Dhwaja Hoisting, Aarti, Falahar, Prasad and rest again started with Maruti Yagna, Pravchan by Shri Giriraj Shastriji, Sandhya Aarti and Maha Prasad.
On Sunday, July, 29, program started with Mangla Aarti followed by Bhakti Sangeet, Shringar Aarti, Murti Darshan, Maha Abhishek, Pravchan by Shri Giriraj Shastriji, Maha Puja and Rajbhog Aarti, Falahar, Prasad and Rest. Again started with Matajino Havan, Annakut Puja, Bhakti Sangeet, vote of Thanks, vipra viday.
Chairman Jairambhai welcomed all and stated that we are going to recognize a personality who is known to all and has served Manav Sewa Mandir in various capacities and also served twice as its Chairman and has contributed by all means to his capacity and has never thought of distance of journey in his way to be with us. A framed plaque was given to him.
Felicitation of Dr. Bharat Barai, Past Chairman of the Temple for his services. Dr. Bharat Barai was the President of Medical Licensing Board of State of Indiana, the highest administrative position for a medical doctor in any state of the USA. He is also a Medical Director of Oncology Institute of Methodist Hospitals in Northwest Indiana and is an Assistant Professor of Clinical Medicine at Indiana University Medical School. Dr. Barai's contribution to Indo-US Relations is about the much talked about Civilian Nuclear Agreement that was signed by US President George W. Bush and India's Prime Minister Manmohan Singh. When the deal was held up for ratification by Congress, Dr. Barai Lobbied intensely with Congressmen and Senators. Dr. Bharat H Barai, MD has 36 years of Medical Experience and Practices in Internal Medicine and Hematology and Medical Oncology. He is recipient of Health Grades Honor Roll Award. Dr. Bharat Barai is a Health Grades Recognized Doctor. He is affiliated with AMA, ASCO, ASH and many more. Dr. Barai is very popular for his total commitment and involvement with Indian community organizations and temples. He is a Brilliant Scholar and a respected professional.
Dr. Bharat Barai acknowledged the felicitation and thanked all. He further stated that Dr. Subramanian is going to address in his lucid, informative and eye opening speech. He told that Dr. Subramanian was Health Minister in Vajpyee Ministry and has advocated for Atrocities on Hindus time and again. He is a Scholar having done PhD in Economics at Harvard University and subsequently served there as guide for PhD students. He is instrumental in negotiating with China for pilgrimage of Man Sarovar. At this outset he recognized the presence of Dr. Vaishal Bakim who has been working very sincerely on Atrocities to Hindus.
Dr. Subramanian in his speech narrated various incidents of Atricities on Hindus and also clarified that it is in India only it can happen that in spite of having more than 85 % of Hindus whose paid tax is huge which is utilized for giving subsidies to 15% so called Minorities and for Hindus, to go to their pilgrimage, they need to incur heavy expenses. We must awake and show the world that we are not weak. We do not want to harass or put any body in trouble, but not at the cost of Hindus and we must not be ashamed of calling our salve Hindu.
Vote of Thanks, Sandhya Aarti, Pradaxina and Maha Prasad was served. In his remarks Pujya. Girirajji Shastri thanked all for spontaneous over whelming support and was so impressed that he assured of his fullest cooperation and requested to consider him as a part of Manav Sewa Mandir and his whole hearted support will be there as and when required. He also assured to teach Sanskrit to youth, thereby try to foster Hinduism. He also gave Vipra Daxina for the development of Temple and expand it activities and thus gave an example to others to follow him.
Pujya Giriraj Shastriji: President of Shree Gopinath Aadhyatmik Sansthan Trust, Vadodara, Gujjarat, India. | Being born in spiritual family of Vishnagar there is a spiritual aura that radiates from him all the time. He is one of the most influential spiritual personalities of the 20th century. His wife also realized the divinity in him and became one of his most loyal followers. He has propagated the message of looking towards Lord Krishna and moving on the path of spirituality throughout the world.
From the young age of 10, Pujya Shree Giriraj Shastriji has been working towards the goal of serving others and guiding them towards the bhakti of Lord Shri Krishna. He is receipient of Prathmeshji Award for Outstanding Discourses on Garga Sahitya at InternationalPushtimargiya Vaishnav Parishad, London, U.K.
According to Pujya Shree Giriraj Shastriji, Seva means complete devotion to God in every respect. He is a staunch Pandit of Pushtimarg and Sanatan Dharma. Yet, he has respect for all religions and Shastras. He delivers lectures in Shrimad Bhagwat as well as about any Dev and with mastery on all Vedas in very simple, humble way, with deep knowledge and practical examples that touches minds and hearts of every one who hears him. He is on tour of USA and Singapore from July, 2012 to Setember, 2012 narrating Saptahs and Kathas as well as Shibirs on various subjects.
Future Plans:
Renovation of Shri Gopinath Spiritual Anand Dham in a big way is being planned. For the renovation of Govardhan Gosala, Bhakti Sadhana Mandir special attention will be given for research center for Tatva Gnan, Shri Gopinath Gnan Mandir and Publication Center. They heartily invite everyone to give their expertise, cooperation, love and Financial support. They humbly bow to the lord almighty who is sitting in the mind of all of us to inspire us. Please liberally donate and get punya (Fulfillment). By the grace of God, He has turned agnostics (nastik) into God fearing people. They have started doing seva. They are now fully devoted towards the Seva of Shri Krishna. Now they know what is love & devotion.
Upcoming Events:
Samuhik Satyanarayan Katha: Specially for youth in English on Sunday, August 5, 2912 / 5:00pm to 7-15pm
Janmashtami: Thursday, August 9, 8-00 pm onwards and Birth of Shri Krishna at 12-00 am.,
Nand Mahotsav: Saturday, August 11, 5-00 pm onwards.
About Manav Seva Mandir:
The Manav Seva Mandir is a Hindu religious institution in the greater Chicago land area. Not only is it an excellent place of worship, but it also renders a social atmosphere and a cultural center that preserves and promotes our Hindu traditions and heritage. They have Programs such as Bhajan-Satsang, Group Satnarayan Katha, Youth Classes, Children Classes, annual youth camp during the summer holidays, flu vaccinations, health fair and medical facilities. They have Daily Arti such as Mangala Arti, Shringar Arti and Sandhya Arti. Manav Seva Mandir located at 101 S. Church Road, Bensenville , IL. 60106.
Phone # (630)860-9797, Web site: www.manavsevamandir.org
Photographs and Press release by: Asian Media USA
Suresh Bodiwala
Chairman
Asian Media USA
Bus: (847) 679-8583
Fax: (847) 679-5336
Cell: (847)420-4789
sbodiwala@sbcglobal.net
Copyrights (c) 2010 – Asian Media USA
No one shall download or otherwise duplicate the graphics, images, press release and written content from the PDF without our express written permission. Likewise, no one shall reuse the aforesaid things, as the same are the intellectual property of the Company, we hereby reserve all rights
Disclaimer: – Asian Media USA
"The information in this e-mail and any attachments is confidential and may be legally privileged. It is intended solely for the addressee or addressees. If you are not an intended recipient, please delete the message and any attachments and notify the sender of misdelivery. Any use or disclosure of the contents of either is unauthorized and may be unlawful. All liability for viruses is excluded to the fullest extent permitted by law. Any views expressed in this message are those of the individual sender, except where the sender states them, with requisite authority, to be those of the Asian Media USA