Midwest Punjabi Sports Club holds 10th International Kabaddi Cup and Volleyball Tournament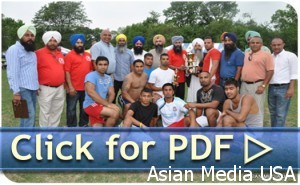 Maywood IL: On Saturday, July 29, 2012, the Midwest Punjabi Sports Club held its 10th International Kabaddi Cup and Volleyball Tournament at Busse Woods Forest Preserve, Elk Grove Village, IL. More than 1600 individuals attended the engaging day of sports, food, and live entertainment. Punjab Sports Club, Midwest is "the first sports club of the Midwest area that promotes Kabaddi and various other Punjabi games to the Punjabi community and Culture in Midwest of USA.
Participants were male and ranged from the ages 18-40 and were from various parts of North America. Teams came from East Canada, West Canada, New York, Cincinnati, Sacramento, Indianapolis, and Chicago.
Volleyball is a team sport in which two teams of six players are separated by a net. Each team tries to score points by grounding a ball on the other team's court under organized rules. It has been a part of the official program of the Summer Olympic Games since 1964.
Though Kabaddi is primarily an Indian game, not much is known about the origin of this game. There is, however, concrete evidence, that the game is 4,000 year old. It is a team sport, which requires both skill and power, and combines the characteristics of wrestling and rugby. It was originally meant to develop self-defense, in addition to responses to attack, and reflexes of counter attack by individuals, and by groups or teams. It is a rather simple and inexpensive game, and neither requires a massive playing area, nor any expensive equipment. This explains the popularity of the game in rural India. Kabaddi is played all over Asia with minor variations. Kabaddi is known by various names viz. Chedugudu or Hu-Tu-Tu in southern parts of India, Hadudu (Men) and Chu – Kit-Kit (women) in eastern India, and Kabaddi in northern India. The sport is also popular in Nepal, Bangladesh, Sri Lanka, Japan and Pakistan.
Tournaments started with prayer (ardas) ceremony by Palatine GranthiBhai Gurjant Singhji, in this event food and beverages were free cost, people came from Michigan , Indiana , Ohio, Iowa, Wisconsin , New York to watch this wonderful tournament. Tournament started at 10 am. Kabaddi Teams participated from New York, Ohio, Texas, Indiana, Michigan ,Illinois, Toronto Canada Kabaddi tournament ended at 4.30 pm.. Award ceremony was from 4.30 to 5.00 pm.
Kabaddi tournament
1st Prize: Indiana Kabaddi Team
2nd Prize: Ohio Kabaddi Team
Volleyball
1st Prize: Tony Sanghera Team ( Chicago )
2nd Prize: Dallas Volleyball Team
The final match was very close and highlighted the physical strength as well as the overwhelming skills of the players and kept spectators on the edge of their seats. Participants from both sports were in excellent shape and their hard work as well as immense training was obvious to all audiences. Attendees enjoyed the amusing and vibrant game commentary. The remarks were very engaging and often would receive chuckles from spectators of all ages.
Numerous individuals were happy to see that the rich Punjabi traditions and heritage was present in the second and third generation of Indian-Americans. Many participants were American born but were fluent in Punjabi and had immense passion and respect for their extraordinary culture and customs.
The Chief Guest was Sunny Dhoor from Michigan and the Guests of Honor was, Harkishan Singh Bhatti, The afternoon of sports was followed by a presentation of appreciation plaques to the various contributors of the event for their moral and financial support, which was pivotal in the execution of the event. Trophies were awarded to all participants for their excellent performances.
After the Kabaddi and Volleyball tournament entertainment started at 4.30 pm with popular singers Satti Satvinder from california and and punjab di Lata Mangeshakr Gurlej Akhtar and Kulwinder Kelly performed very well in front of approximately 1900 people. Punjab Sports Club Midwest, Chicago thanked to all the Organizations and Sponsors for making event so successful.
Board Members of the Punjab Sports Club
Manjit Singh Dhanoa, Jagdev Singh Kherra, Satinder Singh Susana, Jassi Dhaliwal, Satti Bhathal,
Davinder Singh Rangi and Micky Kahlon
Photographs and Press release by: Asian Media USA
Suresh Bodiwala
Chairman
Asian Media USA
Bus: (847) 679-8583
Fax: (847) 679-5336
Cell: (847)420-4789
sbodiwala@sbcglobal.net
Copyrights (c) 2010 – Asian Media USA
No one shall download or otherwise duplicate the graphics, images, press release and written content from the PDF without our express written permission. Likewise, no one shall reuse the aforesaid things, as the same are the intellectual property of the Company, we hereby reserve all rights
Disclaimer: – Asian Media USA
"The information in this e-mail and any attachments is confidential and may be legally privileged. It is intended solely for the addressee or addressees. If you are not an intended recipient, please delete the message and any attachments and notify the sender of misdelivery. Any use or disclosure of the contents of either is unauthorized and may be unlawful. All liability for viruses is excluded to the fullest extent permitted by law. Any views expressed in this message are those of the individual sender, except where the sender states them, with requisite authority, to be those of the Asian Media USA