Path to Happiness by Swami Mukundananda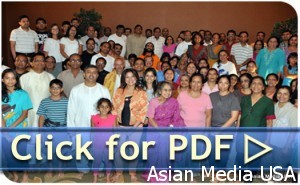 Chicago IL: The quest for spiritual happiness is a practical necessity, not a lofty ideal, says a Swami Mukundananda Ji who finished a seven-day residence Saturday, July 14 – at the Meadows Club, Rolling Meadows, IL
Swami Mukundananda Ji is a spiritual leader whose lectures apply the ancient Vedas, or Hindu scriptures, to the challenges of 21st-century existence. He teaches audiences how to manage stress through yoga and meditation.
"Spirituality is not removed from our mundane practical life," he says. "If practiced for some time on a daily basis, it helps us in doing all the other activities throughout the day as well and provides us a true Path to Happiness.
His program "Path to Happiness" ran from 11:00 a.m. to 2 p.m. Saturday and Sunday and 6 to 9 p.m. July 8 through 14. The series was a free and open to the public, but registration was required. Attended by at least 1500+ devotees through the 7 days, the program was a real treat for Body, Mind and Soul.
Mr. Madan Kulkarni, chairman of the Meadows Club, says "I was so impressed with Swami ji, the way he communicated, the way he taught Vedic knowledge in practical life and is truly a savior for Human kind in today's world". The positive vibrations brought by Swami and his program from devotees will provide a calming effect to the venue.
Another Devotee added – "It is not a speech about the Hindu gods, that's not the issue at all," he says. "They'll talk about your own body, how you control your own body, how you control your own mind and how you control your own soul, and how you balance them. and bring happiness to ones existence.
Swami Mukundananda Ji looks as one might expect a holy man to look — serene countenance, flowing saffron garments, a high forehead marked with Tilak. The Tilak Mark symbolize his devotion to the Hindu deities Radha and Krishna, he says.
But he also has an MBA from the Indian Institute of Management, India's preeminent business school. He was a mechanical engineer before he renounced his position, at age 23, to pursue a life of spiritual devotion. In addition to lecturing at Hindu temples around the country, he's spoken to staff at Google headquarters in California and the Kellogg School of Management in Illinois.
"A lot of Indians who have come to the U.S.A. from India share the same education as I do," says Swami ji. "They are engineers and MBAs. They do have this desire for spiritual knowledge. They would like to hear it in terms that make sense to them. When they come across a Swamiji who has the same educational background, that gives them confidence that they can relate to the message and the manner in which it is presented."
The ancient Hindu gods might not have foreseen that their wisdom could be applied to such matters as corporate management, but Swami ji says the teachings transcend millennia.
Swami ji discussed and taught breathing techniques, body relaxation and proper diet. His particular form of yoga includes spiritual exercises, a component he says is neglected by most yoga studios in the United States.
Various distinguished personalaties Welcomed Swami ji including Mayor Tom Rooney of Rolling Meadows, Mr. Naren Patel of Medstar Labs, Mr. Suresh Bodiwala of Asia Community, Ms. Vandana Jhingan of TV Asia, Ms. Usha Kamaria of Skokie, Mr. Madan and Ms. Shebani Kulkarni of Meadows Club and Ms. Sharon Steffensen, Chief Editor of Yoga Chicago Magazine.
Mayor of Rolling Meadows, Mr. Tom Rooney, provided a highest Proclamation to Swami ji for bringing Spirituality to the City. He appreciated the message and commented how Swami ji has been instrumental in breaking the boundaries of culture and reaching out to everybody and making the world a better place.
The entire atmosphere in Meadows Club was electrified as the program progressed through its course. Devotees enjoyed every moment and drank the divine nectar of happiness. These seven days did provide a lot of tools for attendees to deal with the age old question of 'What is True Happiness?, How to achieve it? and How to sustain it?"
Swami Ji will be back in Chicago Land area in July 2013 – with another electrifying program. Stay tuned!!!!
Additional Information:
'Path to Happiness'
What: A spiritual program of yoga and meditation by Swami Mukundananda
When: 11:00 am . 2:00 p.m. Saturday and Sunday and 6-9 p.m. Monday-Friday (July 8-July 14, 2012)
Cost: Free, but registration is required
Where: Meadows Club, 2950 West Golf Road, Rolling Meadows, IL
Details: 630-561-4807, www.jkyog.org
Photographs and Press release by: Asian Media USA
Suresh Bodiwala
Chairman
Asian Media USA
Bus: (847) 679-8583
Fax: (847) 679-5336
Cell: (847)420-4789
sbodiwala@sbcglobal.net
Copyrights (c) 2010 – Asian Media USA
No one shall download or otherwise duplicate the graphics, images, press release and written content from the PDF without our express written permission. Likewise, no one shall reuse the aforesaid things, as the same are the intellectual property of the Company, we hereby reserve all rights
Disclaimer: – Asian Media USA
"The information in this e-mail and any attachments is confidential and may be legally privileged. It is intended solely for the addressee or addressees. If you are not an intended recipient, please delete the message and any attachments and notify the sender of misdelivery. Any use or disclosure of the contents of either is unauthorized and may be unlawful. All liability for viruses is excluded to the fullest extent permitted by law. Any views expressed in this message are those of the individual sender, except where the sender states them, with requisite authority, to be those of the Asian Media USA