Children From The Slums of India, Launch "Ekatva" Tour in United States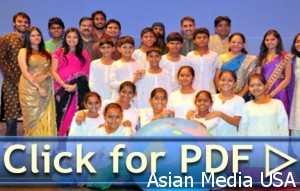 Chicago IL: Manav Sadhna presented a thought provoking program "United We Prosper, Divided We Fall" at Athenaeum Theater located at 2936 North Southport Avenue, Chicago, IL on Sunday, May 6, 2012 from 7:00 PM to 9:00 PM. Manav Sadhna is engaged in constructive humanitarian projects encompassing life of 8000 people in the slum communities that is located mainly surrounding the Gandhi Ashram in Ahmedabad, India. Health, hygiene, nutrition, values-based education and empowerment projects are carried out with a deeply spiritual approach to service.
"Manav" means "person" in Hindi and "Sadhna" is "spiritual practice." At Manav Sadhna, they strive to see and serve God in the heart of each person they meet. Their philosophy is to "love all, serve all" and they are deeply inspired to by Mahatma Gandhi's values of truth, peace and compassion. The message of Mahatma Gandhi is shared by children from the slums of Gujarat through dance and music in 10 major US cities. The program had a very successful tour throughout India.
From India to America, EKATVA Features 16 Indian Children Sharing Music, Dance, and Message of "Oneness". About one of every six human beings on this planet lives in poverty, according to the United Nations. And yet, hope and love can be nurtured in even the harshest of circumstances. This is the story of the EKATVA performance, which features the joy and talent of sixteen children from one of the poorest areas of the world: the slums of India. The performance consist of 90 minutes of dance and drama, and it carries a message of love, inspiration, and a call to action to push the world closer to oneness and peace.
8400 children auditioned for this show and 16 were selected to represent India in this inspiring tour. The EKATVA tour features the talents of: Krishna Parmar, Payal Parmar, Asha Parmar, Priyanka Parmar, Dipmala Bhoi, Bharti Parmar, Nikita Bhilocha, Chandani Rathod, Nitesh Gautam, Dharmaji Vanjara, Bhavnik Solanki, Devram Parmar, Sanjay Parmar, Vicky Parmar, and Gaurang Vaghela. All children are from 10-14 years of age. "EKATVA represents the power of art and music to transform the lives of children everywhere. For each of the children involved with EKATVA, art and music has provided a means and a path to build self-confidence, self-reliance, and compassion – all central to the spirit and message of Mahatma Gandhi," says Robin Sukhadia, Project Ahimsa International Grants Program Director.
The whole 90 minute program showed the lives and spirit of 16 underprivileged children aged 11 to 14 selected from the largest slums of Ahmedabad. The entire show was very effective, educative and also precisely shows moral values which are interwoven with incidences and preaching of Gandhiji. The program was mentored by teachers from Darpana Academy (www.darpana.com). The dance-drama production shared and exhibited Mahatma Gandhi's message of 'Oneness'. A wide range of international organizations including Project Ahimsa have contributed to support the "Ekatva" tour and performance.
It was also made clear to the selected children and their families that they were to serve as "global ambassadors of love, service, and unity". In keeping with the mission of Manav Sadhna, the children will not only perform in each city in the U.S., but also work with other nonprofits, serve the underprivileged in the area, help clean parts of the city, work to connect different religions, and uplift the spirit of humanity.
In the beginning, Ruthvi Patel informed about the activities of Manav Sadhna, and their 32 projects, one of which is Ekatva and its origin. Sushma Sharma a lady behind the team in India narrated the history of the program and process of selecting children from slums. Further details were given by Mr. Nimesh Patel, who is a youth of hardly thirty years of age hailing from a respected family in America, and happens to be born and brought up in America. He dwelled amongst slum dwellers for about two and half years and experienced the difficulties they were facing. He is the person behind training and preparing these children for making them capable of presenting such a powerful show in public. The event started with an introductory short documentary showing the work carried out by Manav Sadhna. The performances rendered by the children were really heart throbbing and mind boggling, each communicating their message to the entire world at large.
In Hindi language the word "oneness" means EKATVA embodies the teachings of great peacemakers like Mahatma Gandhi and Martin Luther King, Jr. EKATVA (www.ekatva.org) is an experiment performed by kids through dance, music and art, while inspiring the souls of thousands across the world. The tour began in the United States on May 6, 2012 in Chicago. The show will be repeated on May 12, 2012 Saturday – at Glenbard East High School in the western suburb. "Ekatva" will be staged in Washington DC, San Francisco, Los Angeles, Houston, Austin, Atlanta, Montclair and New Jersey.
These 16 children are our world's ambassadors of strength, peace, potential and oneness. The team consists of 8 boys and 8 girls ranging from the ages of 10 to 14. Residing mainly in four different slum areas of Ahmedabad, all 16 children face their own challenges including education, financial resources, family problems, health issues and much more. Prior to this process, none of them had former experience in the performing arts. "It sounds like a large task for small people – but I have learned every day in working with these children, that they are not 'small' in any way -they are capable of so much," said "Ekatva" director Nimesh Patel, a Wharton Business School graduate and former hip-hop artist. Nimesh Patel has become a full-time volunteer for the past two and half years to lead these children and the vision of the "Ekatva" experiment.
Over $150,000 in funds have been raised worldwide to support the tour, with major contributions coming from Project Ahimsa (www.projectahimsa.org) Mr. Robin Sukhadia, Director of Ahimsa International Grants. Compassionate Chefs Café (www.compassionatechefscafe.org), and two San Francisco based non profits committed to serving underserved children worldwide.
Volunteers
Ruthvi Patel, Shivani Shah, Suma Setty, Raj Kannani, Astha Kannani, Nirav Amin, Ravi Talati, Ronak Baxi
Aalap Shah, Hardeek Patel, Rishi Roongta, Shweta Sharma, Nimesh Patel and Rubina Mandar
Shweta Sharma- a volunteer describes her experience working with the Ekatva children-
"Ekatva is a journey that truly embodies exactly what it stands for, "oneness". Six months ago, I was fortunate to join these 16 beautiful children on a tour throughout India, and I started on a journey that changed my life forever. Not only did I learn lessons of love and service from them, but I felt like I was part of something bigger. They did exactly what they said they would – They planted a seed in my heart that I would take with me wherever I went in the world. And that seed continues to grow daily in me as I hope to be the change that I wish to see in the world, starting with myself first". The audience at last Sunday's event were blessed to watch these ambassadors represent all the children of the world, through their heart-melting and riveting performance in downtown Chicago. A few days later, these kids will spend their off-performance time volunteering in local communities.
Aalap Shah, Co-Founder of SoMe Connect had this to say about the Tour.
"The Ekatava Oneness Tour has made a tremendous impact on me simply thru the power of the kids stories, hope, and achievement. Six months ago, when I started contributing to the team, I was inspired by my teammates passion, commitment, and overwhelming love and gratitude towards the world. At that point, I hadn't met the kids, or heard their stories from them, or even seen the show! However, I felt that the message was so strong, so universal, and so meaningful that I had to work to help spread the message. It's an incredibly amazing show and one that will inspire you to "Be the change you wish to see."
Nirav Amin from Network of Indian Professionals shared his feedback about the show.
"Watching Ekatva has had a lasting effect on me and my life. I was blessed with the opportunity to work with the team in Chicago in preparing for the May 6 show. At the time I was excited to help these children as they started their journey to make an impact in their lives. The truth became that they made more of an impact in my life than I could ever have in theirs. The inspiration that these children and the entire Manav Sadhna family can give is amazing. I've truly learned that unification is a key aspect to finding happiness in life and I never thought that 16 children would be able to teach me that. I've not only found new friends, but an additional family" he said.
Suresh Bodiwala, Chairman, Dr. Chandrakant Modi, President and Jyotikumar Chokshi, Editor had an opportunity to talk to the audience after the show. The following comments were made by the audiences:
A very inspiring and meaningful play, that shows the rich traditional heritage and cultural of India
Very educational and really touched my heart.
The best play they have seen in a long time.
Those who could not see this play, will definitely miss out.
Must come out and join such dedicated organizations.
We are deeply impressed by the team of volunteers who have put in selfless service for this noble cause.
Second generation kids work extremely hard. They are helping preserve the Indian Culture and heritage, by getting involved in such humanitarian tasks and taking up the challenge for the upliftment of downtrodden and helping selflessly with their full might.
About Manav Sadhna (www.manavsadhna.org)
Founded in 1990 at the Gandhi Ashram in Ahmedabad, India, Manav Sadhna today serves more than 8,400 children and women daily through over 38 projects. Manav Sadhna's philosophy is "love all, serve all". In executing this mission, Manav Sadhna is guided by Mahatma Gandhi's unshakable beliefs in peace, truth, non violence and compassion. Manav Sadhna is a 501c3 non-profit organization registered in Chicago, Illinois.
Manav Sadhna India, Gandhi Ashram, Ahmedabad-380027, Gujarat, India. Phone: 079-2756-0002
Manav Sadhna USA – Chicago
The US arm of Manav Sadhna is a registered 501(c)3 non-profit based out of Chicago, Illinois. With the leadership of 6 volunteer managers and 137 service volunteers in the Midwest America, MS USA contributes to the Manav Sadhna mission through fundraising, promoting volunteerism and serving in the local Chicago communities. Approximately sixty percent of Manav Sadhna's project funds are generated through MS USA.
www.ManavSadhna.org
Photographs and Press release by: Asian Media USA
Suresh Bodiwala
Chairman
Asian Media USA
Bus: (847) 679-8583
Fax: (847) 679-5336
Cell: (847)420-4789
sbodiwala@sbcglobal.net
Copyrights (c) 2010 – Asian Media USA
No one shall download or otherwise duplicate the graphics, images, press release and written content from the PDF without our express written permission. Likewise, no one shall reuse the aforesaid things, as the same are the intellectual property of the Company, we hereby reserve all rights
Disclaimer: – Asian Media USA
"The information in this e-mail and any attachments is confidential and may be legally privileged. It is intended solely for the addressee or addressees. If you are not an intended recipient, please delete the message and any attachments and notify the sender of misdelivery. Any use or disclosure of the contents of either is unauthorized and may be unlawful. All liability for viruses is excluded to the fullest extent permitted by law. Any views expressed in this message are those of the individual sender, except where the sender states them, with requisite authority, to be those of the Asian Media USA