Ekal Vidayalaya's Electrifying Musical Concert in Chicago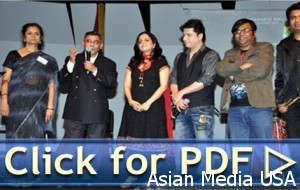 Chicago IL: Bollywood Milestones 1961-2011 musical charity concert was organized by Ekal Vidyalaya from 7:00 PM to 11:PM, on Saturday April 14, 2012 at Glenbard East High School, 1014 South Main St, Lombard, IL. Ekal had invited two young rising singers Samir Date and Dipalee Somaiya from Mumbai to help celebrate the milestone and raise more funds to continue their mission to eradicate illiteracy among the children of rural and tribal India with holistic empowerment. It was the singer's twenty first performance of the tour that will span across several cities over the next five month period when in all forty two performances are to be staged.
As always, Ekal included a extravagant dinner in its modest ticket price. All the attendees were served the dinner at around 5:00 pm. that included Puri, Mix Vegetables, Dudhi Halwo(Sweet), Fulwadi(Farsan),Chana, :Dal, Rice.. (food prepared by BAPS). After the dinner, the program started at around 7:00 pm. First of all Aum Stuti was recited. Yash Desai and her group recited Prarthna. Guest of Honor Mr Mafatbhai lighted a lamp with Ekal Chicago Chapter President and group of kids .
Master of ceremony was performed by two youngsters Jugal Doshi and Sonali Majmudar. They did excellent job by communicating with audiences during entire program. Hasmukh Shah and Jyotsnaben narrated in brief activities of Ekal Vidyalaya. Mr. Harish Doshi and Ankita Shah presented various activities of Ekal in his harmonious voice and distinct speech. Mr. Harish Doshi's speech was outstanding during presentation. Each and every word came from his heart were reflecting to his emotion in his voice, that were noticed by lots of people in audiences. Asian Media USA, Chairman Suresh Bodiwala congratulate both of them for such a powerful speech during presentation. Avani Desai and Yashaswini Desai visited India for to eye witness activity of Ekal Vidyalaya. They spend substantial amount of time in villages with Ekal Vidyalaya teachers and children. Both gave an eye witness report of the Ekal's activities to the audience in their own words.
Dipalee came on the stage and started off with Saraswati Vandna in her sweet voice and two songs sung by of Geeta Dutt – Naine hai…Piya and babuji dhire chalna. After that Dipalee introduced her singing partner. Samir Date who is a well-known name in the music industry and has been the playback singer for numerous Hindi films like Parampara, Jazbaat, Fauj and more recently, emotional Atyachar and Hang Up. Samir has performed at numerable live shows in India and abroad. Samir is a prolific stage performer and has performed all over the world. Samir has worked with Yash Chopra, Asha Bhosle and other bollywood artists. Samir had made various TV appearances, including in SA-RE-GA-MA as a judge. Anchor of show Dhum Dhamaka and hosted 80 episodes. Disciple of mastreo Suresh Wadkar, Samir's first break came in Maine Pyar kiya English version
when he was just 17. Samir has composed and sung in album Chalte Jana Hai. Acted, composed, and sung TV series Aulad for Tanuja Chandra. Son of composer Ravi Date, nephew of singer Arun Date Samir is prolific and versatile stage performer.
Samir started off with Yaara Main Kya Karoon from film Rab ne Banadi Jodi and was well received by the audience. After that they sang two duets –Chura Liya Hai Ttumne (Yaadon ki Baraat) and Piya Bole Piya Bole.They also sang another sufiana duet.Duet continued with Tere Vaste Mera Eshqiya. Samir sung few song in voice of Kishorekumar Anae wala Kal Jane Wala…., Diwana Lela Kya Hai…Dil Ka Tarana, O mere Dil ke Chain. In Mohd. Rafi's voiceMujhe Yad Rahta Maine Tere Liye Jag Chhoda, Chahung min Tujhe Sanj Sawere…. Dipalee continued the mood with two of Asha Bhosle's well known songs dam maro dam and ye mera dil pyar ka diwana.
Dipalee stormed the citadel of music when she was only nine years old, walking away with prizes and awards galore. Her recently released solo for the film Chooriyan (one of the many movies she gave playback for) has been very well received. She represented Gujarat State in the SA RE GA MA mega challenge and was a winner and won the hearts of audiences and the judges. Shewas recipant of Best Singer of the state,awarded by Government of Gujarat for the years 2005, 2008 and 2009. To bring rhythm to the music, Samir started rang barso in Amitabh Bacchan' voice that brought a few people near the stage dancing and jumping around. They continued dancing when Samir sang another Holi song Holi khele Raghuvir. Number of ladies came down to dance for this song.
After a 5 minute break, the concert continued. It was pouring outside, but the mood inside was not dampening. Samir engaged the crowd to sing along with him badan pe sitare by coaching them when to say jara paas aao mere sath gao. It was time for taking requests from the audience. Artists got so much overwhelmed with requests that they limited their singing to first few lines in order to save time. After most of the requests were complied, Samir once again excited the audience by imitating Shammi Kapoor and singing his popular numbers such as chahe koi mujhe janglee kahe.
Dipalee gave tribute to Madan Mohan and sang few lines of a couple of his compositions in Lata Mangeshkar's voice.. The concert won't be complete if O. P. Nayyar's compositions are not included. Upon audience's request they sang isharo isharo mein and diwana hua badal duets. Both Samir and Dipalee, having been blessed with striking personas, are prolific and lively stage performers and have been winning appreciation from audiences worldwide.
Throughout the evening these two singers used only two musicians one keyboard player (Samit Puddar) and the other octopad player (Sanjeet Birha). With such a small orchestra, both Dipalee and Samir belted out nostalgic old songs as well as newer songs for about three hours. While Shushma Patel provided picturesque backdrop in blue and white wavy design and soothing light effects, Salim Panjwani managed the sound system.
Overall the event turned out to be a great success. Ekal was able to raise donations for approximately 450 schools . This is a very noble cause and through Ekal's initiative to eradicate ILLITERACY from rural and tribal belt of India by 2015 they are fostering their focus on education . Also Ekal is going beyond literacy through its four important domains which are : Empowerment (Empowerment education), Knowledge ( Developmental Education ), Arogya ( Health care Education ), Literacy ( Primary Education ) Ekal is offering Holistic village development through functional education and in a process to make villages liquor free ( tulsi plantation ) and land chemical free ( Promoting Vermicompost) As per the statistical presentation mentioned, every state of India has varied number of Ekal Schools . UP has maximum number of schools ( 8340 ) as per January 2012 data. With the concept of " One teacher , One school , One village " Ekal is lowest cost model of
school system in the world .
As per Swami Vivekanand 's famous quote " If a poor child is not able to go to school , Education has to go to the poor child". The first Ekal Vidyalaya school was started in 1986 by US returned nuclear physicist Mr Rakesh Popli and Rama popli . This experiment was very successful and results were amazing . Literacy rate doubled and sored from 30% to 60% with sharp decline in disease rate. In year 2000-2001 Ekal Vidyalaya Foundation of India ( EVFI ) started in New Delhi with appointment of a CEO. In 2001 EVF's international arm began to function. After one month permission was granted to receive foreign contribution. Now Ekal India and USA are working hand in hand to reach the target ( 100,000 non formal schools ) by year 2015. This organization is 100 % transparent and donations made has accountability in term of 90% funding is being used by schools and only 10% towards the administrative cost. With the help of worldwide volunteers and donors, Ekal is at 40,000 schools and 1 Million students . By 2015 Ekal has a target to reach 100,000 non formal schools. Ekal trains every single teacher with a specific curriculum in mind. Ekal provides functional education to primary and secondary school children. The long-term objective is to create self-sustaining villages rather than providing only read-and-write education. While Ekal's primary emphasis is education, it also provides basic health and hygiene education, economic development social empowerment.
Asian Media USA is proud to have participated in this magnificent event organized for a very noble cause. Kamlesh Shah thanked the audience, artists, donors and management of the School. Anilbhai and Darshnaben Bhatt, National Coordinator of EKAL thanked Samir Date and Dipali Somaiya for their kind gesture of agreeing to perform 42 shows for this noble cause. Entire event was very successful because of lots of hard from entire Ekal Vidyalaya Team. i.e. MC, Speakers, Management and Volunteers.
Speaking to Asian Media USA, Editor Jyotikumar Chokshi and Chairman Suresh Bodiwala foremost prominent community leader and CEO of Medstar Lab Mr. Naren Patel said that Ekal Vidyalaya is a non-profit charity with a mission is to eradicate illiteracy from rural & tribal India. The concept is very simple is One dollar, One day, One school, One village, $365 donation supports a school of 30 children for one full year. Think about it, less than the cost of coffee a day supports the entire school. This mission combined with doing something for underprivileged children's in our motherland, is what always treasure for us. Thanking the Ekal organization for giving us an opportunity and doing something for disadvantaged kids in our motherland, is bringing me closer to fulfilling my lifelong dream and aspiration.
Photographs and Press release by: Asian Media USA
Suresh Bodiwala
Chairman
Asian Media USA
Bus: (847) 679-8583
Fax: (847) 679-5336
Cell: (847)420-4789
sbodiwala@sbcglobal.net
Copyrights (c) 2010 – Asian Media USA
No one shall download or otherwise duplicate the graphics, images, press release and written content from the PDF without our express written permission. Likewise, no one shall reuse the aforesaid things, as the same are the intellectual property of the Company, we hereby reserve all rights
Disclaimer: – Asian Media USA
"The information in this e-mail and any attachments is confidential and may be legally privileged. It is intended solely for the addressee or addressees. If you are not an intended recipient, please delete the message and any attachments and notify the sender of misdelivery. Any use or disclosure of the contents of either is unauthorized and may be unlawful. All liability for viruses is excluded to the fullest extent permitted by law. Any views expressed in this message are those of the individual sender, except where the sender states them, with requisite authority, to be those of the Asian Media USA