"Var Maro Lagne Lagne Kuvaro" was staged to Benefit Free Medical and Eye Clinic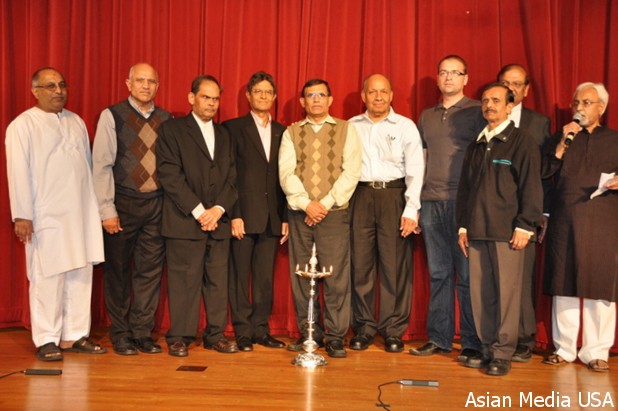 Manikant Patel, of Omkar Production with the Blessings of Late Gurudev Shri Bimal Mangalia proudly presented a comedy Drama, 'Var Maro Lagne Lagne Kuvaro' under the banner of Khelrangara at Midwest Swaminarayan Temple, 8:00 pm on Friday, March 30, 2012 at 21W710, Irving Park Road, Itasca, IL. The program was arranged for Fund Raising for the benefit of the free Medical & Eye Clinic service provided by Itasca Swaminarayan temple. A tasteful Kathiawadi Dinner was served to all the attendees. The excellent food was prepared by the volunteers of the temple.
Under the Blessings and guidance of Acharya Shri Kaushalyendra Prasadji Maharaj, this Temple is conducting various activities for the benefit of the Society. These activities include: Youth Camps of Two –Three Days, Gujarati classes, Yoga classes, Kids Shibirs, Cultural Programs, Workshops, AARP driving classes for seniors, annual health fair and monthly medical clinic for needy patients and recently started eye clinic to offer free eye check up and providing free glasses to the needy. The Medical and Eye clinics are run by community support from Donors and Free Service from Doctors, Pharmacies, Nurses, Technicians and Volunteers. Every year mandir organizes fund raising dinner for supporting this very useful service to the society. This year was the very popular and interesting drama drama "Var Maro Lagne Lagne Kuvaro". The temple hall was filled to capacity by devotees willing to support the clinic activities.
Since last nine years the medical clinic is held regularly every month. Patients are examined by doctors, blood samples are drawn as recommended by the doctors and the pharmacists dispense medicines on a regular basis. Patients have been getting these regular services for years and are maintaining good health… According to Shri Arvindbhai Thakkar, every month 50-60 patients benefit by this service. After Itasca mandir started this medical clinic in May 2003, a number of other organizations have started similar services. Thus, a broad spectrum of society gets benefitted.
Shri Arvind Thakkar and Ashwin Majmudar coordinate these activities. The doctors providing services are Dr.Sanjay Amin, Dr. Kishor Rana, Dr. Pranav Patel, Dr. Hitenbhai Patel(Indiana), Dr. Jyotiben Shah, Dr. Ramnikbhai Gokani and Dr Jignasa Thakkar. Dr. Grishma Patel provides the services of eye check up. The pharmacists volunteering are Arti Thakkar, Kunal Patel, Seema Patel, Ghashyam Patel and Trusha Patel. Nursing seva is performed by Dipti Shah and Shobhaben Tevar. Laboratory work is done by Dayaben Bhimani, Alka Patel, Pranavi Shastri and Chhaya Patel. In addition to this team, there is help rendered by many volunteers like Hasit Patel, Haribhai Thakakr, Nisargi Thakkar, Chintan Thakkar and Ruchi Patel.
On this occasion many dignitaries were present which includes J.P.Patel, Naren Patel, Jagdish Patel, Raysingbhai Chaudhary, Ramesh Brahmbhatt, Vasant Trivedi, Vishnubhai Patel Ghanshyam Patel(Mota Bhagat), Vishnubhai Patel and Prashant Patel. Grand Sponsorers of this event were Shri J. P.Patel & Family, Co- Sponsorer Shri Naren Patel of Med Star Laboratory and Smt. Sumitra Patel, Willow Pharmacy, Bloomingdale, Cottage Clinic (Pharmacy), Bon V Harris Bank, Winnetka, Sachi Contractors Inc. and many more devoteesdonated for this noble cause.
The drama started at 8:00 pm with Deep Pragatya and Introduction of Sposorers and welcome with bouquets of flowers.
Var Maro Lagne Lagne Kuvaro is a hilarious comedy drama. Omkar Production under the banner of Manikant Patel proudly presented by blessings of Late Gurudev Shri Bimal Mangaliya. Khelrangara once again came to USA to make audience of USA laugh. It is a record breaking comedy drama with more than 2,000 performances so far. The drama is written and directed by Late Bimal Mangaliya. Comedy Queen Lady Amitabh – Pratima T. with Pinky Patel, Urvish Parikh, Rajkumar, Kamlesh Darji, all renowned artists acting with their heart. Costumes were Courtesy by Paaneri (Mumbai). Sureshbhai Bodiwala, Chairman of Asian Media and J.R. Chokshi editor, Asian Media had a chance to take interview of Lady Amitabh –Pratima T. and Jitu Kotak. Both were frank enough to give their opinions and narrating their facts. It was learnt form Pratima T. that she is proud to be a part of this group under able leadership of her guru Late Bimal Mangaliya, who died in the year 2010. Her acting carrier goes back to 35 years and she is proud of being continuously in one group only, which is a record. She got award of Lady Amitabh at the hands of British Government and also they were awarded for being the most travelled drama troupe throughout the world at famous Bigben Tower. They have made 63 trips throughout the world, wherever Gujaratis are settled. The first drama in which she participated was 'Parka Baira Sau Ne Game' in the year 1977. First tour of U.K. was in the year 1978 and then onwards regular visits almost every year were conducted to U.K. according to Jitu Kotak, who is also a Marketing Manager cum actor. They are trying to gain a place in the Guineas' Book of world records in near future for Khelrangar Group to be the largest number of tours conducted in the world. This year, they have already presented 35 shows and yet 20 shows are still remaining to be presented. They are to play in this tour only another drama, 'Sasuji, I Love You' and 'Patni Saddhar Pati Addhar'. The drama was very well received and enjoyed by the audience.
Asian Media had the privilege to cover the entire event and Shri Suresh Bodiwala, its Chairman and J.R.Chokshi; its Editor covered the same.
Photographs and Press release by: Asian Media USA
Suresh Bodiwala
Chairman
Asian Media USA
Bus: (847) 679-8583
Fax: (847) 679-5336
Cell: (847)420-4789
sbodiwala@sbcglobal.net
Copyrights (c) 2010 – Asian Media USA
No one shall download or otherwise duplicate the graphics, images, press release and written content from the PDF without our express written permission. Likewise, no one shall reuse the aforesaid things, as the same are the intellectual property of the Company, we hereby reserve all rights
Disclaimer: – Asian Media USA
"The information in this e-mail and any attachments is confidential and may be legally privileged. It is intended solely for the addressee or addressees. If you are not an intended recipient, please delete the message and any attachments and notify the sender of misdelivery. Any use or disclosure of the contents of either is unauthorized and may be unlawful. All liability for viruses is excluded to the fullest extent permitted by law. Any views expressed in this message are those of the individual sender, except where the sender states them, with requisite authority, to be those of the Asian Media USA