Gujarati comedy play "Patni Nachave Bhagwan Bachave" staged in Chicago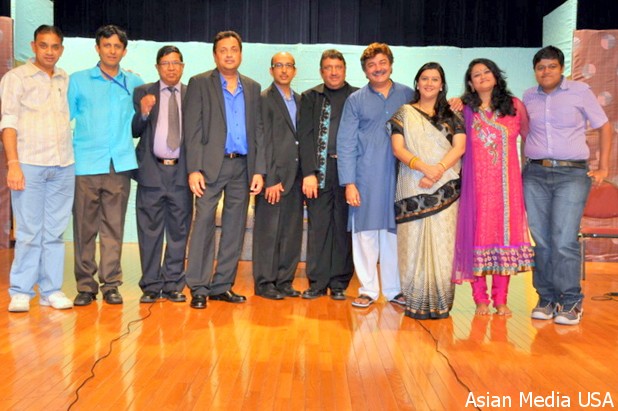 Chicago IL: Manav Seva Mandir and Six Gam Patidar Samaj (SGPS) of Chicago, proudly presented a hilarious Gujarathi comedy drama, "Patni Nachave Bhagwan Bachave" on Saturday, March 10th, 2012, at Manav Seva Mandir, 101 South Church Rd, Bensenville, IL. Admission tickets were $20, $35, and $50. The show was house full with 700 plus people in attendance, jamming the auditorium at Manav Seva Mandir.
Parimal Butala ( Kotyark Entertainment) is the national promoter of this play. Kotyark Entertainment is a company organizing various Bollywood and celebrity stage shows in all the states of USA. In the past, Kotyark Entertainment have already organized stage shows in Los Angeles, Atlanta, New York, Miami, Tampa, Lakeland, Orlando, New Jersey, New Hampshire, Pennsylvania and many more places in USA. Kotyark Entertainment recently organized a gujarati drama named – 'Kutrani Punchdi Wanki' at most places from New York to Los Angeles and Miami to Chicago.
Weather was very good on this sunny day and audiences started gathering right from 7:00 pm at Manav Seva Mandir Auditorium. Many prominent community leaders were present at this entertaining play.
Language: Gujarati / Director : Dharmesh Vyas
Produced by: Mallika Shah
Written by: Nimesh Shah
Story-directed by: Dharmesh Vyas
Cast: Dharmesh Vyas, Surbhi Javeri, Minal Patel, Mallika Shah, Nimesh Shah and Mehul Buch
Dharmesh Vyas: Hindi Serials "Hasratain", "Sanskar Laxmi" & "Dharam Patni" Fame
Surbhi Javeri: Hindi Serials "Bhabhi" & "Mukti Bandhan" Fame
Nimesh Shah: Gujarati plays "Rock on Faiba" & "Mari Baydi Bhare Vaydi" Fame
Mallika Shah: Gujarati plays "Gujjubhai","Rock on Faiba"&"Mari Baydi Bhari Vaydi"fame
Marriage – India Journal Dharmesh Vyas a veteran of 27 years of stage , who also conceived the story revealed that this play has taken Mumbai by storm and within 3 months of launch it has already completed 75 shows. When the original cast is performing in the US, for the first time ever, a second cast is playing to houseful audiences simultaneously in India now. The storyline came to him when while Goggling on the net, to his amazement he saw 66.7% of divorce globally fell in the above 60s bracket and not among the younger generations as one is inclined to think. Discussions with friends and elders showed the reason could arise from monotony which creeps in after years of marriage when couples begin to take one another they forget the good times they shared. Writer Nimesh Shah, who wrote the script, added that this is the important message the play seeks to highlight, but in a hilarious yet meaningful manner. He believes that after all the laughs watching the comedy unfold, couples would leave with a greater understanding and respect for each other.
whether you might have entered it on an impulse or with a lot of thought, the end result remains the same. This is basically the plot of Patni Nachave Bhagwan Bachave. The play is about what happens when love goes sour and marriage becomes a routine. This play took the audience on a laughter spree.
Sponsors: Willow Lake Pharmacy (Prashant Patel and Anish Patel), Century-21 (Jairaj Bhatia), Dr. Ishwar K. Patel Gynecology, Diva Design and Event Decor (Bhavna), Air Tours for Masti Cruise, Little Village Pharmacy Suburban Medical Center , New Life Medical Center (Dr. Manish Pandya and Mr. Adrin Carnion), 7-11 (Ketan and Minal Patel), Holiday Inn in Rolling Meadows, Dev Medical Associates (Dr. Shirish Shah), Direct Express Tours (Mrs. Jayshree Gandhi), Futurity First (Kirti Desai), VK – Wholesale, Papa Johns (Diptesh Desai), Sankalp Resturant, State Farm (Esha Patel), Moon Star Mortgage (Hemant Shah) and Best Computer System (Yogesh Desai)
Suresh Bodiwala, chairman of Asian Media USA had the opportunity to talk to the audience after the show. The following comments were made by the audiences:
Vipulbhai Shah, Chairman of Suburban Indian Associations, said "The play was superb – We all laughed very good. During the interval, we enjoyed the delicious food. It is nice to see tremendous support from our Indian Community". "Riddhi Dave has given a superb performance and she can easily be called the next big thing in Gujrati theatre…Riddhi has brought so much freshness to Gujrati stage," he added.
"Wow, this makes me realize that many people are going through the same issues and I am glad we can display it in such a humorous way.
Not only was I laughing, but crying as well, really touched my heart.
This is a fun-filled family comedy, full of laughter and emotions. You will laugh and cry throughout the show. A very meaningful play that shows the lives of a traditional Indian family.
The critics as well as audiences are calling it hilariously entertaining and sensationally shocking, the best play that they have seen in a long time. Dharmesh Vyas who has always been a favorite with Indian American audiences, was once again superb.
The audiences appreciated the play with the following remarks "Do not miss this hilarious comedy play", "Dharmesh Vyas, Nimesh Shah and Mallika Shah the Kings of comedy have conquered the stage", "Those who could not see this play, will definitely miss out".
About Manav Seva Mandir:
Executive Board: President: Mr. Dahyabhai Prajapati, Vice president: Mr. Raju Chauhan, Secretary : Naliniben Shah, Join Secretary: Rajivbhai Desai, Treasurer : Jayandra Patel and Joint Treasurer: Bhaviniban Kalvani
The Manav Seva Mandir is a Hindu religious institution in the greater Chicago land area. Not only is it an excellent place of worship, but it also renders a social atmosphere and a cultural center that preserves and promotes our Hindu traditions and heritage. They have Programs such as Bhajan-Satsang, Group Satnarayan Katha, Youth Classes, Children Classes, annual youth camp during the summer holidays, flu vaccinations, health fair and medical facilities. They have Daily Arti such as Mangala Arti, Shringar Arti and Sandhya Arti. Manav Seva Mandir located at 101 S. Church Road, Bensenville , IL. 60106. Phone # (630)860-9797, Web site: www.manavsevamandir.org
About Six Gam Patidar Samaj (SGPS) of Chicago
Executive Board: President-Dilip B. Patel, Vice President-Sanjiv Patel, Treasurer-Tushar Patel, Secretary- Diptesh Desai, Joint Secretary-Shaunak Patel, Raju H. Patel-Chairperson and Kamlesh Patel-Vice Chairperson. Six Gam Patidar Samaj (SGPS) of Chicago works to instill and grow moral, cultural, and educational values from our elders to our youth in order to keep the strength of our ancestral backgrounds strong through the use of social and service based events. SGPS meets the challenges facing us today. They organize, meet, exchange ideas, agree, and take action. Purpose is obvious to Retain the rich heritage of Patidar, Integrate our younger generation and Be a part of mainstream America. SGPS Chicago believe strongly in education and independent entrepreneurs. Most of our youth have college degrees and successful careers. We are a family-oriented people, and through our annual gathering we strive to unite all Patel families, and to bridge the gap between the younger and older generations. Step-by-step we strive to pave the way for our youngsters to carry on traditional values and lead our Samaj into the 21st century.
Manav Seva Mandir and Six Gam Patidar Samaj Board of Trustees, Executive Board, Executive board members and volunteers worked very hard to make this event more enjoyable to audiences.
Photographs and Press release by: Asian Media USA
Suresh Bodiwala
Chairman
Asian Media USA
Bus: (847) 679-8583
Fax: (847) 679-5336
Cell: (847)420-4789
sbodiwala@sbcglobal.net
Copyrights (c) 2010 – Asian Media USA
No one shall download or otherwise duplicate the graphics, images, press release and written content from the PDF without our express written permission. Likewise, no one shall reuse the aforesaid things, as the same are the intellectual property of the Company, we hereby reserve all rights
Disclaimer: – Asian Media USA
"The information in this e-mail and any attachments is confidential and may be legally privileged. It is intended solely for the addressee or addressees. If you are not an intended recipient, please delete the message and any attachments and notify the sender of misdelivery. Any use or disclosure of the contents of either is unauthorized and may be unlawful. All liability for viruses is excluded to the fullest extent permitted by law. Any views expressed in this message are those of the individual sender, except where the sender states them, with requisite authority, to be those of the Asian Media USA