Legendary Munni Begum Returns to Chicago for a AMUAA-GC fundraising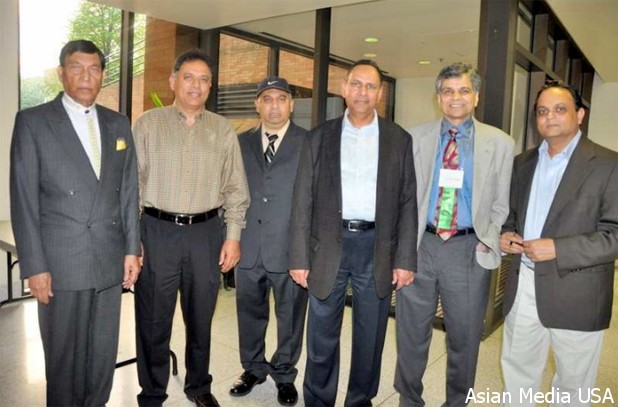 Grayslake, IL: The famous Munni Begum returned to Chicago from Pakistan to perform a charity concert at the College of Lake County. The Aligarh Muslim University Alumni Association of Greater Chicago (AMUAA-GC) organized the sensational show. All proceeds of the show went towards funding education projects for poor girls in India.
Munni Begum resided in Chicago for many years and currently resides in Pakistan but that did not stop her from coming back to give music enthusiasts a night to remember. Many loyal fans attended the show to listen to her remarkable ghazals and geets that have mesmerized audiences for decades. She began her singing career in the 1970s in Karachi. Her hits include classics like Ek Bar Muskura Do, Teri Soorat Nigahon Mein, Ae Mere Humnasheen and even recent upbeat dance pieces like Jhoom Barabar Jhoom. Munni Begum received the Pride of Performance award from Governor Dr. Ishrat-ul-Ibad Khan in 2008.
The performance was nearly four hours of uninterrupted musical bliss with an exception of a brief tea break intermission. During the intermission fans and media had the opportunity to greet and talk to the legend. Along with Munni Begum, local artists also performed melodious ghazals and Bollywood hits. There was also a youth performance where a Chicagoan Arooj Ahmad sang the popular Lazy Day song by American musician Bruno Mars.
The night began with a welcome speech from Tausif Alam who was the convener for the event. He introduced the phenomenal performers and spoke about the need to make education available to girls living in impoverished area of India. The Master of Ceremonies was Ateeq Ahmad whose witty comments added a touch of spark and humor to the evening. President of AMUAA-GC, Saif Sheikh, also gave brief remarks on girls' education efforts in India. There was a brief video presentation regarding the charity before the tea break. Board Chairman, Anis Khan, gave closing remarks. Sponsors of this event were Shahid & Mariam Ahmad, Dr. Rabia Bhatti, Dr. Syed N. Haider, Dr. Wahid Qureshi, Firoz Khan, Dr.Inam Hussain and many more.
The AMU Alumni Association of Greater Chicago is non-profit charity and secular organization that promotes education among the underprivileged populations in India. It was founded in 1986 and has organized numerous community projects over the last three decades. Since 2006, the AMUAA-GC has completed 7 school projects in various economically disadvantaged communities in U.P. and Bihar. The organization is not only for alumni of the university but it is also open to individuals dedicated to promoting education initiatives in India. For more information on the organization and their exciting events, please visit their website at http://www.amuaachicago.org/
Photographs and Press release by: Asian Media USA
Suresh Bodiwala
Chairman
Asian Media USA
Bus: (847) 679-8583
Fax: (847) 679-5336
Cell: (847)420-4789
sbodiwala@sbcglobal.net
Copyrights (c) 2010 – Asian Media USA
No one shall download or otherwise duplicate the graphics, images, press release and written content from the PDF without our express written permission. Likewise, no one shall reuse the aforesaid things, as the same are the intellectual property of the Company, we hereby reserve all rights
Disclaimer: – Asian Media USA
"The information in this e-mail and any attachments is confidential and may be legally privileged. It is intended solely for the addressee or addressees. If you are not an intended recipient, please delete the message and any attachments and notify the sender of misdelivery. Any use or disclosure of the contents of either is unauthorized and may be unlawful. All liability for viruses is excluded to the fullest extent permitted by law. Any views expressed in this message are those of the individual sender, except where the sender states them, with requisite authority, to be those of the Asian Media USA