Shri Swaminarayan Temple in Wheeling celebrated its 20th Anniversary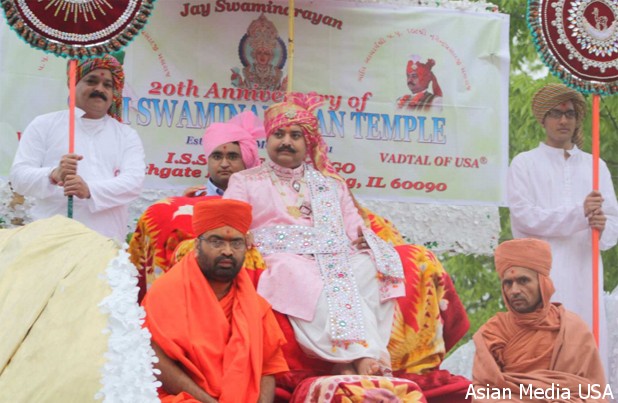 Chicago, IL: Shri Swaminarayan Temple, 397 Northgate Parkway, Wheeling, IL celebrated its 20th Anniversary with great enthusiasm and many various religious programs on May 21, 2011 to May 29, 2011. The temple was established and inaugurated in May 26th 1991. Religious programs during earlier in past few weeks included such events as, nonstop Swaminarayan Dhun for 20 hours, nonstop recital of Janmangal Stotra for 20 hours and recital of Janmangal Stotra for one hour each Sunday for 20 Sundays, Samuh Mahapuja, etc.
Ten days of grand celebrations and religious programs were planned and carried out. Starting Saturday May 21st May 2011, Satsangijivan Katha was narrated by the Temple Swamiji Shri Kaivalyswarup Swami for one week. On Saturday 27th
2011 Maruti Yagna was performed which started in early morning till about 6PM. On same day around 4:00 PM a special grand Shobhaytra –parade- took place to welcome and to celebrate the presence of future Acharya of Shri Laxminarayan Dev -Vadtal-Gadi, PP 108 Shri Lalji Maharaj Shri Nrigendraprasadji. Six Swamijis were also invited from various Temples of Shri Laxminarayan Dev -Vadtal-Gadi for this occasion, including PP Shri Satyaprakash (SP) Swamiji and PP Shri Chappaiya Swamiji from Gadhada Temple, PP Shri Nityswarup Swamiji and PP Shri Purnaswarup Swamiji from Vadatal (Sardhar), PP Shri Nirdosh Swami from Vadtal (Bagasara), PP Shri Ramswarup Swami from Junagadh along with local Santos and many Haribhakt bhaio and baheno. Almost 700 devotees participated in the Shobhayatra (parade). Shobhayatara included two bands, one from Wilmette and one made of some students from Conant High school. A special large decorated float with golden Hansa, was created by temple's volunteers for this Shobhayatra, in which PP 108 Shri Lalji Maharaj Shri Nrigendraprasadji set on a specially made Asan for him, along with Swamijis. Two Haribhaktos carried the
emblem -signs of the Swaminarayan Samprday. Prior to the Shobhayatra weather (rain) was a big concern for the
temple Shobhayatra organizers, however with grace of Shri Swaminarayan Bhagawan, this concern quickly disappeared. Shobhyatra was carried out with religious chanting and Bhajans and it was very inspiring event. Haribhaktos danced at the music to celebrate this event. The Norhthgate Parkway was partially blocked off for local traffic during the Shobhayatra by the Wheeling police and temple has expressed their gratitude and thanks for the cooperation provided by the Village of Wheeling. Also on other note, Village of wheeling Proclaimed on the 20th Anniversary of the Temple and recognized the temple for its contribution to the community. In 2010 the village of Wheeling had declared a Proclamation making PP Lalji Maharaj Shri Nrigendraprasadji Honorary Citizen of Wheeling.
On Saturday during the Shabha future Acharya of Shri Laxminarayan Dev -Vadtal-Gadi, PP 108 Shri Lalji Maharaj Shri Nrigendraprasadji addressed the congregation and praised the devotion of the temple devotees and inspired devotees to continue the same. During his Pravachan he expressed his Sankalp –vision- to make the golden shiasan at the Weeling temple. At that he promised all his charanbhet would be contributed towards this project. Additionally he assured that Gadhada and Junagadh temples would make up the difference, if needed, to complete the golden Shihasan by next year. PP Nityswrup Swamijis inspired devotees and many devotees from out of town, who were watching the live web cast, made commitments to make contributions for this project. Some Haribhaktbehno took out their personal jewelry and contributed for this project. Substantial sum was raised just in few minutes for this project. This was the first time such vision has been expressed by PP Lalji Maharaj for a temple in America.
On Sunday after murti pujan, Maha-Abhishek was performed by PP 108 Shri Lalji Maharaj Shri Nrigendraprasadji and Santos. PP Purnaswrup Swamiji and PP Chhapaiya Swamiji enthralled more than 1800 devotees with their Bhajans etc, during this grand celebration of Temple's Patotsav and for Annkut Darshan. During this program unavailing ceremony took place by PP Lalji Mahraj for two publications by the Temple, Hari Gita and Nity Niyam booklets and Ashtadhamyatra CD and Utsav CD. Both boolets were given at no cost to all the Haribhktos present at the Temple by PP Lalji Maharaj on this occasion. After the annkut darshan all devotees enjoyed the annkut mahaprasad.
Later on in the late afternoon religious cultural program was presented by Temple's children and youth and adults, which was enjoyed by attendees with standing room only in the Temple.
On Monday a special program was organized by the temple to appreciate all the volunteer seva provided by all Haribhakt Bhaio and Beheno. PP Lalji Mahraj Participated in the Raas program as a special gesture of appreciation for all volunteers hard work to make the 20th anniversary programs successful. This was a divine moment for all Haribhakto to be able to take rass with PP Lalji Maharaj. http://www.shriswaminarayan.org/
Photographs and Press release by: Shri Swaminarayan Temple (Wheeling)
Suresh Bodiwala
Chairman
Asian Media USA
Bus: (847) 679-8583
Fax: (847) 679-5336
Cell: (847)420-4789
sbodiwala@sbcglobal.net
Copyrights (c) 2010 – Asian Media USA
No one shall download or otherwise duplicate the graphics, images, press release and written content from the PDF without our express written permission. Likewise, no one shall reuse the aforesaid things, as the same are the intellectual property of the Company, we hereby reserve all rights
Disclaimer: – Asian Media USA
"The information in this e-mail and any attachments is confidential and may be legally privileged. It is intended solely for the addressee or addressees. If you are not an intended recipient, please delete the message and any attachments and notify the sender of misdelivery. Any use or disclosure of the contents of either is unauthorized and may be unlawful. All liability for viruses is excluded to the fullest extent permitted by law. Any views expressed in this message are those of the individual sender, except where the sender states them, with requisite authority, to be those of the Asian Media USA