Health Fair at Manav Seva Mandir helps 350 patients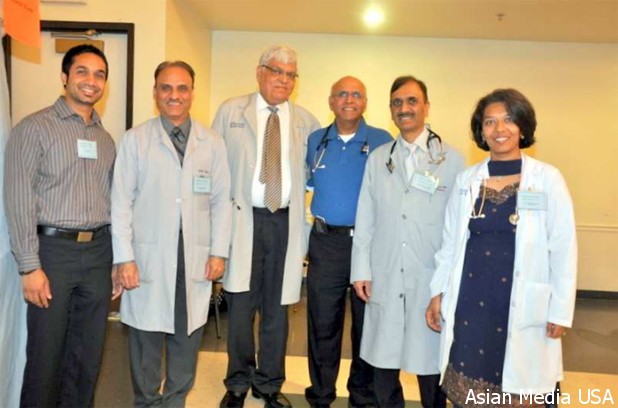 Bensenville IL: Bensenville IL: The annual Health Fair was successfully concluded at Manav Seva Mandir, 101 S Church Rd Bensenville, IL on Sunday, May 22, 2011 from 8.15 AM to 11 AM. An annual Health Fair was organized at Manav Seva Mandir with 350 patients getting free health check up. The event took place in Mahalakshmi hall. Long lines of participants early in the morning show the success of this activity for the last several years. This year we gave them numbers as they walk in. and then they can seat in the temple in chairs. They call by numbers, fill out form and start tests without waiting in lines. As per Jayantibhai Thakkar, this was the 28th Health Fair coordinated by him. The first one was started at Manav Seva Mandir back in 1989 in Manav Seva Mandir and he continued this service in other temples like Midwest Swaminarayan temple, Vashnav Samaj temple and Jalaram temple. It is important to recognize his selfless and dedicated work on people's health check up, by which more than 7,800 patients have benefited so far.
More than 20 doctors and 100 health professionals provided their volunteer services on this day. Registration and front desk services were provided by Manubhai Shah, Naliniben Shah, Bhupendra Thakkar and Nareshbhai Dekhtawala. Vital data such as height, weight, was measured by Rachit Parikh, Rishi Patel, Krunal Vyas and Arti Patel, blood pressure, pulse, was measured by Mita Gupta, Hema Shastri, Dakshaben Thakkar, Bhumika Patel, Richa Shah, Kundan Upadhyay and Nisha Patel. The Blood Sugar testing and consultation were provided by Kishore Chugh, Vivek Patel, Rajesh Chotalia and Nishant Thakar.
Volunteers were seen very busy at the blood draw tables. This service was provided by Bhagvat Thakkar Bakul Thakkar, Falguni Thakkar, Sushma Bhatt, Hiren Khambhati and team of 12 other medical professional. .Blood samples of 310 patients were collected. These samples were sent to the Genesis Clinical laboratory for testing. The reports will be reviewed by the doctors and will be mailed to each patient in three weeks with the follow up instructions.
Urine Analysis was performed by Dimple Thakkar, Alkaben Patel , Vaishali Madeha , Falguni Shah, Khambhati and other volunteers. The patients were seen by Triage physicians Dr. Jyotiben Shah who recommended blood, urine and EKG tests as required this time Diabetic test A1C and Thyroid test TSH also will be performed as recommended by doctor.
Physical examination and Physical consultation were provided by Physician doctors including Dr V.K.Patel, Dr. Ashok Shah, Dr Praful Gandhi and , Dr. Vanita Gupta and Dr Ghanshyam Thakkar.
Bone Density tests were perfumed for females over the age of age 45. The Bone Density testing was performed by Helen Welch, Suichu Gan and Mital Patel Shah. About 140 bone Density tests were performed.
There were five machines to provided EKG tests for Male and female patients over the age of 55. The volunteers include Rita Parikh, Shobha Tevar, Chhaya Marfatia, Kishan Thakkar, Jaya Patel , Naren Barot and Urmila Pandya. EKG results were interpreted by Cardiologists vice chairman of the mandir ,Dr Shirish Shah. About 135 EKG tests were performed.
Dental Examination and consultation were provided by Dr. Amrit Patel and Dr. Dhiren Mistry, and Chiropractic consultation was provided by Dr Manish Sojitra Eye Screening were performed by Dr. Parag Majmudar, Dr. Chales Faron, Dr. Saurin Patel and Dr. Anjali Desai and four other eye technicians
Nutritional and Diet consultation was provided by Dietitian Sweta Sheth. Mammogram and Peps registration was done by June Yang, Sarah RO and Carla Zang from Xilin Association in Naperville, IL. Lots of patient was treated using Accu Pressure technique by Chimanlal Bheda and Hansaben Soneji. Long line was seen for these services The testing was continued well beyond the completion of the fair until 2:00 pm. This Year, Hearing Testing was also provided by Hashumati Sheth , Chandra Shrinivas, Gopali Sheth, and Karim P. Das. Physical Therapy and necessary exercise were showed by Alpan Parikh and Sonal Gandhi. The Health Fair was well organized and went very smoothly. Many happy faces were seen that they received the medical services they needed at one place without any cost to them. Temple provided Tea, Coffee, light food and cookies to all patients and launch for volunteers.
Photographs by: Asian Media USA
Press release by: Jayantibhai Thakkar
Suresh Bodiwala
Chairman
Asian Media USA
Bus: (847) 679-8583
Fax: (847) 679-5336
Cell: (847)420-4789
sbodiwala@sbcglobal.net
Copyrights (c) 2010 – Asian Media USA
No one shall download or otherwise duplicate the graphics, images, press release and written content from the PDF without our express written permission. Likewise, no one shall reuse the aforesaid things, as the same are the intellectual property of the Company, we hereby reserve all rights
Disclaimer: – Asian Media USA
"The information in this e-mail and any attachments is confidential and may be legally privileged. It is intended solely for the addressee or addressees. If you are not an intended recipient, please delete the message and any attachments and notify the sender of misdelivery. Any use or disclosure of the contents of either is unauthorized and may be unlawful. All liability for viruses is excluded to the fullest extent permitted by law. Any views expressed in this message are those of the individual sender, except where the sender states them, with requisite authority, to be those of the Asian Media USA