Illinois Celebrates the Launch of Redberri Innovation Center by Hon. K.T. Rama Rao Minister for IT
Illinois Celebrates the Launch of Redberri Innovation Center by Hon. K.T. Rama Rao Minister for IT, Industry State of Telangana – "Start-Up India & USA, Fostering Cross-International Entrepreneurship"
T-Hub leads India's pioneering innovation ecosystem
Asian Media USA ©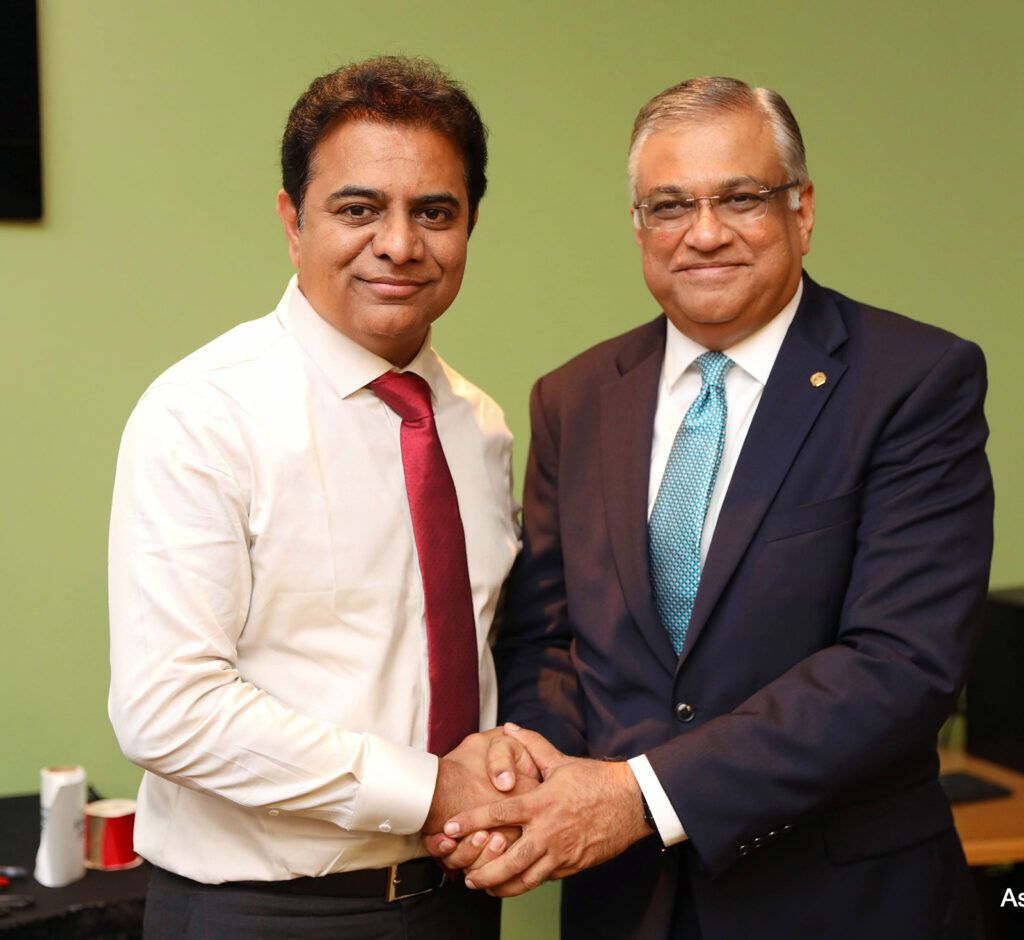 Chicago, IL August 28, 2023 – In a landmark proclamation, Governor JB Pritzker officially declared August 25, 2023, as "Redberri T-Hub Innovation Center Day in the State of Illinois'. This proclamation celebrates the partnership between the Redberri Earth Foundation, a renowned Illinois non-profit organization Founded by Indian Philanthropist & Civic Leader Deepak Kant Vyas promoting social and economic entrepreneurship for over 30 years, and T-Hub, the world's largest innovation ecosystem campus. The collaboration has led to the establishment of the Redberri T-Hub Innovation Center Foundation in Chicagoland, a groundbreaking initiative aimed at fostering startup ecosystems in the United States.
Illinois Senate President Don Hormone Honored Redberri Earth Foundation in Senate Proclamation, Senator Laura Murphy, Dy. Leader Illinois Senate issued a Proclamation in honor of the Redberri Innovation Center. Illinois Deputy Governor Christie George and Illinois Secretary of Commerce Kristin Richards had a productive meeting with a visiting delegation led by Hon. K T Rama Rao – Visionary leader, Minister of IT & Technology who inspired creation of Redberri hub Innovation Center to support Indian Start-up companies soft landing in USA, Technology breakthrough with collaboration of academic institutions and corporate world.
This endeavor has been made possible through the generous endowment from the Deepak Kany Vyas Family. The Redberri T-Hub Innovation Center Foundation marks a significant milestone in the efforts to cultivate entrepreneurship and innovation on a global scale. This partnership exemplifies the importance of collaboration between private, non-profit, and governmental entities to promote vibrant start-up & innovation ecosystem. drive economic growth and technological advancement.
Redberri Innovation Center is the vision of Founder & Chairman Deepak Kant Vyas to create lasting legacy in Chicagoland through generous endowment from Deepak Kant Vyas family. 57,000 square feet state of art Redberri Innovation center one the largest Innovation ecosystem in the North America to provide vibrant start-upo & innovation collaboration, Market readiness and platform for enabling start-up companies to pitch their company to Venture Fund & Private Equity companies in a thriving growth environment will soon feature:

Idea to Productization Council: This will support startups to incubate ideas into commercially acceptable product launch – First of its kind project supported by over 18 Academic Institutions in USA & India.

Fashion & Design Incubator: Fashion Industry is fastest growing sector worldwide, Launching Fashion & Design Incubator will support upcoming designer with access to Fashion Ramp, with democratization of the fashion Show many design & fashion startups will benefit from successful launch of their designs
The inaugural event of the Redberri T-Hub Innovation Center hosted a delegation of government leaders from Telangana, India, led by K.T Rama Rao, the Minister of Technology and Industry, to acknowledge and celebrate the launch of this transformative initiative. The Innovation Center is poised to strengthen the bond between Illinois and the State of Telangana, leveraging the shared innovative, entrepreneurial spirit and fostering international relationships that will drive progress in both regions.
Illinois and Telangana boast some of the fastest-growing innovation ecosystems in the world, promoting a vibrant startup culture that transcends borders. The Redberri T-Hub Innovation Center will provide a platform for over 100 startups to invest in Illinois, resulting in the planned creation of more than 1830 jobs within the Chicagoland area in the next 24 months. This infusion of entrepreneurial energy will not only contribute to economic development but also further and establish Illinois as a hub for innovation and technology.
Governor JB Pritzker's proclamation is a testament to the state's commitment to nurturing innovation, entrepreneurship, and collaboration on a global scale. The Redberri T-Hub Innovation Center Day serves as a reminder of the potential that arises when visionary organizations and government entities join forces to foster growth and drive positive change.
Illinois Senator Sue Rezin, State Representative Mark Walker, Senator Laura Murphy were represented by her Chief of Staff, City of Sandwich Administrator, Matt Kellogg, Chairman Kendall County Board and many Civic leaders and Business Leaders attended the event along with our partners World Business Chicago & Illinois department of commerce.

Redberri Earth Foundation and Redberri T-Hub Innovation Center Foundation is part of Redberri Earth Foundation, Illinois-based non-profit organizations dedicated to promoting social and economic entrepreneurship. Committed to fostering innovation and sustainable solutions, the foundations actively collaborate with partners from around the world to drive positive change.
About T-Hub
T-Hub is the world's largest innovation ecosystem that provides resources and support to startups, corporations, and governments. With a mission to catalyze innovation and entrepreneurship, T-Hub connects various stakeholders to create a thriving ecosystem that fuels technological advancements and
economic growth.
Photographs and Press release by: Asian Media USA
Suresh Bodiwala
Chairman
Asian Media USA
Cell: 847-420-4789
E-Mail: bodiwalasuresh@gmail.com