World Spiritual Organization "Brahma Kumaris Celebrates Mahashivratri Sneh Milan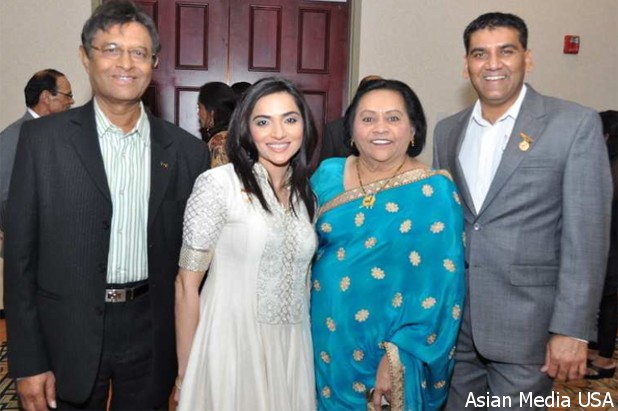 Chicago, IL: Mahashivratri Sneh Milan was celebrated by World Spiritual Organization Brahma Kumaris on Wednesday, February 29, 2012 at Waterford Banquet 933 S. Riverside Dr, Elmhurst, IL. A spiritual evening was enhanced by Devotional Songs and Ghazals by Sharad Gupta, a renowned singer from Bollywood, India. He also performed movie melodies both old and new, which made the whole atmosphere joyful. More than 700 plus devotees and their families enjoyed this special evening.
About ten devotees hosted the event. Didi Mary was the Coordinator of Sneh Milan. Brahma Kumaris were established in USA in the year 1978. The National Head Quarters of Brahma Kumaris is at New York. Spreading Raja Yoga and godly knowledge this organization spreads knowledge and preaches free of charge through its 25 centers.
There were many dignitaries present on this auspicious musical night which included Pritesh Gandhi, Hiral Gandhi, Narendrabhai Patel, Jatinbhai Patel, Vivek Bavda- a candidate for Congress in the upcoming election, Thakore Patel, Chandrika Patel, Hermil Patel, Jayant Thakker, Suryaben Thakker, Arvind Thakker, Indira Thakker, Rajnikant Modi, Sarla Modi, Manu Shah, Nalini Shah, Ramesh Dekhadawala, Rohini Dekhadawala, Nalin shah, Chandrika Shah, Kishore Chaugh, Pankaj Parikh, Hema Parikh, Kishore Rana, Sula Rana, Raja Krishnamurti, Dr.Umang Shah, Vandana from TV Asia, Jyotikumar Chokshi editor and Suresh Bodiwala Chairman of Asian Media USA.
Brahma Kumaris History
Perhaps few organizations have stimulated as much change and discussion at the time of their inception, or have undergone such expansion in succeeding decades, as the Brahma Kumaris World Spiritual University (BKWSU). When the University came into being under the name "Om Mandali" it consisted of only a handful of men, women and children living in Hyderabad, Sindh (now part of Pakistan, but at that time part of colonial India).
Founder's Visions
Following Dada Lekhraj's visions, a year after Om Mandali's establishment, founding group of nearly 400 individuals lived as a self–sufficient community devoting their time to intense spiritual study, meditation and self transformation.
World Headquarters
In 1950, the community moved to Mount Abu and established Brahma Kumaris University's world headquarters named Madhuban (meaning 'Forest of Honey'). Due to efforts of Brahma Baba, as Dada Lekhraj was known, today there is scarcely a town in India without a Brahma Kumaris (BK) study centre. Since the inception, the organization has progressed by leaps and bounds. In 1971, permanent centres were established in the UK and Hong Kong, which soon led to worldwide expansion and consistent, progressive growth, both geographically and in overall membership. Today there are more than 9000 centers and about 90,00,000 disciples spread throughout the world in about 130 countries. Today there are hundreds of thousands of students attending thousands of meditation centers. While Madhuban itself serves as the nucleus of these BK centers, the
Madhuban complex currently includes two other campuses, known as Gyan Sarovar (Lake of Knowledge) and Shantivan (Forest of Peace). Every year the three campuses attract over 2.5 million individuals (students and visitors) from all ethnic and religious backgrounds. Brahma Kumaris also have been accepted as Non Government Member of United Nations. It also works as advisor with UNICEF and ECOSOC in their programs. It also has been awarded Peace Award by United Nations. The organization is also arranging camps for Heart Sufferers under their Healthy Heart Programs.
Hiral Gandhi, a member of the Brahma Kumaris center in Chicago, extended a warm welcome to everyone present. She said that Brahma Kumaris was an international spiritual organization with headquarters in Mount Abu, India and around 9,000 branches all around the world. Most people know about Brahma Kumaris because of Sister Shivani and her "Awakening with Brahma Kumaris" TV program. She added, "we offer instruction in meditation and the practical applications of spirituality to people of all countries, cultures, religions and walks of life free of charge. This evening's program will celebrate the love that all people have for God and the love that god has for all of us". Later she introduced Sister Kala Iyengar, a highly respected teacher of the Brahma Kumaris, to talk about the spiritual significance of Shivratri.
Sister Kala (Dr. Kala Iyengar) was a pediatrician in New York for many years. Her passion for understanding the deep process of healing led her to explore meditation with the Brahma Kumaris. Now Sister Kala is a very popular teacher and lecturer in topics such as stress free living, value based living and integrative health. In addition, she serves as director of the peace village learning and retreat center in upstate New York where she creates innovative programs to promote spiritual, emotional and mental health for humanity
The program started at 7:00pm in the packed auditorium. Didi Mary, coordinator of the event started the program by briefing the audience about Brahma Kumaris and explaining the importance of Jyoti Bindu (SOUL). Dr.Kala Iyenger from New York, delivered her lecture on various facets of life and god. Next there were three short videos explaining various facets of life, who we are, who God is and how to achieve peace and one god one family.
In her lecture, Didi Kala enriched the audience by explaining to them that God Shiva was the supreme authority and the significance of celebrating his birthday as Shivratri.
After her spiritual speech , the entire audience deeply engrossed in Meditation, feeling the eternal peace.
This was followed by Maestro Sharad Gupta and his group's music performance. Music lovers enjoyed every Gazal, Bhajan, Nagme and Film song sung by Sharad Gupta, a disciple of Anup Jalota. Maintaining his individual style, he enthralled the audience. He was accompanied by Ashratallarita on Guitar and Janesh Das on Tabla. Sharad himself played the harmonium. Sound system was ably handled by Amit Patel and Deepak Patel.
Sharad sang devotional songs like:
· "Shri Ram Jai Ram Jai Jai Ram…………
· Guru Brahma………..
· VakratundaMahakaya…………….
· .Hari Om…………… "
· " Aisilagi lagan Meri Ho gaimagan…………………"
· "ShriRadheyGovinda Man Bharlehairkapyarenamhai……………………."
· " Ramnam le loot hai………….."
· Ant KalPacchtayega jab……………."
· " Bolo Ram, BoloRam……………….."
· "Chaudanika Chand…………………."
· " Zindgipaheletunkodekh to yeh…………….."
· "Pukar mere mankokiya tune kyaishara……………"
· "Mere gitamarkar lo………………."
These and many more according to request from the audience
About Sharad Gupta:
His life has been a musical journey with an uncommon rhythm. Over the years he has blossomed into a seasoned musician with remarkable mastery over his distinct vocal ability. Be it Ghazals, Bhajans or even Film songs, his pliability to numerous musical genres is a testimony to his illimitable God-gifted talent. Bequeathed with a legacy, Sharad never allowed music to take a back seat in spite involvement in his family's hundred year old Jewellery business. In fact, the music has been his source of inspiration not just professionally, but also in every facet of his life.
Coming from Totaram Sagarlal family, the legendary jewellers of Hyderabad, his life was all set to be with family business responsibilities with no place for music. But having heard the raaga at a very tender age, his aspirations saw no boundaries, his voice was waiting to delight millions of music aficionados across the world. He was born to sing. He started learning the basic notations of Indian classical music at the age of 7 and from then on, it was just a matter of time.
The harmonic progression
Music was his soul mate for Sharad, his best friend right through his growing years. He trained with various gurus and learned the nuances of music, vocal modulations and seamless singing. Under them, he nurtured his talent, put his fears to rest and focused on mastering the art of melody. Representing his college at a national level music competition he was chosen among the top 5 out of 400 odd participants by none other than Pankaj Udhasji, the Ghazal maestro. Having been lauded and encouraged by such an inspiring singer of our times, Sharad took to music with renewed vigour. As time passed by, he matured into an accomplished singer with enviable versatility.
Due to encouragement by Pankaj Udas, Sharad to move to Mumbai in search of his true potential. His search first stopped with Ajay Pohankarji, who gladly accepted him as a worthy apprentice, and later moved on to Paresh Jana ji. Under them, Sharad discovered his true self, lost himself in the harmony of his dreams. He continued to be in touch with Anup Jalota and turned himself into a performer par excellence. His concerts always enjoyed commendable audience, who were left spellbound by Sharad's honeyed voice. Within no time, he saw himself singing to a global audience, giving performances across the world. A recording company invited him to cut a Bhajan album. Thus a dream called "Hey Prabhu Mere" took shape in the alluring voice of Sharad Gupta. The album cut across age barriers and appealed to one and all. The world stood up and applauded the arrival of this new singing sensation. Apart from his albums and solo performances, Sharad, the man with a silken voice is all set to foray into the charismatic world of film playback singing
Hiral Gandhi thanked everyone for coming to the program and sharing the celebration with them. She invited the audience to visit their Brahma Kumaris centers in Streamwood, Naperville and Chicago. As a final gift, everyone received a special sweet that was made in peaceful remembrance of god, called a toli, with a little blessing card that revealed some special quality of that person. Over all response from audience was "We should have at list 2 to3 time per year this type of program"
Photographs and Press release by: Asian Media USA
Suresh Bodiwala
Chairman
Asian Media USA
Bus: (847) 679-8583
Fax: (847) 679-5336
Cell: (847)420-4789
sbodiwala@sbcglobal.net
Copyrights (c) 2010 – Asian Media USA
No one shall download or otherwise duplicate the graphics, images, press release and written content from the PDF without our express written permission. Likewise, no one shall reuse the aforesaid things, as the same are the intellectual property of the Company, we hereby reserve all rights
Disclaimer: – Asian Media USA
"The information in this e-mail and any attachments is confidential and may be legally privileged. It is intended solely for the addressee or addressees. If you are not an intended recipient, please delete the message and any attachments and notify the sender of misdelivery. Any use or disclosure of the contents of either is unauthorized and may be unlawful. All liability for viruses is excluded to the fullest extent permitted by law. Any views expressed in this message are those of the individual sender, except where the sender states them, with requisite authority, to be those of the Asian Media USA