United Cricket League (UCL) concludes Night League 2022 Championship with an exciting finale
Asian Media USA ©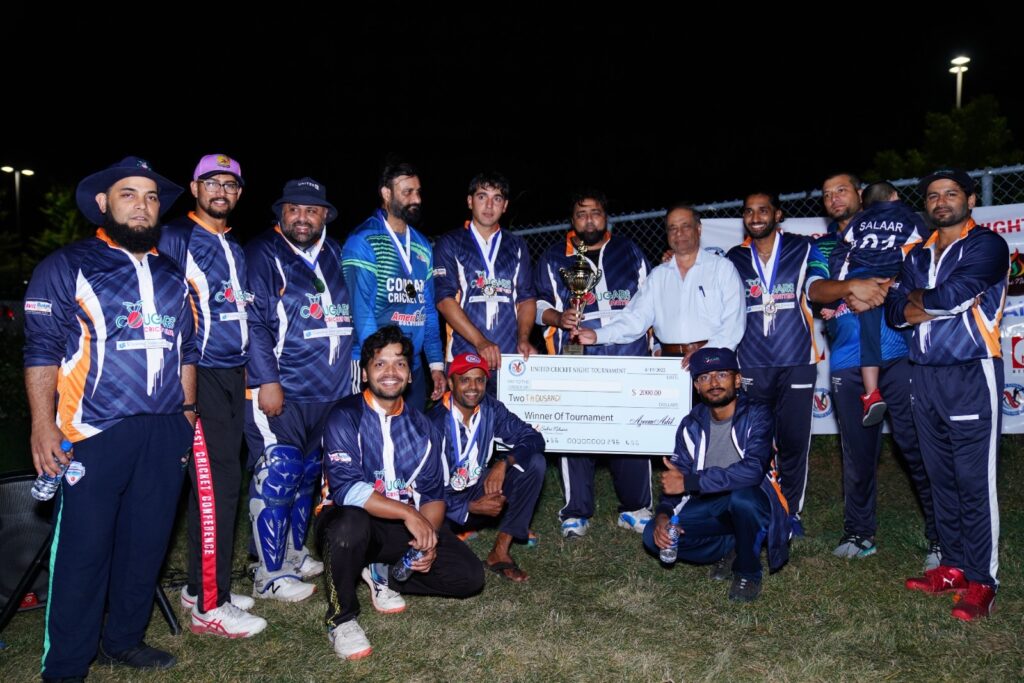 Chicago IL: UCL hosted a competitive Night League 2022 that saw an exciting grand championship game between Horizon Cricket Club & Cougars at the Skokie Sports Park in Skokie, Illinois on August 19, 2022, that brought together a gathering of cricket fans and cricket enthusiasts to witness a very spirited night championship game. The match was played in T20 format. The final game between Cougars Cricket Team and Horizon Cricket Club elevated the value of the game considerably as both the teams put up an exciting performance to clinch the coveted United Cricket Club's Night League 2022 Championship trophy. Cougars won the toss and decided to bat first. With a great line-up of batters Airaj Syed and Kamran Syed opened the game. Kamran scored a blistering 63 off 28 balls which included 8 sixes and 2 fours and managed a partnership of 95 runs with Zarif Gul. Airaj, Shreyas, Ahmedullah, and Zeeshan could not get into double digits. Adnan Bajwa who came 5 down and helped score what appeared to be an insurmountable lead against the energetic bowling attack. Cougars wrapped up their innings with a great total of 181. Horizon Cricket Club's openers showed intent with Challenor Jack and Raid Ally putting together and excellent partnership of 69 runs. Challenor fell for 22 runs of Ahmedullah's excellent cutter at the end of power play while the new batter Muhammad Fahad could only score 9 runs before he was sent back to the pavilion by Jasim Sajjad. Raid fell a couple of overs later, but not before he scored 44 of just 28 balls. Rupnarine led the middle order in runs with 28 of 20 with little support from rest of the team. Awais Tariq, Osman Syed, and Marlon Caliste provided single digits to the total score while Leon Hyde and Vishwanath Sankarasubramanian managed to barely scrape into double digits. Cougars with their tight bowling spell managed to peel the game away from Horizon CC giving away 157 of 20 overs and securing their win by 24 runs.
Salman Khan captain of Cougars received the Championship Trophy for UCL Night League 2022 whileRupnarine received the Runner- Up trophy. Kamran Syed was adjudged the Most Valuable Player, while Raid Ally and Awais Tariq picked up the Best Batsman and the Best Bowler awards respectively. The United Cricket League's 2022 championship games consisted of eight teams: Group A Teams consisted of Dominators, IIE Elgin, Maharishi XI, Strikers; and Group B Teams consisted of Cougars,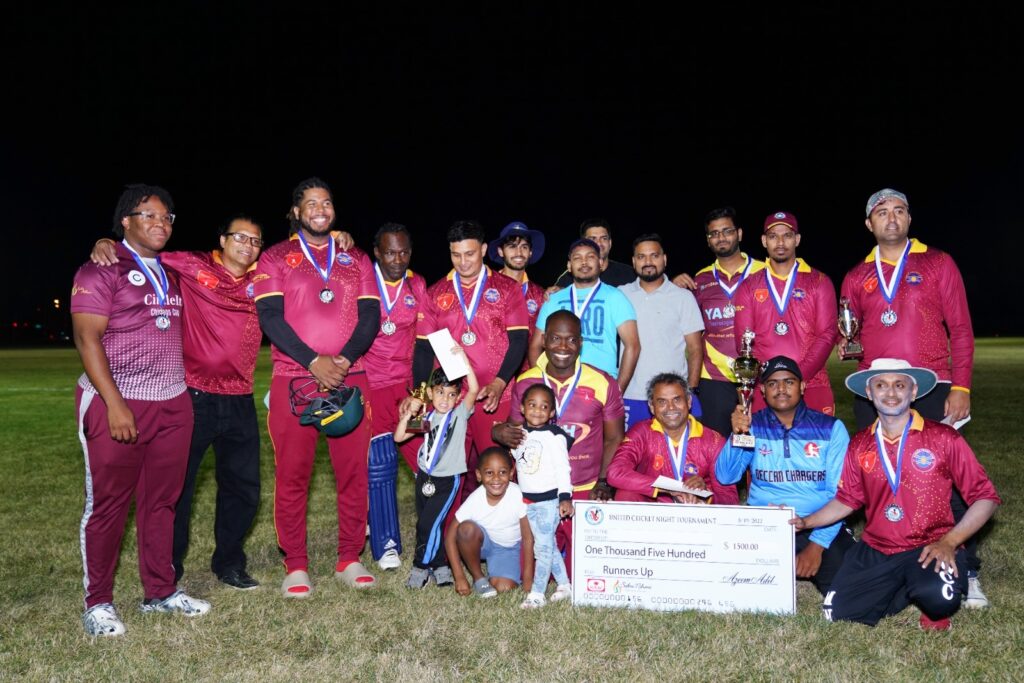 Devon Cricket Club, Horizon Cricket Club and Star Boys team. Out of the eight teams, four have been qualified for the playoff games. UCL Owner Adil Azeem Khan thanked all the participating teams for making this tournament a success again this year. He also mentioned that any big tournament is never successful without the help of volunteers and sponsors.
The organizers thanked Mohammed Adil, Hadi Buiya, Sufian Dukanwala, Ayaz Patel of the United Cricket Club for organizing a successful championship game. The volunteers who helped with the tournament were Rajeeb Raj, Jony Hossain, and Sajid Patel, while Hassan Dastagir provided a live running commentary.
The United Cricket League's 2022 Night League was sponsored by United Cricket Club in the lead with other sponsors including Pepsi, Sabri Nihari, Nirav, NP Jewelers, Air Tours, AV Stone, Sahil Boutique, Studio Elite, American Cricket, Skokie Sports Park and Midwest Cricket Club.
Photographs and Press release by: Asian Media USA
Suresh Bodiwala
Chairman
Asian Media USA
Cell: 847-420-4789
E-Mail: bodiwalasuresh@gmail.com
Copyrights ©: Asian Media USA
No one shall download or otherwise duplicate the graphics, images, press release and written content from the PDF without our express written permission. Likewise, no one shall reuse the aforesaid things, as the same are the intellectual property of the Company, we hereby reserve all rights
Disclaimer: Asian Media USA
Asian Media USA press releases are event oriented and published after careful review and examination of the contents without bias or without being influenced by race, color, nationality or religious persuasion. In other words we are completely neutral according to generally accepted journalistic principles and long established conventions governing Newspaper reporting. Any use or disclosure of the contents of either is unauthorized and may be unlawful. All liability for viruses is excluded to the fullest extent permitted by law. Any views expressed in this message are those of the individual sender, except where the sender states them, with requisite authority, to be those of the Asian Media USA. If for any reason including but not limited to prior written authorization, Newspaper or similar entity do not give the credit for the content and photographs, Asian Media USA reserve right to take legal action to prosecute for violating copy right law to the fullest extent of the law.