Presidents' Day celebration by The Democratic Party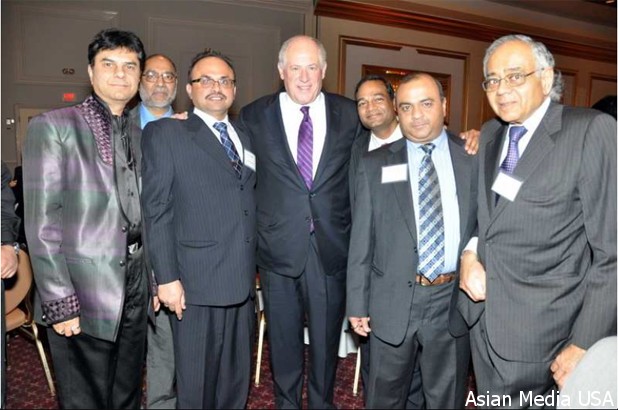 Oakbrook IL: The Democratic Party of Dupage County, celebrated Presidents' Day Gala 2012 with great enthusiasm on Saturday February 18, 2012, 6:00 PM, at 100 Drury Lane, Oakbrook Terrace, IL. More than 500 people were present at this grand event.
Prominent Leaders from the Democratic Party who attended include Gov. Pat Quinn, Bill Foster, Raja Krishnamoorthi, Congressman Mike Quigley, Cook County Board President Tony Preckwinkle, Bob Peickert plus several State Senators and State Representatives and many of the congressional, state and local candidates. The Trustees and Executive Committee Members of the IADO, viz., Dr. Ram Gajjela (President), Dr. Ashish Sen (Vice President), Sainath Reddivari (Secretary), Peter Palaparthi (Joint Secretary), Lakshmi Lakshmanan (Treasurer), Dr. Mridu Sekhar (Joint Treasurer), Jitendra Diganvker (Directors) were joined by several prominent community leaders from Indian-Pakistani community, CIOGC representatives, Project M representative, AIPHA, Islamic Center of Western Suburbs and ICNA Chicago representatives. Sunil Shah (Founder President of FIA Chicago IL), Mayur Patel, and members of the media including Suresh Bodiwala Chairman of Asian Media USA.
As the Master of Ceremony Bob Peickert, Chair, Democratic Party of DuPage County welcomed the guests and kept the audience spellbound with his wit and wisdom throughout the function. Bob Peickert is a long time resident of DuPage County . He has already announcing his candidacy for the position of Board member of the DuPage County Board serving District 1. Bob is a 34 year old resident of DuPage County and resides in Elmhurst with his wife, Pat. Bob is a former math teacher and has spent 25 years as a director of a teachers' organization working to improve our educational systems. He is now a small business owner and member of the Elmhurst Chamber of Commerce. Bob has raised his family in DuPage and is dedicated to improve the future opportunities for the residents of Dupage county as well as for his family that includes 5 grandchildren.
Bob Peickert, chairman of the Democratic Party said " Operation: Turn DuPage Blue has finally broken the Republican party's "stranglehold" in our county. It's exciting to see the election results, but we still have our work cut out for us."
He introduced the keynote speaker Mr. Thom Hartmann, who is the Nation's #1 Progressive Radio, Talk Show Host – WCPT 820 AM, New York Times Best Seller Author of 22 books and internationally known Speaker on Culture and Communications at this year's gala. Chairman of the DPDC siad "He is an architect of so many of the political grassroots organizing principles you see at work throughout the country today, and he is a tremendously inspiring speaker."
Governor Pat Quinn in his brief address said that he grew up in Dupage County, and wanted to thank everyone because they had elected him in the last election. He said that in 2012 he wanted to make sure that President Obama gets elected for the second term. He specially thanked Bob Peickert, his committee members who supported him, because they worked hard from door to door and making lots of phone calls. Governor Quinn in his speech said that Illinois has created more jobs, expanded early childhood programs, K-12 and special education programs, veterans benefits and increased medicaid benefits for Illinois seniors. He pointed out the diversity in Dupage county and the vast presence of various ethnic populations that have made Dupage County their home. He urged everyone to actively participate in the democratic process and work towards community harmony.
Bob Peickert, chairman of the Democratic organization Operation introduced the Keynote Speaker Thom Hartmann. Thom Hartman is an American radio host, author, former psychotherapist and entrepreneur, and progressive political commentator. His nationally-syndicated radio show, The Thom Hartmann Program, airs in the United States and has 2.75 million listeners a week. Mr. Hartmann gave an inspiring speech comparing the diferences between Democrats and Republicans. He asked everyone to get involved for the benefit of the community and the country.
Bob Jeffers received the Katherine "Tinker" Harvey Pioneer Award .This is an award that is presented annually in honor of Kathryn "Tinker" Harvey . Tinker has been involved with the DPDC for nearly 50 years. He has spent the last 40 years as treasurer for the Democratic organization.
Nasir Jahangir was presented with Precinct Committeeman of the Year Award. Mr. Jahangir was born in Pakistan and served 14 years in the US Air Force. He has worked for several political campaigns and helped the Indo-Pak community get involved in the democratic process of our county.
President's Day Gala 2012 sponsors:
Plumbers & Pipefitters Local #501 and West Suburban Teachers Union Local #571.
The Democratic Party of DuPage County officers were also recognized:
Bob Peickert (Chair), Cathy Sewell (1st Vice Chair), Juanita Holley (2nd Vice Chair), Paul Fessenbacker (Vice Chair), Laurie Nowak (Recording Secretary), Michele Larsen (Corresponding Secretary) and Bob Jeffers (Treasurer), Amy Rohrer ( Executive Director) and Brenna Conway (Associate Executive Director). Gala committee event coordinator is Rose Fitzpatrick and Committee members are Karen Hoffman, Janice Rinehart, Moises Garcia, Mike Braun, Nasir Jahangir, Kathy Grier, Sarbani Chowdhury, Edith Makra, Dave Kusnierz, Connie Sunderhaus, Amy Rohrer, Mark Padolina, Patricia Johnson and Brian LaVaque. Suresh Bodiwala, chairman of Asian Media USA had an opportunity to talk to Dr. Ram Gajjela (President of Indo-American Democratic Organization) about his perspective of Dupage County. He said, "DuPage County's Indian population has increased drastically in last 5 years. Dupage County has approximately 30 suburbs, majority of temples are in DuPage County . It's exciting to see the election results, but we still have lot of work to do in DuPage County." Program ended with Raffles and prizes.
Photographs and Press release by: Asian Media USA
Suresh Bodiwala
Chairman
Asian Media USA
Bus: (847) 679-8583
Fax: (847) 679-5336
Cell: (847)420-4789
sbodiwala@sbcglobal.net
Copyrights (c) 2010 – Asian Media USA
No one shall download or otherwise duplicate the graphics, images, press release and written content from the PDF without our express written permission. Likewise, no one shall reuse the aforesaid things, as the same are the intellectual property of the Company, we hereby reserve all rights
Disclaimer: – Asian Media USA
"The information in this e-mail and any attachments is confidential and may be legally privileged. It is intended solely for the addressee or addressees. If you are not an intended recipient, please delete the message and any attachments and notify the sender of misdelivery. Any use or disclosure of the contents of either is unauthorized and may be unlawful. All liability for viruses is excluded to the fullest extent permitted by law. Any views expressed in this message are those of the individual sender, except where the sender states them, with requisite authority, to be those of the Asian Media USA