Grand celebration of Mahashivratri with Vedic tradition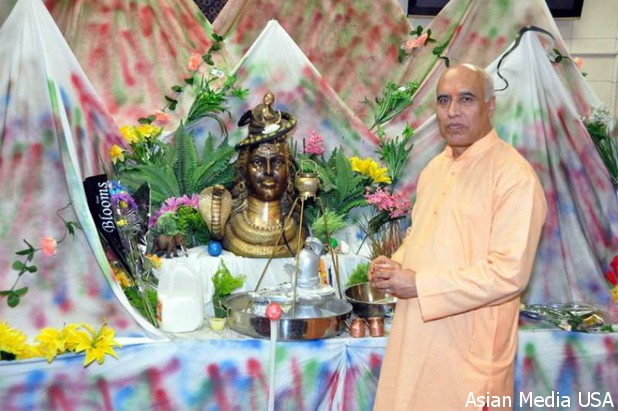 Chicago, IL: Hari Om Mandir located at 6N020 Medinah Rd, Medinah, IL celebrated Mahashivratri with Vedic tradition on Monday, February 20th, 2012. Devotees started coming early morning. The Priests and Manager worked nonstop 24 hours to perform Rudra Abhishek Pooja for hundreds of devotees who visited the temple. Executive Board members Anil Saxena and Sneh Chowdhary spared their valuable time and helped in the organization of the Pooja during the day. Subhash Sharma led the Bhajan Mandli. Deepak & Mona Sharma, Vijay Ghai, Ajay Ghai and several other members joined him in singing Stuties, Shlokas and Shiv Dhun.
Apart from Rudra Abhishek Pooja four other Poojas, Pratah, Brahmas, Pratah-Mdhyahn and Sandhya. Importance of participating in Pratah Puja makes the life happy of the participant, Brahma Puja makes the life pious, Pratah-Mdhyahn Puja is that whoever takes part sincerely, it carries no sin and Sandhya Puja relates to Sun and Moon and slowly gives fruit to the Lord Shiva devotees.
Temple priests Pandit Dinesh ji, Shastri Yogesh ji and Manager Natwar Bhai along with volunteers Gurmeet Singh and Nikhil put in lot of efforts to decorate the temple for the occasion. Hardev Raj, Naveen Vyas, Nikhil, Mitesh Patel and lot of other volunteers and members of the Executive Board came and helped in the temple. Volunteers and members of the Board of Trustees did excellent job to manage large crowed during this event. Executive Board member Swappan Kumar and Anil Saxena led the team of volunteers to manage the parking and the smooth flow of traffic.
Bharat Patel prepared traditional Sambak/ Swang ke Chawal (Sambak Rice) kheer which was distributed as Prasad along with the traditional Thandai and fresh fruits. Under the guidance of Mr. Ayodhia Salwan, Chairman Board of Trustees Mr. Rajeev Bharel, President Executive Board, along with members of Executive Board led the team of volunteers and devotees in preparation and presentation of an excellent presentation of Indian traditions.
The Hindu festival of Mahashivratri is celebrated on the 14th day of the dark fortnight of the Magh month, which falls on February 20th of 2012 and is dedicated to Lord Shiva. Since the Shivalinga or lingam contains both Shiva and Shakti energy, it generates considerable heat. To prevent its adverse effects, an arrangement of a continuous flow of water is maintained on the lingam. The flowing stream of water is similar to an embodied soul in search of self-realization. If one chants continuously like the flowing stream of water; one eventually is able to progress beyond the barrier of time and attain God consciousness.
In observance of Mahashivratri, we encourage all Hindus to chant 'Om Namah Shivay' in an endeavor towards a closer spiritual union between us and the God principle through regular spiritual practice. Lord Shiva is the supreme soul who liberates our soul from the cycle of death and rebirth. The Shiva devotees observe fast during the day as well as the holy night. The Lord not only removes all their obstacles but also showers happiness and joy. Shiva is the ocean of knowledge who leads humankind from the darkness to light. God himself says I come to re-establish the true religion when it is defamed on earth.
Chairman Board of Trustees
Mr. Ayodhia N Salwan
Executive Board
Mr. Rajeev Bharel, President
Mr. Brij Sharma, Vice President
Mr. Gopal Tiwari, Treasurer
Mrs. Sneh Choudhary, Secretary
Mr. Sunil Saxena, Property Management
Mr. Swappan Kumar, Publication, Parking & Volunteer team head
Mrs. Anshu Paul, Education
Mr. Anil Saxena, Special Events
Mr. Ramesh Bhardwaj, Food
Nirmal Bagga – Outgoing president
About Hari OM Mandir
Hari Om Mandir located at DuPage County in the heart of Chicago land. The Mandir has statues of all major North Indian Gods & Goddesses. Every Sunday there is a Havan and general congregation followed by Aarti and Bhojan Prasad. On every first Saturday of the month we have Devi Jagran from 7 – 10pm. Every Monday there is Shiv Puja and every Tuesday we have Hanuman Challis Path. There are two learned priests available in temple, for Poojas, Havan, Kathas etc in the temple and at home. Please visit Hari Om Mandir at 6N020 Medinah Rd, Medinah, IL Phone: (630)980-0900 www.hariommandir.org
Upcoming events:
The upcoming events at Hari Om Mandir are Holi, Navratre and Ramnavmi. Holika Dhanwill be on Wed March 7th and Holi will be celebrated in regular congregation on Sunday March 10th. There will be a special Devi Pooja for Kalash Sthapna on Sat. March 24th followed by Devi Jagran by Asha Khanna ji in evening.
Photographs and Press release by: Asian Media USA
Suresh Bodiwala
Chairman
Asian Media USA
Bus: (847) 679-8583
Fax: (847) 679-5336
Cell: (847)420-4789
sbodiwala@sbcglobal.net
Copyrights (c) 2010 – Asian Media USA
No one shall download or otherwise duplicate the graphics, images, press release and written content from the PDF without our express written permission. Likewise, no one shall reuse the aforesaid things, as the same are the intellectual property of the Company, we hereby reserve all rights
Disclaimer: – Asian Media USA
"The information in this e-mail and any attachments is confidential and may be legally privileged. It is intended solely for the addressee or addressees. If you are not an intended recipient, please delete the message and any attachments and notify the sender of misdelivery. Any use or disclosure of the contents of either is unauthorized and may be unlawful. All liability for viruses is excluded to the fullest extent permitted by law. Any views expressed in this message are those of the individual sender, except where the sender states them, with requisite authority, to be those of the Asian Media USA