Manav Seva Mandir celebrated Mahashivaratri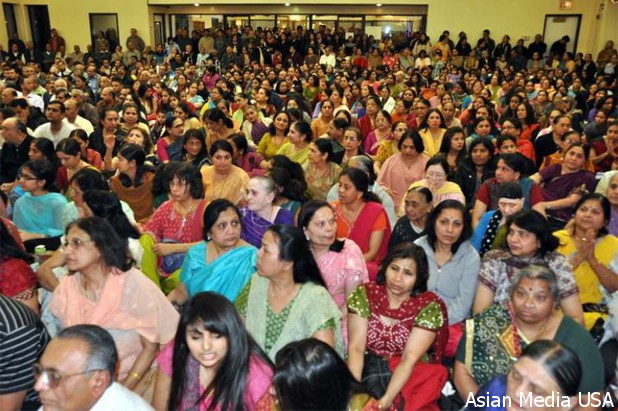 Chicago, IL: Manav Seva Mandir located at 101 S. Church Road, Bensenville , IL celebrated Mahashivaratri with Vedic tradition on Sunday, February 19, 2012. 16 couple participated in Mahashivaratri Puja. This sacred evening was attended by over 800 devotees witness the special evening Puja ceremony. Two hrs long program was full of deviational activities such as Stuties, Shlokas and Shive Dhoon. Monday February 20, 2012 approximate 450 devotees visited to Manav Seva Mandir for Mahashivaratri puja.
The Hindu festival of Mahashivaratri is celebrated on the 14th day of the dark fortnight of the Magh month, February 20th of this year and is dedicated to Lord Shiva. Since the Shivalinga or lingam contains both Shiva and Shakti energy, it generates considerable heat. To prevent its adverse effects, an arrangement of a continuous flow of water is maintained on the lingam. The flowing stream of water is similar to an embodied soul in search of self-realization. If one chants continuously like the flowing stream of water; one eventually is able to progress beyond the barrier of time and attain God consciousness.
In observance of Mahashivaratri, we encourage all Hindus to chant 'Om Namah Shivay' in an endeavour towards a closer spiritual union between us and the God principle through regular spiritual practice. Lord Shiva is the supreme soul who liberates our soul from the cycle of death and rebirth. The Shiva devotees observe fast during the day as well as the holy night. The Lord not only removes all their obstacles but also showers happiness and joy. Shiva is the ocean of knowledge who leads humankind from the darkness to light. God himself says I come to re-establish the true religion when it is defamed on earth.
On Mahashivaratri, devotees wake up early in the morning and take a bath, if possible in river Ganga. After wearing fresh clothes, they visit the nearest Shiva temple, to give ritual bath to the Shiva Lingum (with milk, honey, water etc). The worship continues the whole day and whole night. Jaagran (nightlong vigil) might also be observed in Lord Shiva temples, where a large number of devotees sing hymns and devotional songs, in praise of Lord Shiva. In the morning devotees break their fast by partaking the prasad offered to Lord Shiva, after the aarti, the night before
Puja ceremony was distributed into four section. Prahars, Brahmas, Pratah-Mdhyahn and Sandhya. Learned Priest Dr. C. L. Shastri explained the importance of all these four section of Puja. Importance of participating in Pratah Puja makes the life happy of the participant, Brahma Puja makes the life pious, Pratah-Mdhyahn Puja is that whoever takes part sincerely, it carries no sin and Sandhya Puja relates to Sun and Moon and slowly give fruit to the Lord Shiva devotees.
In all there were 16 Hosts to the entire deliberations and 11 Hosts for Arti.1st.Arti was performed at about 7-00 p.m. lighting 108 lamps all together. Bhajans in beautiful manner also were sung on the occasion. After first Puja was performed, there was break for Prasad to all the devotees, who thronged in large numbers. Devotees enjoyed delicious Prasad delivered by Jay Hind restaurant. In Prasad-there was Sukibhaji (Dry Potato & vegetable), Curd, Chevda, Badampak (Almond) and Fruit, which were served along with Thandai as substitute to Bhang. This was merrily enjoyed by one and all.
Volunteers and Board of Trustees did excellent job to manage large crowed during this event.
Manav Seva Mandir Management (2012)
Pujaris
Nag Bushan Poojera, Yogesh Vyas, Krishnakant
Board of Trustees
Chairman: Mr. Jay:ram Patel
Vice Chairman: Dr. Shrishbhai Shah and Dr. Manojbhai Shah
General Secretary: Gautmbhai Gor
Comptroller: Bhaskarbhai Patel
Past Chairman – Bharatbhai H. Barai
Board of Trustees
Dr. Ishwarbhai K. Patel
Mr. Madhukant Shah
Dr. V. K. Patel
Mr. Pradip Patel
Mr. Natubhai Patel
Hon, Members: Chotalal Patel and Dr. Kanubhai Panchal
Executive Board
President: Mr. Dahyabhai Prajapati
Vice president: Mr. Raju Chauhan
Secretary : Naliniben Shah
Join Secretary: Rajivbhai Desai
Treasurer : Jayandra Patel
Joint Treasurer: Bhaviniban Kalvani
Executive board members:
Dr. Jyoti Shah
Mr. Manu S. Patel
Mr. Jashwant S. Sheth
Mr. Bhal Chandra Shah
Ms. Urmila S. Patel
Hon. Member: Bhavnaben Parikh and Subothbhai Gabhawala
About Manav Seva Mandir:
The Manav Seva Mandir is a Hindu religious institution in the greater Chicago land area. Not only is it an excellent place of worship, but it also renders a social atmosphere and a cultural center that preserves and promotes our Hindu traditions and heritage. They have Programs such as Bhajan-Satsang, Group Satnarayan Katha, Youth Classes, Children Classes, annual youth camp during the summer holidays, flu vaccinations, health fair and medical facilities. They have Daily Arti such as Mangala Arti, Shringar Arti and Sandhya Arti. Manav Seva Mandir located at 101 S. Church Road, Bensenville , IL. 60106. Phone # (630)860-9797, Web site: www.manavsevamandir.org
Upcoming event:
Holika – 5:30 PM, Wednesday, March 07, 2012
Gujarati Hilarious Comedy Drama: Patni Nachave Bhagwan Bachave – 8:00 PM, Saturday – March 10, 2012
Chaitri Navratra & Ram Navami – 5:30 PM, Friday, March 23, 2012
Ramayan Path: March 23rd to 31st, 2012
Hanuman Jayanti: 5:00 PM, Friday, April 06, 2012
Photographs and Press release by: Asian Media USA
Suresh Bodiwala
Chairman
Asian Media USA
Bus: (847) 679-8583
Fax: (847) 679-5336
Cell: (847)420-4789
sbodiwala@sbcglobal.net
Copyrights (c) 2010 – Asian Media USA
No one shall download or otherwise duplicate the graphics, images, press release and written content from the PDF without our express written permission. Likewise, no one shall reuse the aforesaid things, as the same are the intellectual property of the Company, we hereby reserve all rights
Disclaimer: – Asian Media USA
"The information in this e-mail and any attachments is confidential and may be legally privileged. It is intended solely for the addressee or addressees. If you are not an intended recipient, please delete the message and any attachments and notify the sender of misdelivery. Any use or disclosure of the contents of either is unauthorized and may be unlawful. All liability for viruses is excluded to the fullest extent permitted by law. Any views expressed in this message are those of the individual sender, except where the sender states them, with requisite authority, to be those of the Asian Media USA