Maneesh Media along with International University of Vedic Wellness showcased a remarkable Book Launch & Women's Day Celebration
Asian Media USA ©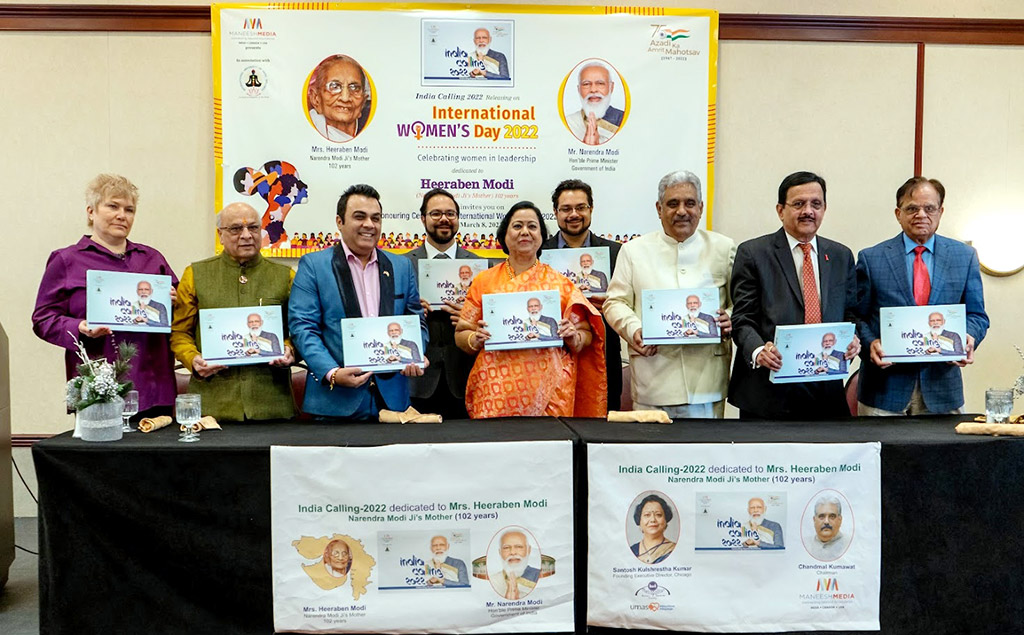 Chicago IL: Maneesh Media along with International University of Vedic Wellness unveiled a spectacular event to commemorate the International Women's Day celebration and the launch of Maneesh Media's new book, "India Calling 2022" on March 8th, 2022 at the Marriot in Hoffman Estates, IL. India Calling 2022 is a new book celebrating India's Prime Minister, Modiji's mother Heeraben Modi who is 102 years of age! This book also depicts the 113 magnificent foreign trips of the Indian Prime Minister Modiji and the outcome of those trips during his leadership
The International Women's Day is celebrated across the world to honor the remarkable hard work and achievements of women in every field. This extraordinary event also acknowledged women's empowerment by honoring the significant efforts of women to make the world a better place to live in. A life of dignity is the birthright of every woman. Women's empowerment is key to advancing the development of every country. Empowered women contribute to the health and productivity of whole families and communities and improved prospects for the next generation.
Dr. Mrs. Santosh Kulshrestha Kumar – Founding Executive Director, of Metropolitan Asian Family Services, Universal Metro Asian Services, and International University of Vedic Wellness, along with Mr. Chandmal Kumawat – Chairman of Maneesh Media partnered and made possible this historic event. Dr. Mrs, Kumar was named as "Mother Theresa of Chicago" for her dedication to fulfilling the needs of the downtrodden and her selfless community service for more than 40 years. Through her organizations, Dr. Mrs. Kumar has Established a proven successful multi, disciplinary pathway to the empowerment of Seniors Citizens over the past 30 years. Mrs. Kumar has provided a broad framework for collective action for senior citizens to nurture their innate talents, enrich their groundbreaking ideas and engage in innovative experiences which has become a global model. She has achieved this by providing critically needed services to multiethnic senior citizen population especially the Indian diaspora with employment opportunities, creating more than 10,000 jobs per year, homecare services to over 10,000 homebound seniors mostly Indian diaspora every year by integrating state of art technology with a human touch in this digital age. Her model of service is being replicated in several parts of the world including India. Mrs Santosh Kumar who established a global network and a functional platform, took painstaking efforts to propagate and promote India's Prime Minister Modi New India in USA and India. Mrs Santosh Kumar motivated and sensitized the Indian Americans and the gatekeepers of minority communities in India to Prime Minister Modis Vision for Development of all. Mrs Santosh Kumar is a beacon of hope and lighthouse of service and care to the vulnerable Indian American Senior Population during this COVID 19 Pandemic.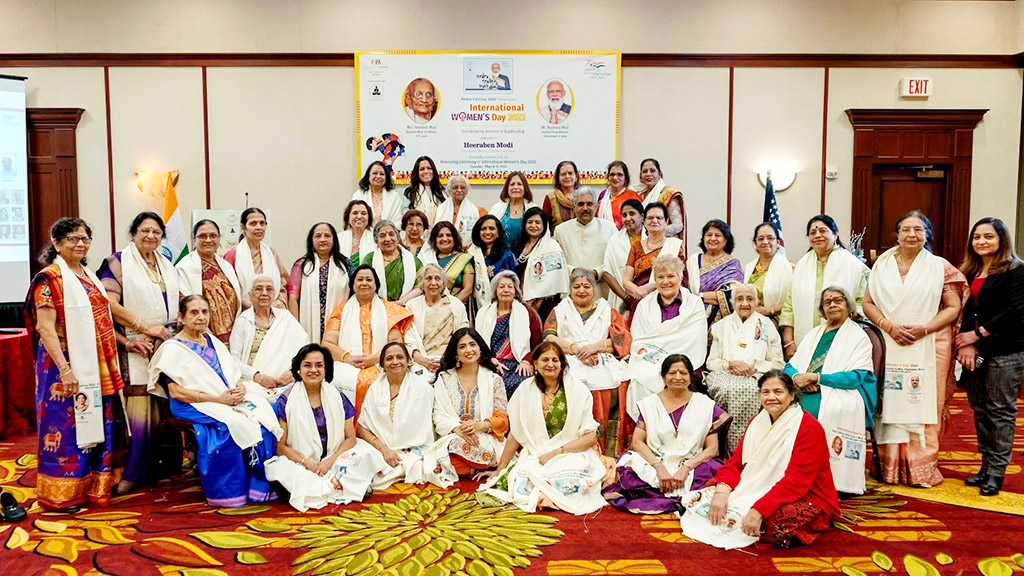 International University of Vedic Wellness Center's mission is to provide wisdom, peace, and stability through ancient knowledge, consequently,leading to a stress-free and pain-free lifestyle for all. Attaining this kind of lifestyle will aid in sustaining a more stable and peaceful world and avoid wars in the present time like the Russia/Ukraine War!!!
The event commenced with the lighting of the lamp by Dr. Mrs. Santosh Kumar, Mr. Neil Khot, Mr. Kishor Mehta, Acharya Rohit Joshi, Dr. Rakesh Asthana, Mr. Chandmal Kumawat and Ms. Marta Pereya. Roshita Pandey and Radhika Subramanian did a great job of compering. Dr. Mrs. Santosh Kumar began her welcoming speech by shedding light on the importance of women and encouraged every woman to stand for her rights. She soulfully thanked Mrs. Heeraben Modi for providing to the world such a treasure, Prime Minister Modiji! She praised Modiji for he lives the philosophy of ancient Vedas which believes that the whole world is one family living in Peace, Harmony, and Prosperity!
"Om, Sarve bhavantu sukhinah
Sarve santu nirāmayāḥ
Sarve bhadrāṇi paśyantu
Mā kashchit duḥkha bhāgbhavet
Oṁ Shāntiḥ, Shāntiḥ, Shāntiḥ
May all be prosperous and happy
May all be free from illness
May all see what is spiritually uplifting
May no one suffer
Om peace, peace, peace"
She applauded Mrs. Kumawat for being the woman power behind her husband's success. Mr. Neil Khot, Mr. Kishor Mehta, Acharya Rohit Joshi, Dr. Rakesh Asthana, Mr. Chandmal Kumawat and Ms. Marta Pereya gave their speech as they applauded the woman around the world.
Madhura Sane charmed the crowd with her mesmerizing patriotic dance performance. Her grace and dance techniques were a treat to watch. Audio visual coverage and photography was done efficiently Mr. Bodiwala of Asian Media USA along with Richa Chand.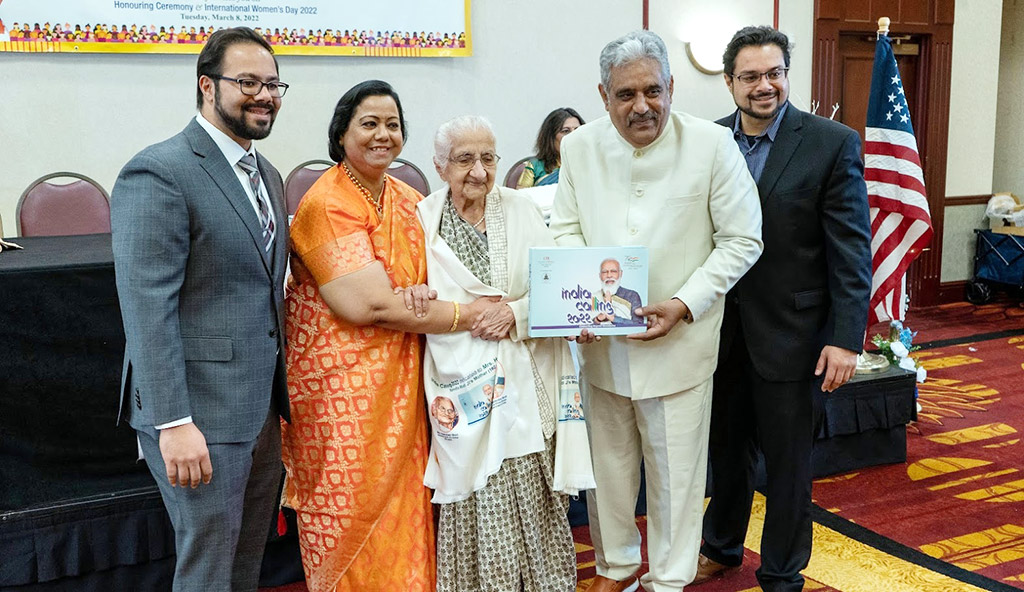 Women of Excellence were recognized and honored as a mark of honor on Woman's Day for the outstanding work in their respective fields by presenting to them the book and Azadi ka Amrut Mahotsav shawl. The awardees were Dr.Narmadha Kuppuswami, Rachna Srivastav, Ranjana Bhargava, Padma Mehta, Chanchal Jhingan, Cynthia Prabhakar, Shashi Jain, Beatris Gonzalez, Balwant Bhardwaj, Aruna Shah, Manju Cheker, Manju Kalra, Krishna Mahajan, Bhagwatiben Ruparel, Promila Mehta, Jagruti Jagatia, Pankaj K. Patel, Sudha Gandhi, Shakuntla Patel, Jyotiben Shah, Yashodhara Bhatt, Tripti Malhotra, Mira Mehta, Guruvachan Kaur (Neelam), Sadhana Vaish, Saroj Topiwala, Shakuntala Mehta, Pravesh Kulshrestha, Triguna Dave, Shobna Nagori, Marta Pereyra, Dipti Shah, Suchi Sunder, Dr. Anju Asthana, Dr. Firdaus Jaffri, Dr. Sonal Patel, Dr. Monali, Falgunben Prajapati, Ranjan Shah, Mrs. Vijay Sharma, Radha Jigar. Premila Patel, Eva Contractor, Saroj Topiwala, Awilda Gonzalez!
Lunch was served during which Madhura Sane graciously entertained the onlookers!
Photographs and Press release by: Asian Media USA
Suresh Bodiwala
Chairman
Asian Media USA
Cell: 847-420-4789
E-Mail: bodiwalasuresh@gmail.com
Copyrights ©: Asian Media USA
No one shall download or otherwise duplicate the graphics, images, press release and written content from the PDF without our express written permission. Likewise, no one shall reuse the aforesaid things, as the same are the intellectual property of the Company, we hereby reserve all rights
Disclaimer: Asian Media USA
Asian Media USA press releases are event oriented and published after careful review and examination of the contents without bias or without being influenced by race, color, nationality or religious persuasion. In other words we are completely neutral according to generally accepted journalistic principles and long established conventions governing Newspaper reporting. Any use or disclosure of the contents of either is unauthorized and may be unlawful. All liability for viruses is excluded to the fullest extent permitted by law. Any views expressed in this message are those of the individual sender, except where the sender states them, with requisite authority, to be those of the Asian Media USA. If for any reason including but not limited to prior written authorization, Newspaper or similar entity do not give the credit for the content and photographs, Asian Media USA reserve right to take legal action to prosecute for violating copy right law to the fullest extent of the law.