Star-studded, Action-packed Dr. VGP 11th Annual Congressional Global Community Awards Gala leaves everyone mesmerized
SEWA International USA Awarded organization of the year 2021 at gala
Congressman Danny K. Davis, the Anchor of Dr. VGP 11th Annual Congressional Global Community Awards Gala stressed the importance of Showcasing the Community heroes and Achievers from Multi-Ethnic communities on Saturday, February 19 Evening at Yellow Box, Naperville.
Over 960 persons were in attendance at the Star-Studded Dr. VGP's Annual Congressional Gala which was watched by many viewers live-streamed across the world.
Hosted by AMEC-American Multi-Ethnic Coalition, a grassroot Bi-Partisan Organization celebrating 38 Ethnic Communities across America.
Dr. VGP Congressional Awards Gala was headlined by three U.S. Congressman Danny K. Davis, Raja Krishnamoorthy & Bill Foster, Cook County Board President Toni Preckwinkle, Cook County Commissioner Donna Miller, Chicago Alderman Pat Dowell & Chris Taliaferro, Aurora Alderman Swetha Baid, Chicago City Clerk Anna Valencia, Cook County Health CEO Israel Rocha Jr., Indian Prairie School District 204 Superintendent Dr. Adrian Talley among others.
Prominent Awardees included 7-year-old Aaryan Khot, Judy Wang, WGN TV Anchor, Chicago Housing Authority Commissioner Dr. Mildred C. Harris, Dr. Paramjit Chopra, CEO, MIMIT, Eddi Ni, CEO Windfall Group, Jason Lam of President Chinese American Development Association, Donald Dew, President, Habilitative Systems Inc., Dr. Santosh Kumar, Founder MAFS & UMAS, Dr. Bhupinder Beri, CEO, Crossroads Veterinary Hospital, Dr. Zenobia Sowell, CEO, Sowell Dental Associates, Anil Loomba, CEO, Home Mortage Solutions Inc., Prof Dr. Herry Utomo, Nyoka Farmer, CEO, In Your Hands Resource Center, Shital Daftari, CEO, SLN Biotech, and Dr. Anuja Gupta, CEO, Verandah Community Center, Hanover Park.
Dr. VGP, Founder President, AMEC said that this annual event inspires our ethnic Communities to achieve more and continue their services to all communities. AMEC Secretary-General Shree Gurusamy and Dr. VGP excelled as emcees.
MEATF Chairman Martino Tangkar honored each Awardee with the Congressional Medallion. Lt. Governor Manne Lingaiah presided over the Banquet Dinner Gala attended by 420 invitees prior to the Awards Ceremony and Show. Chicago City Clerk and Candidate for Secretary of State Anna M. Valencia recently endorsed by Secretary Jesse White spoke.
Commissioner Urvashi Verma of AMEC Special Events announced the winners of the AMEC Lita Newton Devasahayam Student Scholarships for 2022. Anica Dubey, AMEC Executive Director spoke about India@75.
AMEC Secretary General Shree Gurusamy eloquently presented AMEC in Action 2021. Girish Kapur, Secretary General of GSA India @75 Expo announced that The Global Eye Magazine is hosting a four-day Expo to celebrate India's 75 Independence Day on July 27,28,29,30, 2022 in Naperville – Aurora, Illinois.
Naperville City Commissioner Dr. Vasavi Chakka welcoming the distinguished awardees and guests to Naperville spoke about the City of Naperville.
During the AMEC Congressional Banquet, The Gala beneficiaries: Jordan Dreams, to buy a new home for the mentally challenged in Englewood, Chicago and K. S. Foundation, Aurora were presented.
Dr. Gladys Folorunsho, President, USA Africa Chamber of Commerce giving the Call to Action at the Banquet appealed to all to donate generously to Jordan's Dreams, Chicago and K. S. Foundation, Aurora.
The mesmerizing awards show opened by the U. S. Color Guards impressive Gun Salute by the Great Lakes Naval Center. Renowned Operatic Sopranist Marissa Buchettit sang the American National Anthem.
Femi Ogebule and Royal Voices opened the dazzling entertainment segment which featured nonstop dances around the world. A Fashion Fusion Parade with European Models presented by Global Fashion Icon Ghazala Khan of Raaz Couture was the showstopper.
The Grand Finale was the String Quartert Salute by Neuqua Valley High School, a Grammy Signature School.
Dr. VGP, Creative Host acknowledged the AMEC Leadership Team: AMEC National Chairman Neal Patel, Sam Ma, Gerard Moorer, Begum Chand Nasim, Jerome Athistham, Chenna Govindasamy, Dr. Mercedes Martinez, Dr. Clarence Beals, Acharya Rohit Joshi, Amar Upadhyay, Dr. Kiros Tewolde, Nagendra Sripada, Neelam Saboo, Seeta Bala, Hina Trivedi, Samuel Kolagani, Dr. Fatima Alawsee, Anil Pulla, Ravi Sripada, Vijender Doma, Nilabh Dubey, Pinaki Basu, and Abir Maru.
The Gala Grand Sponsor was Chinatown Jaslin Hotel, CEO Zhing Do Alex Lin.
Photographs and Press release by: Asian Media USA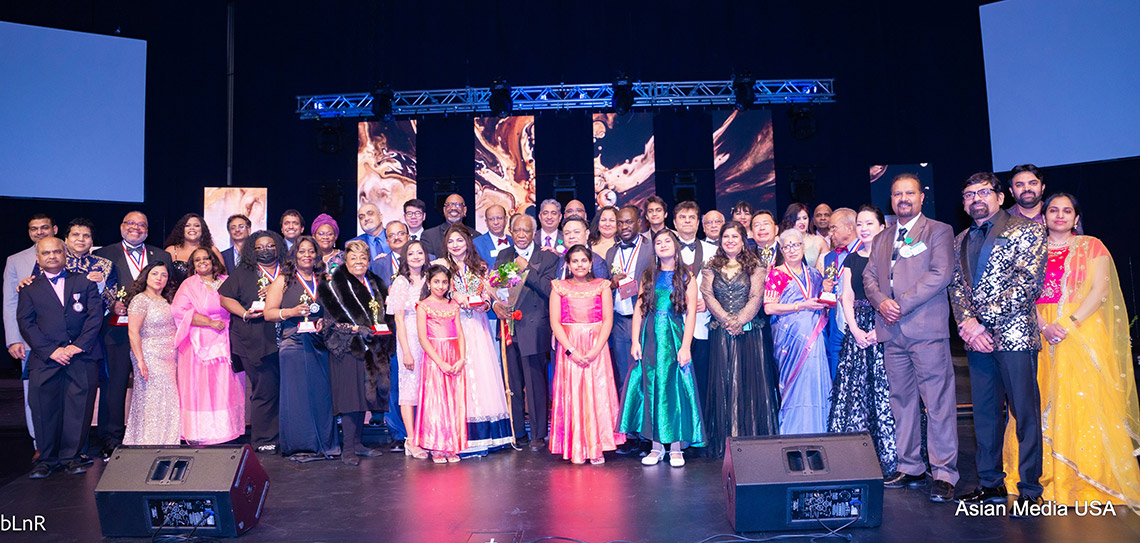 Suresh Bodiwala
Chairman
Asian Media USA
Cell: 847-420-4789
E-Mail: bodiwalasuresh@gmail.com
Copyrights ©: Asian Media USA
No one shall download or otherwise duplicate the graphics, images, press release and written content from the PDF without our express written permission. Likewise, no one shall reuse the aforesaid things, as the same are the intellectual property of the Company, we hereby reserve all rights
Disclaimer: Asian Media USA
Asian Media USA press releases are event oriented and published after careful review and examination of the contents without bias or without being influenced by race, color, nationality or religious persuasion. In other words we are completely neutral according to generally accepted journalistic principles and long established conventions governing Newspaper reporting. Any use or disclosure of the contents of either is unauthorized and may be unlawful. All liability for viruses is excluded to the fullest extent permitted by law. Any views expressed in this message are those of the individual sender, except where the sender states them, with requisite authority, to be those of the Asian Media USA. If for any reason including but not limited to prior written authorization, Newspaper or similar entity do not give the credit for the content and photographs, Asian Media USA reserve right to take legal action to prosecute for violating copy right law to the fullest extent of the law.