Manav Seva Mandir celebrated Makar Sankranti and Nav Grah Puja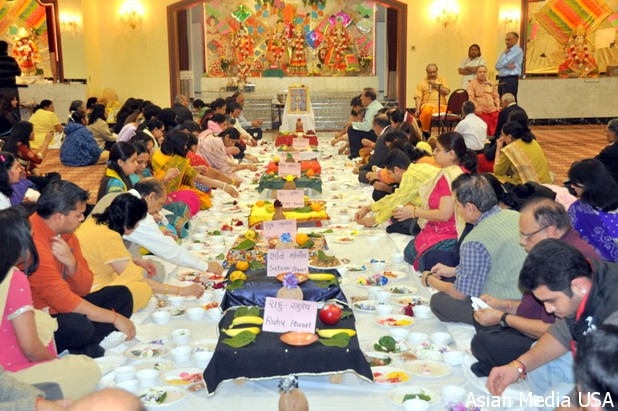 Chicago, IL: Manav Seva Mandir located at 101 S. Church Road, Bensenville , IL celebrated Makar Sankranti by performing Nav Grah Puja on Saturday, January 14, 2012. More than 25 couple participated in Nav Grah Puja which started at 5:30 PM. This sacred evening was attended by over 400 devotees witness the special evening Puja ceremony. Donation for performing Puja was $51.00 per family.
We need the blessings of the all nine planets known as Navagraha's to have a life that is free from various types of problems that may trouble us from time to time.
Navgraha
The nine (nava) major celestial bodies (Grahas) of Hindu astronomy. These celestial bodies are Surya (Sun), Chandra (Moon), Chevvaai/Mangal (Mars), Budhan (Mercury), Guru/Brihaspati (Jupiter), Shukra (Venus), Shani (Saturn), Rahu (North Lunar Node) and Ketu (South Lunar Node).
What is Navgraha Shanti Puja?
The nine "grahas" or planets in our horoscope influences one's daily performance which influences one's future performance or karma, desires and ultimate outcomes. Each of these nine planets exerts positive and/or negative influence in our lives, which is called "dasa" and it can be predicted by expert called Jyotish from one's horoscope. Navagraha Shanti Puja is undertaken to reduce the negative effects spell and improve the positive energies related to a person.
Why pray for Navgraha Shanti?
The puja for nine planets are performed all over by Hindu's in India and have special kshetras ( place of worship ) in South India especially in Kerala and Tamilnadu. Most of them are concentrated near the Thanjavur district. Navagraha puja will be helpful, when in one's horoscope the concerned planet dasa or sub-dasa is in operation or if the planet is associated with malefics and is in the 3rd, 6th, 8th, or 12th house.
Navgraha – Daily Mantras
There are individual mantra's one can chant on the basis of the day of the week like Surya (Sun) mantra on Sunday, Chandra (Moon) mantra on Monday, Mangal (Mars) Mantra on Tuesday, Buddha (Mercury) mantra on Wednesday, Brihaspathi (Jupiter) mantra on Thursday, Shukra Mantra on Friday and Shani (Saturn) mantra on Saturday. Rahu and Ketu Mantra's can be chanted any day on specific times of the day.
Navgraha Benefits
| | | | | |
| --- | --- | --- | --- | --- |
| Graham | Day | Ulogam | Color | Benefits |
| SUN | Sunday | Thambakku | Red | All Sidhi & Akarshanam |
| Chandran | Monday | Lead | White | Breaks Removed for Progress |
| Sevvai | Tuesday | Copper | Red | Victory over Enemies & Sastra Gnanam |
| Budhan | Wednesday | Brass | Green | All Sastra Gnanam |
| Guru | Thursday | Gold | Yellow | Prosperity & Arts |
| Sukkiran | Friday | Silver | White | Marriage, Sowbagiam & Child Issues |
| Sani | Saturday | Iorn | Black | Free from Illness & Devil Fears |
| Raghu | Sunday | Blue Metal | Navy Blue | Victory in All Matters |
| Kedhu | Sunday | Blue Metal | Navy Blue | Free from Illness, poverty & Peedai |
Executive Board oath ceremony was performed after Nav Grah Puja completed by devotees. Raja Krishnamoorthi, Democratic Congressional Candidate for Illinois's 8th District gave speech for March 20, 2012 election. Devotees enjoyed delicious food delivered by Jay Hind restaurant.
Manav Seva Mandir Management (2012)
Pujaris
Nag Bushan Poojera, Yogesh Vyas, Krishnakant
Board of Trustees
Chairman: Mr. Jay:ram Patel
Vice Chairman: Dr. Shrishbhai Shah and Dr. Manojbhai Shah
General Secretary: Gautmbhai Gor
Comptroller: Bhaskarbhai Patel
Past Chairman – Bharatbhai H. Barai
Board of Trustees
Dr. Ishwarbhai K. Patel
Mr. Madhukant Shah
Dr. V. K. Patel
Mr. Pradip Patel
Mr. Natubhai Patel
Hon, Members: Chotalal Patel and Dr. Kanubhai Panchal
Executive Board
President: Mr. Dahyabhai Prajapati
Vice president: Mr. Raju Chauhan
Secretary : Naliniben Shah
Join Secretary: Rajivbhai Desai
Treasurer : Jayandra Patel
Joint Treasurer: Bhaviniban Kalvani
Executive board members:
Dr. Jyoti Shah
Mr. Manu S. Patel
Mr. Jashwant S. Sheth
Mr. Bhal Chandra Shah
Ms. Urmila S. Patel
Hon. Member: Bhavnaben Parikh and Subothbhai Gabhawala
About Manav Seva Mandir:
The Manav Seva Mandir is a Hindu religious institution in the greater Chicago land area. Not only is it an excellent place of worship, but it also renders a social atmosphere and a cultural center that preserves and promotes our Hindu traditions and heritage. They have Programs such as Bhajan-Satsang, Group Satnarayan Katha, Youth Classes, Children Classes, annual youth camp during the summer holidays, flu vaccinations, health fair and medical facilities. They have Daily Arti such as Mangala Arti, Shringar Arti and Sandhya Arti. Manav Seva Mandir located at 101 S. Church Road, Bensenville , IL. 60106. Phone # (630)860-9797, Web site: www.manavsevamandir.org
Upcoming event:
Vasant Panchmi – 5:30 PM, Friday, January 27, 2012
Maha Shivratri – 5:30 PM, Sunday, February 19, 2012
Holika – 5:30 PM, W ednesday, March 07, 2012
Chaitri Navratra & Ram Navami – 5:30 PM, Friday, March 23, 2012
Hanuman Jayanti – 5:00 PM, Friday, April 06, 2012
Photographs and Press release by: Asian Media USA
Suresh Bodiwala
Chairman
Asian Media USA
Bus: (847) 679-8583
Fax: (847) 679-5336
Cell: (847)420-4789
sbodiwala@sbcglobal.net
Copyrights (c) 2010 – Asian Media USA
No one shall download or otherwise duplicate the graphics, images, press release and written content from the PDF without our express written permission. Likewise, no one shall reuse the aforesaid things, as the same are the intellectual property of the Company, we hereby reserve all rights
Disclaimer: – Asian Media USA
"The information in this e-mail and any attachments is confidential and may be legally privileged. It is intended solely for the addressee or addressees. If you are not an intended recipient, please delete the message and any attachments and notify the sender of misdelivery. Any use or disclosure of the contents of either is unauthorized and may be unlawful. All liability for viruses is excluded to the fullest extent permitted by law. Any views expressed in this message are those of the individual sender, except where the sender states them, with requisite authority, to be those of the Asian Media USA