September 15-16, 2018 Acclaimed Kathak dancer Anindita dazzled the audience with her spectacular performance
Chicago IL: The two days colorful Indian classical dance festival, Nritya Samarpana 2018 concluded on Sept 15-16, 2018 at Sri Venkateswara Swami (Balaji) Temple, 1145 Sullivan Rd, Aurora, IL. It was a breathing two days festival which featured top artists from different states of USA and India. There were total 9 featured performers along with performances by the veteran teachers of the Chicagoland area like Gauri Jog, Sobha Tamanna, Ipsita Satpathy and Asha Adiga with their respective students. It was a glorious two days of vivid showcase of extremely talented artists. The fest showcased artists from classical Indian dances including Kathak, Bharatnatyam, Kuchipudi, Mohiniattam, Odissi and so on.
Each year, this dance festival is organized by Balaji cultural committee at the Veluchamy Auditorium of Sri Venkateswara Balaji temple in Aurora Illinois and admired by art lovers. This illustrious dance festival attracts innumerable viewers and art connoisseurs across states. Balaji temple has been in the forefront of preserving Indian cultural arts and celebrates the various art forms. Robust Indian classical dance programs like Nritya Samarpana festival is a great platform for nurturing such traditional arts which are face of our Indian heritage.
Anindita Neogy is an International Kathak danseuse who featured as a solo performer in the prestigious Indian Classical Dance Festival, Nritya Samarpana 2018 in Chicago. She mesmerized the viewers with her powerful performance. Recipient of Shri Jayadev National Youth Award 2018 given for excellence in Kathak Dance by National Cultural Mission and Indian government of Odisha, Anindita is a dancer par excellence.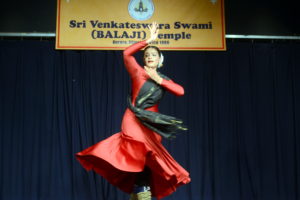 She started with a Durga Bhajan (evoking the Goddess Durga) set in 16 beat teentaal, and presented the piece with so much grace and intricate details of the Abhinaya or facial expressions. Her details to the movements were so delicate that one couldn't take eyes off her.
 Second part of her performance consisted of pure Nritta Paksha or the technical side of Kathak where she presented todas, tukdas which are geometrical patterns of moves, sublime body gestures folded with charm and grace. The richness and sharpness of the footwork enchanted the audience. The whole auditorium was echoing with the metal bells and thudding sound of her rhythmically singing footsteps. With every 'Sam', which gives a silence of a second built the momentum of pure thrill and excitement and people couldn't stop applauding her brilliant recital. Her red fabric dress and gleaming ornaments were phosphorescent. It was nothing less than a pure magic on stage. Her swift pirouettes brought power and speed to the stage.
The third and final portion of her contemporary Kathak displayed Poet Jayadev's Geet Govinda where she portrayed the myriad emotions of gopikas and radha waiting eagerly for beloved Krishna, the Lord of love and charm as the spring seasons comes to a full bloom. Anindita impeccably captivated the emotions of a forlorn woman sitting for her lover to return to her and also the Krishna who is chasing them and playing pranks on them. As a seasoned dancer, she enacted variable characters with touch of ease. Her virtuosically turns and her entire expression of limbs, torso and especially hands perfectly married to the theme. She was a wizard on the stage. The sculptural firmness of her body language and such delicate and vivid gestures were nothing short of eloquent beauty. It was an enriching evening of mellifluous dance concert.
Anindita has performed in major festivals in India and abroad including Theater am Faden (Germany), Birju Maharaj Parampara Utsav (India), Kundan Lal Gangani Festival (India), Sharad Utsav (India), Logging and Heritage Festival (Wi), Rhythms of the world (Appleton fox cities), Out to lunch Event (Marinette Wi), BAGC Chicago Banga Sammelan (where she shared stage with Grammy award winner Pt Vishwa Mohan Bhatt), Celebrate Diversity Event Menasha and so on.
Anindita is a student of Pt Rajendra Gangani (Jaipur school of Kathak) and Pt Jai Kishan Maharaj (Lucknow school of Kathak) and adept in both the styles. She is known for her graceful movements with a swift pace and shows immense proficiency in both traditional and fusion choreographies of Kathak.