03-17-2018 Chicago Tamil Women Celebrate International Women's Day
Chicago IL: "There is only one thing more precious than our time & that is who we spend it on "it was truly a time well spent in the company of wonderful friends and acquaintances celebrating the international women's day 2018 on the evening of March 17th organized by PENN ( Penn in Indian language Tamil meaning woman), a group of extremely talented women belonging to the Indian community in the Chicago land area who had come together to present us with an outstanding program that evening.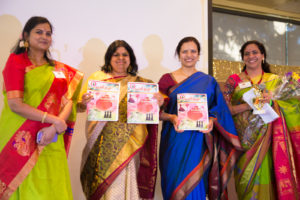 The air was festive with the organizers ,guest speakers and most of the audience members attired in the most spectacular array of colors in series, the traditional wear of India.
The event started with the guest speaker Mrs. Rajeshwari Chandrasekaran, a consul with Indian embassy who set the tone and mood for the entire evening, which was a very happy one with her witty down to earth speech.  The next speaker was Dr. Mallika Rajendran (Gynecologist) who addressed various women's health issues from puberty to adulthood and beyond, followed Dr. Viji Susarla, a clinical Psychologist who covered the topic very dear to every parent, our "Children" and our concerns particularly when they go through that adolescence phase. The challenges, pressures, and competition our children face now are much more than many of us would have faced few decades ago.  The next presentation was by a young lady named Amrita Raghuraman on E-Cigarettes and vaping among young ones which was an eye opener for many parents.  The last, but not the least, was a stellar presentation by Attorney Sharanya Gururajan on Estate Planning (Will & Trust).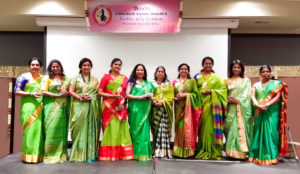 She was candid, straight forward and funny.  The thing that made the evening most interesting was the interactive session between the experts in various fields and the audience members.  Every topic that matters to most are covered…our children, our health and our finances etc.  Added to the fun was the impromptu standup comedy time, the most aromatic spread of food, beautiful stalls selling colorful Indian clothing, fashion jewelry, and hand-made gift items .  All the audience members received a lovely goody bag & a copy of the Penn Magazine done so artistically, filled with pages of articles, short stories, poems, sketches, photographs and recipes as a take home souvenir.