Hari Om Mandir celebrated Lohri festival with music and traditional favor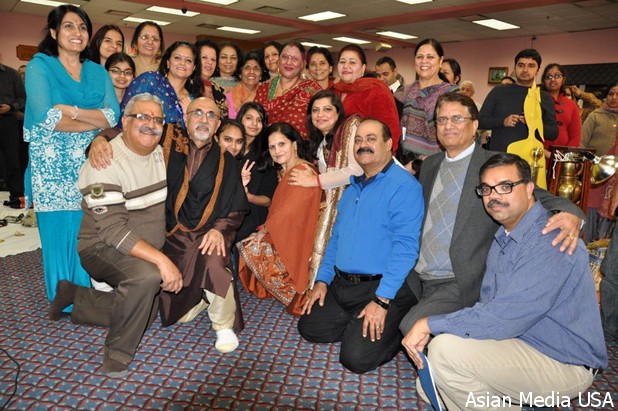 Chicago, IL: Lohri, popular Punjabi agricultural festival, was celebrated with great fanfare at Hari Om Mandir in Medinah, IL. Lohri was celebrated with traditional food of Saag (mustard) and Makki (corn) ki roti and lassi (buttermilk), bonfire, tappes, and songs suitable for the occasion.
The temple priests, Shastri Yogesh Pandya ji and Pandit Dinesh ji, along with help from Deepak and Mona Sharma, Vipan & Sangeeta Wadhera, Subhash & Kiran Sharma and Akshay & Suchitra Sarkar created a beautiful exhibit of traditional Lohri items. There were models of Charkha, well with utensil to draw water, front of a house with traditional paintings of Diyas (tea lights) and cut out of people with dhols.
Traditional Makke ki roti, Sarson ka Saag and Sweet & Salty Lassa were in abundance. Mrs. Nirmal Bagga, Mrs. Aruna Lal, Mrs. Suvarsha Sehgal, Mrs. Madhu Gupta, Mrs. Prem Salwan, Mrs. Indu Bhardwaj, Mrs. Navdeep Sharma and lot of other volunteers helped in preparing all delicacies. India House Schaumburg also donated Makke ki Roti and Sarsen ka saag for the occasion. Mrs. Sneh Chaudhary prepared Pineapple Burfi for the occasion. Mrs. Malkeet Kaur Kalsi and several other devotees prepared Saag and Rotis at home and bought to the temple. Starting 5pm devotees started coming in large numbers to enjoy delicious food and lassi.
Asha Khanna ji started the program with traditional song "Sundar Mundariye". This was followed by lot of traditional songs and Tappes. She was joined with Subhash Sharma, Vijay Ghai, Deepak and Mona Sharma and other members of the Bhajan Mandli. Ajay Ghai and Jignesh Patel accompanied them on dhol. The Ayodhia Salwan, Chairman Board of Trustees, also sang the traditional Punjabi Tappe.
Asha Khanna ji narrated the traditional story of traditional song, "Sundari Mundari, to the congregation. This is the tale of a man who rescued a girl from her cruel abductors and adopted her. Finally he arranged her marriage, as if she was his own daughter. These songs exhort the youth to protect the honor of their sisters and daughters, and punish those who try to dishonor them.
Young kids were moving around asking Lohri from the devotees. The newlyweds and the families with new born kids were blessed by the priests. The program ended with Aarti and Prasad. Traditional items like Phuga, rewari, puff popcorn were distributed in Prasad.
Devotees gathered around the bonfire outside the main entrance to the temple, danced around the fire and threw puffed rice, popcorn and other munchies into the fire shouting "Aadar aye dilather jaye and sang popular folk songs to mark the occasion.
Braving the cold harsh temperatures the volunteers, Swappan Kumar, Sunil Saxena, Arun Sahni, Vinay Gupta, Noble Salwan managed the parking.
Mr. Rajeev Bharel, President Executive Board, along with other members of Executive Board led the team of volunteers and devotees in preparation and presentation of an excellent presentation of Indian traditions.
Chairman Board of Trustees
Mr. Ayodhia N Salwan
Executive Board
Mr. Rajeev Bharel, President
Mr. Brij Sharma, Vice President
Mr. Gopal Tiwari, Treasurer
Mrs. Sneh Choudhary, Secretary
Mr. Sunil Saxena, Property Management
Mr. Swappan Kumar, Publication, Parking & Volunteer team head
Mrs. Anshu Paul, Education
Mr. Anil Saxena, Special Events
Mr. Ramesh Bhardwaj, Food
Nirmal Bagga – Outgoing president
About Hari OM Mandir
Hari Om Mandir located at DuPage County in the heart of Chicago land. The Mandir has statues of all major North Indian Gods & Goddesses. Every Sunday there is a Havan and general congregation followed by Aarti and Bhojan Prasad. On every first Saturday of the month we have Devi Jagran from 7 – 10pm. Every Monday there is Shiv Puja and every Tuesday we have Hanuman Challis Path. There are two learned priests available in temple, for Poojas, Havan, Kathas etc in the temple and at home. Please visit Hari Om Mandir at 6N020 Medinah Rd, Medinah, IL Phone: (630)980-0900 www.hariommandir.org
Upcoming events:
Vasant Panchami – Saturday 28-Jan
Maha Shivaratri – Monday 20-Feb
Holi – Thursday 8-Mar
Ramanavami – Sunday 1-Apr
Photographs and Press release by: Asian Media USA
Suresh Bodiwala
Chairman
Asian Media USA
Bus: (847) 679-8583
Fax: (847) 679-5336
Cell: (847)420-4789
sbodiwala@sbcglobal.net
Copyrights (c) 2010 – Asian Media USA
No one shall download or otherwise duplicate the graphics, images, press release and written content from the PDF without our express written permission. Likewise, no one shall reuse the aforesaid things, as the same are the intellectual property of the Company, we hereby reserve all rights
Disclaimer: – Asian Media USA
"The information in this e-mail and any attachments is confidential and may be legally privileged. It is intended solely for the addressee or addressees. If you are not an intended recipient, please delete the message and any attachments and notify the sender of misdelivery. Any use or disclosure of the contents of either is unauthorized and may be unlawful. All liability for viruses is excluded to the fullest extent permitted by law. Any views expressed in this message are those of the individual sender, except where the sender states them, with requisite authority, to be those of the Asian Media USA