02-13-2018 Maha Shivarathri celebrations at Hari Om Mandir energizes the city with chants and prayer
Chicago IL: On Tuesday, the 13th of Feb, 2018 devotees celebrated the festival of Maha Shivaratri, in the Hari Om Mandir, with great joy and enthusiasm. As per the Hindu tradition, devotees bathe the Shiva Lingam with Holy Water, Milk, Honey and offer Chandan, Bel Patra amidst chanting of prayers, mantras and the resonating sound of Om Nama Shivaya….called the "Rudra Abhishek". Living up to the tradition, hundreds of devotees came to the Hari Om Mandir to perform the rituals and sing the glory of Lord Shiva.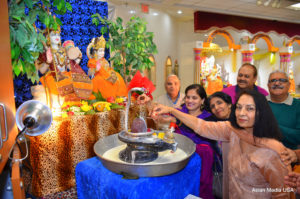 Due to renovation in progress at the Hari Om Mandir, the regular 'SHIV DURBAR" was not ready for the Pooja this year, so the Mandir Management had made special arrangements and set up a temporary Durbar for the Devotees to perform the Pooja & Shiv Abhishek. The marble statues of Shiva & Parvati were seated on a high pedestal, with the Shiv Ling below, so that people could offer Milk, Water, Honey etc and do the Abhishek. The whole ambience of this set up reminded people of the Heavenly Abode of Shiva on the Kailash Parbat!!! The Snakes, the Rudraksh mala, the half Chandrama, the Ganga on Shiva's forehead, the Trishul, the Damrus…all added to the Divine environment of the Mandir.
Pandit Raghubir recited the Holy Mantras and helped Devotees to perform the rituals, as per the Scriptures and the Traditions. People had been visiting the Temple right from the morning when the doors opened at 8am. By the evening, there was an unending que and people were seen waiting patiently in line for their turn.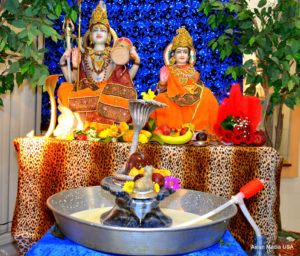 A special Bhajan Sandhya was organized in the evening. Subhash Sharma started the program by singing the "Shiv Stuti &Chalisa". He was then joined by Madhu Salwan& Rama Kapur, who sang several Bhajans in praise of Lord Shiva & Goddess Parvati. As Shama Sharma & Mona Sharma sang the traditional "ShubVivah" of Shiv & Parvati, devotees started dancing with joy.  Chantings of Om Namah Shivay echoed in the hall and the entire congregation was drenched in the glory of Lord Shiva. Also, this being a Tuesday, the regular Hanuman Chalisa for Hanuman Ji, was recited by SuchitraSarkar.
 Special Thandai, Kheer and Fruit Prasad was distributed, and the Devotees relished the same!!!