04-26-2016 American University of Antigua College of Medicine
Indian roads claim more than 16 lives every hour in accidents on an average. Over 141,000 people died in crashes in 2014, 3% more than the number of fatalities in 2013. According to World Health Organization (WHO), India
has now overtaken China and has the worst road traffic accident rate worldwide. Rajasthan, a northwestern state in India, is among the top five states in India, that together account for nearly 40% of the fatalities in India. Training the first responders, who are often the Police Force, Fire Fighters and Emergency Medical Team (EMT) and the Doctors is very important to save the lives of those who meet with accidents. With the objective of training the first respondents in accidents, American University of Antigua (AUA) College of Medicine, a division of Manipal Global Education Services, organized a week-long training to at Rajasthan University of Health Sciences (RUHS) in Jaipur and Rabindra Nath Tagore College of Medical Sciences in Udaipur Rajasthan, India.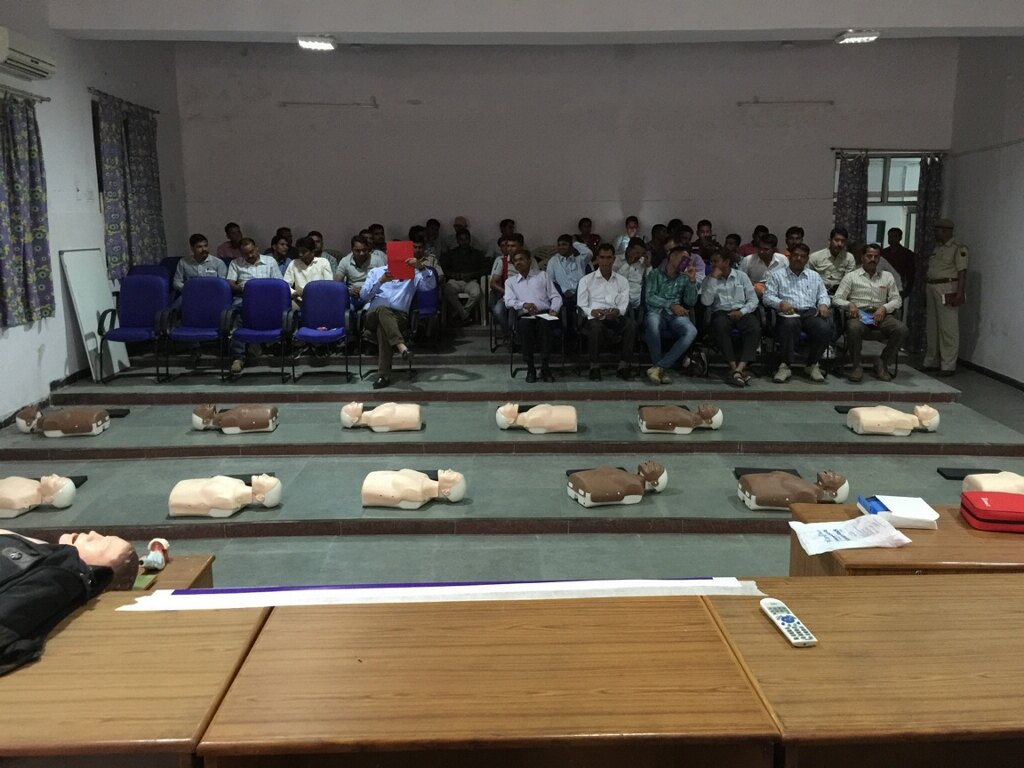 The trainings held from April 18th to 22nd, both in Udaipur and Jaipur, trained first responders, including Fire Fighters, Policemen, and EMT in Advance Life Support, CPR, and First Aid. Instruction on these techniques provided by leaders from AUA's Emergency Medicine Training Centre, including Vernon Solomon, Director; Marlon Destin, Manager; and Dr. Courtney Lewis, Assistant Director, Instructor for Clinical Medicine, and Campus Physician.
The trainings were given to four groups consisting of 25 Doctors and 50 Policemen. The policeman were chosen as they are the first responders at any road side accident. Each participant received a Certificate upon completion of the training.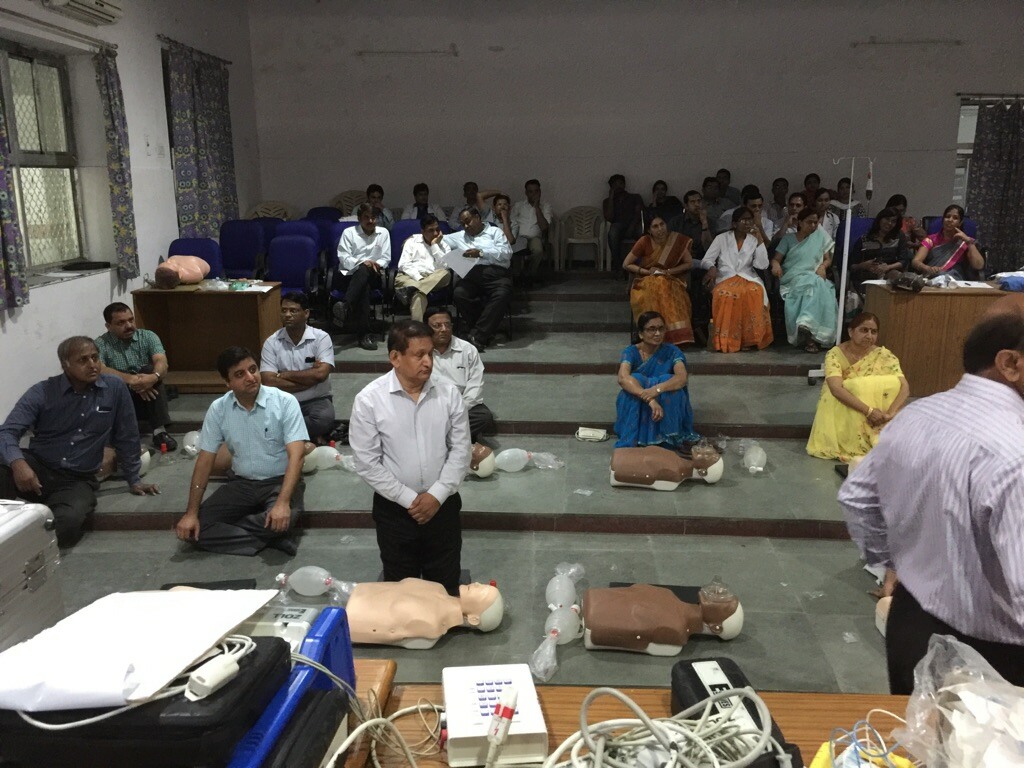 This first ever event of this nature was organized with the active support by the Honorable Home Minister of Rajasthan, Gulab Chand Kataria and his Special Advisor, Mahendra Parakh; Principal of Rabindra Nath Tagore (RNT) Medical College, Udaipur, Dr. D.P. Singh; and Dr. Raja Panwar, Vice Chancellor of RUHS College of Medical Sciences; and Ramesh Joshi, Deputy Director, who was highly appreciative of this new initiative. "The trained first responders held this week is going to save millions of life through the effective intervention of those who participated and benefitted from these trainings," he said.
Dr. Rajesh Sharma, Principal and Controller of RUHS College of Medical Sciences, lauded AUA for this noble initiative and the excellent reputation associated with the University's Medical Education. "This innovative training course will ensure that the first responders meet the international standard of care," said Dr. Rajesh Sharma. "We hope this will be the start of many such coordinated training efforts between RUHS and AUA."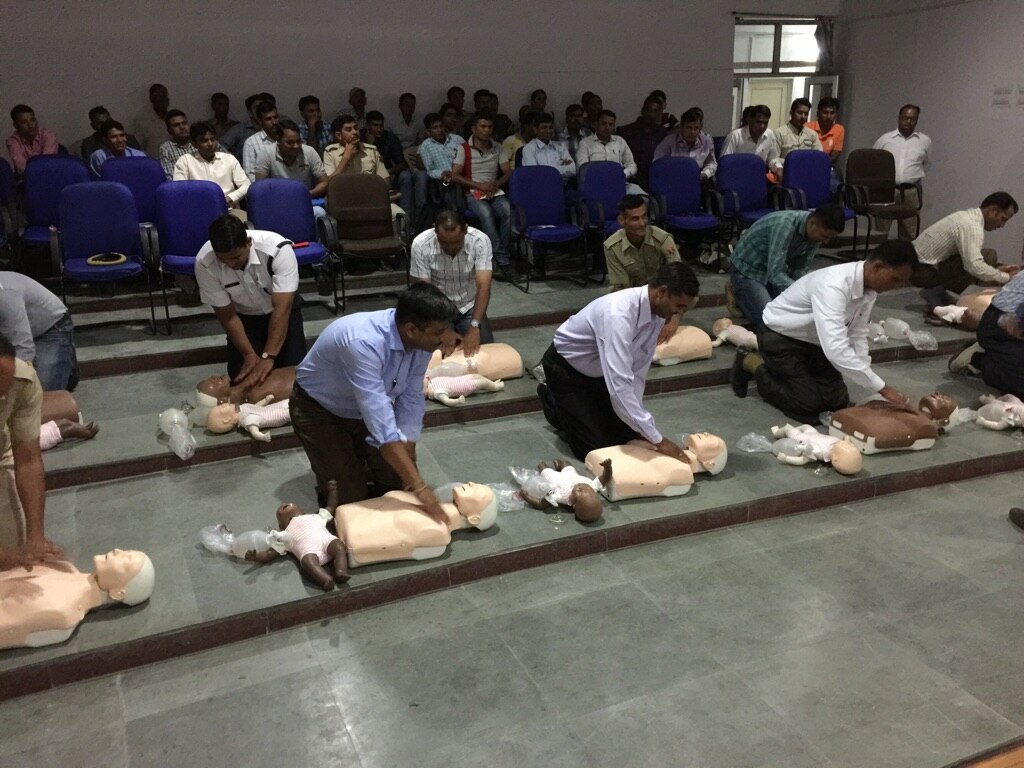 "AUA is very happy to be part of this training initiative by the Home Minister to bring knowledge and first responder training to the personnel" said Premkumar, Advisor to the President for Special Projects, Advisor to the President for American University of Antigua, College of Medicine. Dr. Ajay Lodha, President-Elect of American Association of Physicians of Indian Origin, who had travelled to his home state Rajasthan from New York, to be part of this noble initiative and to express his support for the program, said, "The trainings by the AUA and with the active support of the Government of Rajasthan needs to be done in all parts of the state and across the nation, which will save millions of innocent lives that we lose to road accidents every day across the nation."
AUA College of Medicine is an innovative medical school dedicated to providing a learner-centric education of the highest quality, granting opportunities to underrepresented minorities, fostering a diverse academic community, and ensuring that its graduates develop the skills and attitudes of lifelong learning, compassion, and professionalism. AUA College of Medicine is approved by the New York State Education Department and the Florida Department of Education, recognized by the Medical Board of California, and accredited by the Caribbean Accreditation Authority for Education in Medicine and other Health Professions.